Searching for an Omaha Podcast Production guide? We've outlined everything you need to know to get started!
There's no denying it. Podcasting has become an incredible way to expand business reach and revolutionize your marketing strategy. Over 60% of Americans listen to podcasts regularly, meaning that your ideal customer is likely out there waiting for your podcast now.
Are you a business owner in Omaha who's interested in starting your business podcast but aren't sure where to start? Maybe you'd like some guidance but aren't sure whether Omaha podcast production services are right for you.
There are 383.7 million podcast listeners globally. It is predicted that there will be around 424 million podcast listeners worldwide by the end of 2022. As of June 2022, there are over 2.4 million podcasts with over 66 million episodes between them.
If so, you've come to the right place! In this comprehensive guide, we'll discuss what you need to know about podcast production and how it can benefit your business.
Keep reading for everything you need to know about creating and launching a successful business podcast in Omaha to increase your brand's visibility and authority.
Here's what you'll learn in our Omaha Podcast Production guide:
What is a podcast?
Is it right for your small business?
The benefits of producing a podcast.
Engaging podcast listeners.
Showcasing your expertise.
Connecting directly with your audience.
Networking with others in your industry.
Drive web traffic & sales.
How to produce a podcast.
Getting the right podcast equipment.
Defining your purpose and niche.
Define your podcast format.
How to build episode structure.
Finding and scheduling podcast guests.
Preparing and researching podcasts.
Recording and editing.
What's included in podcast production.
Content creation.
Professional post-production.
Publishing, distribution, and marketing.
Now, let's dive into Omaha Podcast Production!
What Is a Podcast?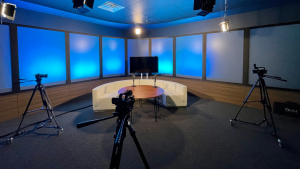 Image: Two Brothers Creative Studio in Omaha.
Let's start with the basics. What is a podcast? A podcast is essentially an audio recording, often in the form of a conversation or interview, that can be downloaded and listened to at any time.
Business podcasts can cover a variety of topics, including start-up strategies, marketing ideas, management techniques, and financial advice. Many business podcasts invite notable guests and industry experts to share their insights and experiences.
A business podcast can serve as a valuable resource for anyone looking to stay on top of current trends and improve their professional skills. Unlike traditional radio shows, listeners can access business podcasts at any time through various platforms such as iTunes or Spotify.
Due to their versatility, they've become increasingly popular in recent years, with many people tuning in for entertainment or educational purposes during their commute or daily routine.
Is It Right for Your Business?
Wondering if a podcast is the right move for your business? We'll be honest in that most businesses in the area can benefit from Omaha podcast production, but that doesn't mean it's right for every business out there.
First, it's important to consider your audience and how they consume information.
Are they already actively listening to podcasts regularly? Do they have devices that allow them to easily listen on the go? Are there already successful podcasts in your industry or niche? If so, is there a way you can fill a gap in the content that already exists?
Another factor is whether or not you have the resources and skills necessary to produce a high-quality podcast, including recording equipment and potential hosts who can engage with listeners.
It's also important to think about how a podcast could enrich your content marketing strategy and reach new customers. While podcasts can be an exciting addition to your business, it's important to fully evaluate if it is the right fit before jumping in head first.
A podcast may be an excellent fit for your business if the answer is yes to these questions. If not, it may be worth exploring other content marketing options. However, speaking with podcast and marketing experts can help orient yourself and your goals.
Benefits of Producing a Podcast
Producing a business podcast can be a great way to improve your brand image and build relationships with potential customers and industry leaders. Podcasts allow you to share valuable information, highlight your expertise, and engage with your audience in a personal way.
From a survey of over 500 business principals, it showed that:
Around 37% of employees of very small businesses listen to podcasts.

Around 60% of employees of small businesses listen to podcasts.

And, around 71% employees of medium businesses listen to podcasts.
Overall, having a business podcast can be a valuable asset in growing your business and reaching new audiences. Here are some of the biggest benefits of launching a business podcast with the help of local Omaha podcast production services.
Podcast Listeners Are Engaged
First and foremost, podcast listeners are engaged. This means that you can rest assured that when you invest in this form of digital marketing, you're going to be able to capture and retain the interest of those consuming your content.
While most podcast listeners are multitasking while listening to shows, they're highly engaged with the content. So much so that 62% of people said they were likely to consider services or products featured in a podcast.
Furthermore, people seem to consume podcast content in its entirety. On average, podcast listeners in the US will listen to 76% to 100% of an episode. Imagine being able to be almost certain that your target audience would listen to your full show and marketing message.
Show Off Your Expertise
Starting a business podcast is a great opportunity to show off your knowledge and expertise in your industry. By conducting interviews with leaders in your field or discussing hot topics, you can establish yourself as a thought leader and respected voice in the business world.
In addition, a business podcast provides an accessible platform for sharing information and insights with potential clients and colleagues. Each episode serves as a demonstration of your expertise, helping solidify business relationships and attract new opportunities.
Connect Directly With Your Audience
Producing a podcast is a great way to connect directly with your audience. You can share your knowledge and experience on a specific topic, build a rapport with your listeners, and get feedback from them directly.
You might be thinking, "Well, can't I do this by sharing blogs or YouTube videos?" Yes, in a way.
However, when you create a business podcast and have listeners engage with your content in somewhat of a real-time manner (even if it's pre-recorded), it's as if you're speaking directly to them. This increases their engagement and makes the experience more personal.
Additionally, podcasts are highly portable, so your audience can listen to them on the go. This makes it easy for people to fit your content into their busy schedules. So, you're not forcing them to read a 2,000-word blog and instead speaking to them like a friend or colleague.
Network With Others in Your Industry
When it comes to networking, attending business events and speaking with people in your industry can only get you so far. Why not take it a step further by hosting or being a guest on a business podcast?
This goes for both the potential opportunity to network with your guests but also with those tuning in to each episode.
When listeners hear you share your insight and expertise on a specific topic, they are more likely to remember you and potentially reach out for future business opportunities.
Additionally, through podcasting, you have the opportunity to connect with individuals from all over the world, expanding your network in ways that may not be possible through traditional networking methods.
So if you're looking for an innovative way to network with others in your industry, consider starting or appearing on a business podcast. You never know who might be listening.
Drive Web Traffic & Sales
Anyone who has a website or blog knows that one of the most important things is driving traffic to your site. The more people that see your content, the more likely you are to make sales or get customers.
If you're looking for a way to drive web traffic and sales, then producing a business podcast is a great option.
By creating a podcast and making it available on popular platforms like iTunes, you can reach a whole new audience and get them interested in your products or services. By then providing valuable information and insights, you can build trust and credibility with your audience.
After you have built a rapport, you can drive listeners to your website where they may learn more about your business or make a purchase. Overall, it's an incredibly organic way to sell to people without "selling."
How to Produce a Podcast
If you're thinking that producing a podcast sounds like exactly the thing you need to propel your business to the next level then we're here to help you get started.
Ultimately, we recommend at least inquiring about Omaha podcast production services, what they include, and how they might help you ensure you're creating a top-tier podcast that succeeds.
However, here is what the podcast production process looks like and how you can get started on your own.
Are you still thinking of starting a podcast for your small business? If so, keep reading and find out which podcasting equipment is the best!
Get the Right Podcasting Equipment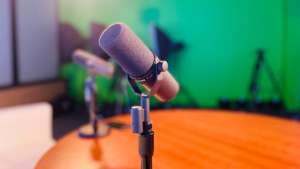 Image: SHURE Microphones at Two Brothers Creative in Omaha.
Before you sit down to formulate your podcast plan or start scheduling guests, you need to ensure you have the right podcasting equipment. When producing a business podcast, there are a few key things you need.
A good quality microphone is essential for clear recordings, and a pop filter can also help to minimize background noise.
While you don't have to purchase the most expensive microphone on the market, the best podcasting microphones for businesses do require a small initial investment.
Likewise, if you plan on having multiple people on your podcast, a mixer will allow you to control each person's audio levels separately. A USB interface can also help connect your microphone and other sound devices to your computer.
Another important piece of equipment is headphones, which can ensure that what you hear in your recording matches what is heard by listeners. Of course, don't forget about the essential software for editing and publishing your podcast episodes.
Most beginners can get away with using Audacity or even GarageBand. However, if you're interested in ensuring your podcast sounds professional, it might be best to hand over (at least) the mixing and editing process to a team of professionals.
Define Your Purpose & Niche
Defining your purpose and niche for your podcast is key to making sure that your show is successful. Your purpose will help to keep you focused and on track, while your niche will ensure you're targeting a specific audience and creating content suited to their tastes.
When choosing your niche, it is important to select a topic that you are passionate about and that you feel has enough demand to warrant a podcast.
For example, if you own a life coaching business in Omaha, you might decide to host a podcast in which you interview people who have made massive transformations in their life. You can talk about the methods they followed and then incorporate your tips and experience.
Ultimately, you need to ask yourself why you're starting a podcast and who your target audience is. Once you know the answer to these questions, you can start thinking about what type of content you want to produce.
Do you want to educate, entertain, or both? Narrowing your focus will make it easier to produce consistent, high-quality content that your listeners will enjoy. Keep in mind that you don't have to please everyone. It's often better to focus on a specific niche.
Define Your Podcast Format
Before you launch your podcast, it's important to decide on the format. What do we mean by this?
Will your podcast be purely informational, or will it also include entertainment value? Will you interview guests, or will it be a solo show?
Once you have a clear idea of the format you want to use, you can begin planning your episodes, consider the overall structure of each episode, and what type of content you will include.
Keep in mind that your format may evolve as you gain experience and feedback from your audience. However, starting with a clear idea of what you want to accomplish will make the production process much simpler.
Build Episode Structure
Every podcast episode should have a structure. This will help you stay on track while recording and make it easier for your listeners to follow along.
There are a few different ways to build your episode structure. You can start with a simple introduction, followed by a few main sections.
Alternatively, you can use something called the "hook, line, and sinker" approach. This involves starting with a catchy introduction (the hook) that leads into the main body of the podcast (the line). Finally, you'll want to end with a call to action or takeaway message (the sinker).
Experiment with different structures until you find one that works for you and your audience.
Find & Schedule Guests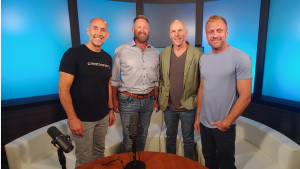 Image: Joseph Kenney, Christopher Slater, Jeff Koterba, and the incomparable Matt Tompkins.
Not sure how to get started booking guests? If you're using the services of an Omaha podcast production team then this should be included. However, if you're going at it alone then there are a few ways to find and schedule guests for your podcast.
You can use a personal connection, such as a friend or acquaintance. You can also use a professional network, such as LinkedIn. Or, you can join platforms that allow you to post about your podcast in search of guests.
Once you have found potential guests, reach out to them and schedule a time for the interview.
Find a time that works for both you and the guest, and make sure to send a reminder a few days before the interview.
Note that it's also a good idea to include questions beforehand so that your guests will be prepared.
Image Credit: The hosts of The Omaha Podcast pictured with internationally known editorial cartoonist Jeff Koterba.
Prepare & Research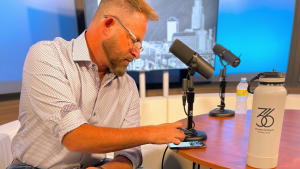 To produce a great podcast, you need to do your homework. That means preparing for each episode by researching your topics, guests, and audience.
Once you have a solid understanding of what you want to accomplish, you can start crafting your script. While it's often best to let the conversation flow naturally while recording, it's still nice to have a basic outline to follow to ensure you and your guests stay on topic.
When it comes down to it, the more prepared you are, the smoother the recording process will be. This can create a more cohesive storyline that will make it easier for guests to follow. It can also make the editing process a lot quicker as you won't have to edit out too much content.
Image: Christopher Slater of 316 Strategy Group preparing his notes for a podcast episode of The Omaha Podcast.
Record & Edit
Now it's time to record your business podcast! Where will you do this and how will you record the audio?
The first step is to find a quiet location with good acoustics. This will help to ensure that the audio is clear and free of background noise.
Once you have found a suitable location, it is time to set up your equipment. You will need a microphone, an audio interface, and a computer with audio editing software.
Once you have your equipment set up, you are ready to start recording. Begin by introducing the topic of your podcast and welcoming your listeners. Then, start talking about your chosen topic. Remember to speak clearly and at a consistent volume.
If you make a mistake, don't worry; you can always edit it later.
Once you have finished recording, it is time to edit your audio. This is where you will remove any mistakes, unwanted background noise, or dead space between paragraphs.
You can also use editing software to add special effects or music to your podcast. Finally, export your edited audio as an MP3 file and upload it to your website or blog.
Image Credit: Video podcast on the set of The Omaha Podcast at Two Brothers Creative in Omaha.
What's Included in Podcast Production Services?
Image: Jeff Koterba, editorial cartoonist, on set at The Omaha Podcast in Two Brothers Creative studio in Omaha.
If the above-mentioned steps sound like a lot to handle while also running your business and day-to-day tasks then we understand. It is a lot. It's why a lot of Omaha business owners entrust this process to a team of professionals.
After all, there are a lot of moving parts when it comes to producing a high-quality podcast. The idea of having some help might sound nice, but what exactly do podcast production services include?
Content Creation
Any great Omaha podcast production company will help you with content creation from start to finish. This is critical, too. Without engaging and interesting content, listeners will quickly become bored and move on to something else.
This is why a good podcast production company will have a team of experienced writers who can help you develop topics that will capture your audience's attention.
While the exact tasks they'll carry out vary from company to company, this often includes help with finding or fine-tuning ideas for podcast episodes. It also often includes identifying content that's going to resonate the most with your target audience.
In addition to high-quality video and audio content, it's important to create additional content pieces that complement your podcast. Our podcast production team in Omaha handles everything including:
Facebook posts.
Instagram posts.
Instagram video reels.
Facebook stories.
Transcripts
Blogs
Now, find out why high-quality recording makes a difference!
Image Credit: Jeff Koterba being filmed at the set of The Omaha Podcast.
High-Quality Recording
Oftentimes, it might not make sense for businesses to invest in expensive podcast recording equipment. Instead, why not entrust this part of the process to a team of podcast producers?
By using state-of-the-art technology, they'll be able to ensure that your podcast recordings come out crystal clear and sound as professional as possible.
High-quality recording is important in podcast production because it ensures that the listener has a clear understanding of what is being said.
If the recording is of poor quality, the listener may have difficulty comprehending the content, which can lead to frustration and eventually cause them to stop listening.
High-quality recordings also help to create a more professional image for the podcast, which can attract more listeners. Consequently, it is essential to invest in high-quality recording services to produce a successful podcast.
Professional Post-Production
Post-production is probably the most time-consuming and important aspect of podcast production. If you're not planning on specializing in podcast production or audio engineering then it doesn't make sense for you to learn the ins and outs of this either.
During this phase of the production process, our professional team takes your recorded audio and turns it into a polished, professional-sounding podcast.
This can include things like noise reduction, EQ, compression, and level balancing. It can also include adding intros, outros, and other audio enhancements. In short, this part of the process can make the difference between a good-sounding podcast and a great-sounding podcast.
Publishing & Podcast Marketing
Finally, it's time to upload your business podcast! However, you're not going to see lots of success by simply uploading each episode to Spotify and hoping the listeners come in. A professional podcast team in Omaha will be able to also market the podcast effectively.
Get a Free Consultation for Omaha Podcast Production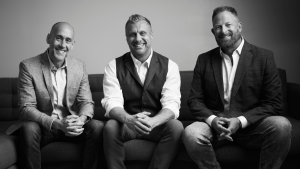 Joseph Kenney, Matt Tompkins, and Christopher Slater are the hosts of The Omaha Podcast. 
Two of the area's most respected and talented digital media firms are joined forces to bring their clients audio and video podcast production that is unmatched in the Omaha Metro area.
Led by Matt Tompkins of Two Brothers Creative, and Joseph Kenney, and Christopher Slater of 316 Strategy Group, this partnership takes podcast production beyond a recording and into the next generation of production, distribution, and overall marketing strategy for business owners and thought leaders.
Reaching out to a professional team for help with Omaha podcast production can help ensure your business podcast educates, entertains, and informs your audience. It can also save you time and energy in the long run.
If you're thinking about starting a podcast or are ready to take your existing show to the next level then get in touch with us to discuss
We are a professional podcast production company and marketing agency in Omaha, and we're ready to help you scale your podcast and your business. Click here to get in touch for a free consultation.