What do podcast production companies do you ask? It's a question we hear often from small business owners who are looking to take their business to the next level. Small business owners in Omaha are always looking for a way to gain an edge over their competition. Podcasting is quickly becoming one the most popular mediums for creating awareness, driving traffic, and improving internal communications for small businesses everywhere.
Podcasting must be a serious consideration for all small business owners. They can no longer ignore the beneftis of this incredible medium. ~ Joseph Kenney, 316 Strategy Group
Are you a small business owner seeking guidance in creating a podcast series for your personal brand or business? Have you already started producing your own podcast but find the whole process overwhelming, complicated, or time-consuming? Wherever you're at in your podcast journey, this guide will help you better understand what podcast production companies do. This overview will take a deep dive into what services you should expect from podcast production companies like 316 Strategy Group in Omaha.
What is a Podcast?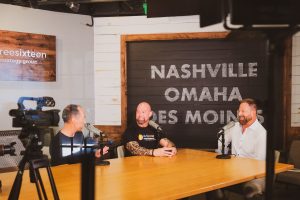 Maybe you already have an idea for a podcast or you've seen the growing popularity of this medium and have decided to add to your content marketing strategy. Perhaps you've surveyed your targeted demographic and have realized they are hungry for the kind of podcast you could create. Maybe you've heard that launching a podcast would set you up as an authority figure in your niche.
Whatever your reasons for considering the launch of a podcast, you need to take the time to identify who your target listener is and what type of content would interest them. Your research will help you decide what type of content your podcast will contain, how often it will be produced, and how it will be distributed.
Podcast Production Companies, like 316 Strategy Group, will help you develop a successful podcast strategy that nicely compliments your strategic marketing plan. They will also help you decide:
Overall strategy
Type of format
How to cultivate guests
Delivery style
Interviewer/presenter
Scripting
Audio quality
Video quality
Distribution platforms
As a business owner, you want your podcast to be as natural as possible. That's why we don't recommend you read directly from scripts. An experienced podcast production company will help you develop a framework for each episode. This ensures you are connecting with the targeted demographic of your small business.
Our podcasting team has over 25 years in television, radio, and podcast production. They will help you decide the following:
The theme of the episode.
What questions should be asked and answered?
Who would be placed to provide that information?
The primary goal of each episode.
What do you want to convey to your targeted audience?
You may be interested in tackling a podcast on your own but it's not for the faint of heart. You may want to get the help of any number of podcast production companies in your area if you're not up for the challenge. Either way, it's always worth asking for the opinion of podcast professionals like 316 Strategy Group.
Production Packages
Our concept is already researched – all you need to do is put your stamp on it. From discovery to planning to production to distribution. 316 Strategy Group will handle all of your podcast production needs. We provide podcast services for internal communications, too!
Once you know your audience, have your concept mapped out and know how your podcast is going to sound, you can move into podcast production. Many small business owners say this is the easiest part of the whole podcast production process. Many business owners are now familiar with recording onto their phones or via Zoom/Skype calls/Google Meet.
Quality Makes The Difference
Our clients are regularly complimented for the noticeable difference in quality. We leverage the best microphones and recording equipment in the industry. The difference is unparalleled in the podcast industry. But, there's nothing wrong with you recording yourself onto your iPhone or recording interviews via a phone line. But, you'll want to make sure that the recording is clean and crisp. If not, your listeners stop downloading episodes due to poor quality.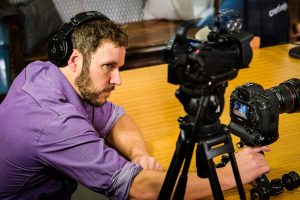 Experienced podcast production companies should be able to offer you different options for recording and help your business the best quality possible. 
Options for Small Business Owners
316 Strategy Group offers several different podcasting services which include:
Audio-only podcast at the 316 Strategy Group podcast studio in Omaha.
Audio-only podcast at your place of business.
Audio/Video podcast at the 316 Strategy Group podcast studio in Omaha.
Audio/Video podcast at your place of business.
Mobile Podcasting Van to be delivered on location.
Whether we're recording at our podcasting studios in Omaha, in our mobile podcasting van, or at your place of business 316 Strategy Group will use the very best equipment and production crew available.
Microphones
Soundproof rooms
Recording equipment
Production crew
Marketing strategist
Are you eager to start your own business podcast, but don't know where to start? Click here to get in touch with our podcast team in Omaha, Grand Island, Des Moines, Kansas City, or Nashville.
Podcast Post-Production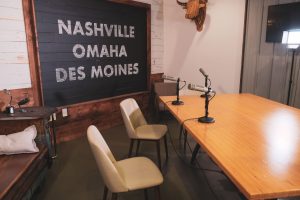 This is the stage of podcasting that most business owners quit. Post-production is where the magic happens. It's where the raw audio and video recordings are edited, and mixed with intros, transitions, and animations. In some cases, it requires very little work. In other cases, with multiple voices and different camera angles, it might require extensive editing to create the final audio and/or video file for distribution.
Our experienced professional podcast producers will handle everything that is needed to make your business podcast sound amazing. This will include the following:
Balancing audio levels
Choose appropriate music
Source additional voiceover talent if required.
Distribution
By now you may have already made the decision to seek out the help of podcast production companies in your area. That's a great choice. An experienced production company will also help you prepare your podcast for successful distribution.
Pulling soundbites for social media use.
Creating thumbnails for your video podcast use YouTube and social media.
Soundbites and thumbnails are important elements to grabbing a listener's attention and help explain how they can access your business podcast. Many of our clients use an audio-video clip to grab their attention on social media.
If you produce they will come, right? Nothing could be further from the truth. This step is rarely taken as seriously as it should. Too many business owners take a casual approach to this final step. Trust us, listeners won't just find you on Apple, Google, or Spotify. Heck, your own employees won't just find your internal podcasts on the intranet unless you have a strategic marketing plan.
The increasing popularity of podcasts means more competition for you! It's harder than ever before to be found for your specific niche. Our team will work diligently with you to make sure your podcast stands out and is found by your target audience. Apple Podcasts is no longer the only player in the podcast game. There are countless others like Spotify and Amazon.
We'll help your business determine the best place to host your audio/video podcast. We'll make sure it is distributed to the best podcast platforms and we'll develop a strategy for making sure it is easily found on your website, email marketing campaigns and social media platforms.
Marketing
People won't just download your podcast. You'll need help and our award-winning marketing team will help! While this isn't really the expertise of most podcast production companies, it is our expertise. We're perfectly suited to do the following:
Providing audio and video clips
Suggesting copy based on the audio
Creating transcriptions
Using SEO or Search Engine Optimization
Written articles to create awareness
Cross-promotion
Content writing
There's a lot that podcast production companies offer to business owners just like you. This outline will help you when seeking out a podcast production company to work with in Omaha. Still not sure? We understand. It's a big step towards building your personal brand and creating awareness for your business. Our consultations are always free. We encourage you to contact our podcast team to learn more about our services and the pricing of our podcast packages.
If you're interested in using podcasting to build your personal brand, attract the perfect customer, increase traffic to your website, and turbocharge your bottom line please connect with one of our digital strategists in the following markets!
Des Moines Podcast Production contact 515-779-6954.
Grand Island Podcast Production contact Tracy Gardner at 308-390-7689
Omaha Podcast Production contact Christopher Slater at 402-881-2811
Kansas City Podcast Production contact Annie Lampe at 913-289-3009
Traffic is waiting for you! 316 Strategy Group is an award-winning design and content agency headquartered in Omaha, Nebraska. Our podcast production team is not only the best in Omaha but our quality is unparalleled in the podcast industry.