Omaha Podcast Production just got better! 316 Strategy Group and Two Brothers Creative announce a partnership to deliver next-level audio and video podcast production to the Omaha community and beyond.
Two Digital Media Firms are Joining Forces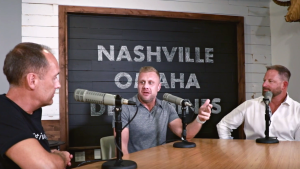 Two of the area's most respected and talented digital media firms are joining forces to bring their clients audio and video podcast production that is unmatched in the Omaha Metro area.  Led by Matt Tompkins of Two Brothers Creative, and Joseph Kenney, and Christopher Slater of 316 Strategy Group, this partnership takes podcast production beyond a recording and into the next generation of production, distribution, and overall marketing strategy for business owners and thought leaders.
Production of podcasts
Distribution of podcasts
Marketing of podcasts
Listeners Projected to Surpass 160 Million
In today's world of media, promotion, advertising, and entertainment, podcasting has become a juggernaut platform for both the podcaster and the listener.  If you had not been familiar with podcasts in the past, chances are, you are now.  "Back in 2006, only 22 percent of the adult population in the United States were aware of podcasting.  By 2021, this figure had risen to 78 percent," said Kenney. "Podcasting is an increasingly popular pastime in the U.S. and there were an estimated 120 million podcasts listeners in the country in 2021. Forecasts suggest that the number of podcast listeners will surpass 160 million in 2023 after increases of around 20 million each year," he added.
Forecasts suggest that the number of podcast listeners will surpass 160 million in 2023 after increases of around 20 million each year. ~ Joseph Kenney
There is simply no denying the space that podcasts are beginning to take up in our media consumption.  Podcasts are growing more popular as we are becoming busier.  "The beauty of recorded audio and video content is that it allows the listener and viewer to multitask," Slater said.  "A recent study revealed that while 49% of listeners do so at home, 22% listen while driving, 11% in the workplace, and 8% listen or watch while exercising. Downloaded episodes place the control with the listener, allowing them to rewind and listen at their own pace. Perfect for busy routines, daily commutes, and well-earned downtime," said Slater. Today's announcement is great news for Omaha podcast production!
The beauty of recorded audio and video content is that it allows the listener and viewer to multitask. ~ Christopher Slater
Tompkins, a veteran radio and television broadcaster, is excited about this partnership that has been in development for months in a concerted effort to offer the absolute best production and service to clients.  "We are invested in ways that go beyond the lights, cameras, and microphones.  We are able to bring our expertise and a creative passion to your podcast and deliver a complete scope of services on an ongoing basis," he said. "This includes weekly sessions to plan your podcast episodes, identify guests, prepare topics, and even critique episodes. We understand the secret to the best podcasts and can help your business set and achieve similar goals of success," Tompkins further explained.
One of those goals for savvy business owners is setting themselves apart and distinguishing them as the experts in what it is that they do. Kenney has been helping businesses grow and leverage their brands for decades and notes that "Podcasting is a unique medium that can help your business to have the edge over your competitors.  It opens the door for you to educate and inform your target audience.  It is an excellent opportunity for brands to influence and advertise their products and services.  Podcasting will play a vital role in digital marketing strategies well into the foreseeable future," Kenney said.  Tompkins echoed the impact that podcasting will have moving forward. "The future of podcasting is shifting on two fronts.  It now includes the addition of high-quality video and hyper-local focused content," he said.  "The future of podcasting for your business is the opportunity to connect directly with your customers in an intimate, honest, and authentic way that is unlike any other marketing medium. You're the expert in your field.  By working with us on your podcast, we'll make you shine."
This partnership is shaping the future of Omaha Podcast Production.
The Future is Shifting
Addition of high-quality video
Hyper-local focused content
"The value of audio and video podcasts doesn't end with recording and production," Slater said. "Recordings can be transcribed for rich blog content and utilized behind the scenes in robust Search Engine Optimization (SEO) and the video content, in particular, is invaluable for use in social media.  We are thrilled with this partnership which allows us to combine exceptional production quality with an extraordinary marketing strategy. It is a privilege to be working alongside Matt, who is a gifted broadcaster, videographer, and producer, and Joseph, who is an absolutely brilliant and creative strategist and game-changer for businesses.  Frankly, they are two of the very best in the business, and together we are able to provide a winning formula of incomparable creativity and strategy to help our clients succeed," Slater added.
"No longer do the most talented creative firms move to larger cities to secure clients and garner success. It's the people, not the mailing address, that makes the difference in what is produced, and ultimately the metrics prove that," Tompkins noted.  "Quality matters, especially when it comes to audio and video production.  We Specialize in delivering a level of video quality that matches the largest production companies in the country, but at an affordable rate that fits your budget."
We Specialize in delivering a level of video quality that matches the largest production companies in the country! ~ Matt Tompkins, Two Brothers Creative
With the rising popularity of podcasts, many business owners have considered them, but aren't sure how their particular business or industry may translate to a podcast production.  "Businesses use podcasts for a variety of purposes, including sharing information about new products, company information, or general information related to the industry," Kenney said.  "Incorporating podcasts into your marketing plan offers numerous benefits to the company.  A podcast provides a format for sharing your expertise in your industry and helps you develop an authoritative presence in your niche. Hearing the voice of the business owner gives the audience a stronger connection than simply reading information from your website.  Business owners who are consistently releasing podcasts are building brand awareness.  Most businesses won't get rich off of downloads, but they will build awareness for the products or services you offer as they relate to the topic of your podcast."
"Podcasting allows a business owner to foster a much more personal connection with their listeners and customers," Slater said.  "Imagine having the ability to communicate with your current and potential customers in a unique way, giving them insight into your own interests and passions.  It's also important to take the opportunity to showcase community partnerships and special relationships, and podcasting is the perfect platform to do just that.  Business ownership isn't easy, and with ever-changing technology, it can be challenging to keep up with the complexities of running your business while finding ways to most effectively reach new clients and customers.  Podcasting is becoming an invaluable component of overall marketing strategies, and we are here to help.  We've got you."
Are You Ready to Take Your Business or Non-Profit to The Next Level?
Ready to take that next step and learn more about how a podcast can help take your business to new heights? Omaha Podcast Production is changing quickly and we want you to be a part of it. Contact us today via email or phone to learn more about our process.
Email inquiries to: [email protected]
For podcast production in Omaha, call 402-881-2811.
For podcast production in Des Moines, call 515-779-6954.
For podcast production in Kansas City, call 913-289-3009.
For podcast production in Grand Island, call 308-390-7689.