So, what are the best podcast microphones you ask? Lucky for you we've got a few suggestions.
Can you believe that 41% of Americans listen to podcasts each month?
If you're thinking about pursuing a hobby or even starting a new career path, podcasting can be one of the most lucrative and enjoyable things you ever do. With so many fun topics to dive into and opportunities to work with sponsors, it's no wonder why this industry is booming.
The key to creating a podcast that people enjoy listening to is to invest in a nice podcast microphone. If you need help figuring out how to choose a podcast microphone, read on for the top tips that will help you get clear audio.
As co-hosts of The Omaha Podcast and the producer of podcasts, 316 Strategy Group can help guide you one what to consider when purchasing a podcast microphone. What's right for you may not be right for someone else. Let's dive in! And, if you need help our team is standing by!
In this podcasting article, we will discuss the keys to finding the best podcast microphone! 
Read reviews for different types of microphones.
Check out guides on podcasting microphones.
Know your budget for a microphone.
How many podcast guests will you have?
Know the difference between a dynamic and a condenser podcast microphone.
We will also review three different podcasting micropones:
Rode PodMic
Blue Yeti
Shure MV7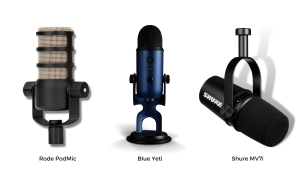 After reading this podcast article, you'll be better equipped to find the best podcast microphone for your unique situation! In case we forget to ask later in this article, be sure to drop a link to your podcast in the comments below!
Read Reviews for Different Types of Microphones
Finding a microphone for podcasts can be an intimidating task when there are thousands of products to choose from. One of the easiest ways you can make your search more manageable is to scope out some online reviews.
These reviews are written by others who podcast just like you. If people aren't happy with their purchase, then they can save you time, money, and frustration by leaving a review.
Check Out Guides on Podcasting Microphones
Since there are still lots of podcasting microphones that have earned glowing reviews, you may need additional help narrowing down the options. This is where podcast microphone guides can come in handy.
These guides break down the pros and cons of the most popular microphones on the market so you can make the smartest decision for your unique needs.
Set a Budget for Your Podcast Microphone
It can be shocking to learn that some high-quality microphones can cost over a thousand dollars. If you're new to the world of podcasting, then you shouldn't invest so much money in the beginning.
Set a budget that you're comfortable with. You should have no trouble tracking down a microphone that can elevate your audio within your price range.
Consider How Many People Will Be Speaking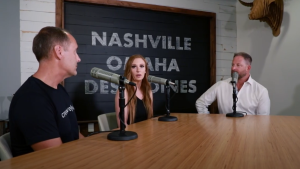 Image: Joseph Kenney, Kenzie Fulcher, and Christopher Slater at 316 Strategy Group in Omaha.
Podcasting with one or more additional people can make your show richer and take some of the planning off of your shoulders. If you want to podcast with others, then your microphone should be designed to pick up multiple voices.
Solo podcasters will fare well with cardioid microphones that pick up audio from the front. Bi-directional microphones can pick up voices from other directions.
Understand the Difference Between Dynamic and Condenser Microphones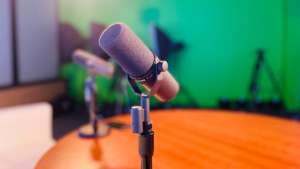 Image Credit: Shure microphones at Two Brothers Creative – a podcast partner with 316 Strategy Group.
You also need to spend some time researching dynamic and condenser microphones.
To summarize, dynamic microphones often create a warm, professional sound like what you hear on the radio. Condenser microphones can pick up more sounds, which results in more natural results.
BEST Podcast Microphone Under $100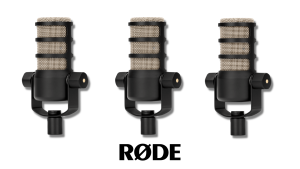 The Rode PodMic is great for beginners who are just starting out and can't control all the noise in their recording environment. It's very affordable for anyone starting out and the built-in shock mount, internal pop filter, and noise reduction features work together to block distracting background sounds from your apartment, dorm room, flat, office, or van!
Amazon Review Rating: 5-Star Average
Price on Amazon: $99
Type: Dynamic
BEST Podcast Microphone Under $200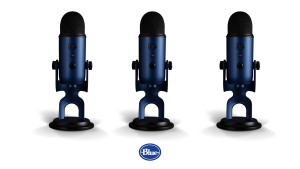 The wildly popular Blue Yeti is great for podcast beginners who want to start recording a podcast as quickly as possible. The Blue Yeti has all the basic mic functionality you need to get a podcast up and running and the three different polar pattern modes allow flexibility for finding your best recording setup. This is a great choice for beginning podcasters.
Amazaon Review Rating: 4.5-Star Average
Amazon Price: $129.99
Type: Condenser
BEST Podcast Microphone Over $200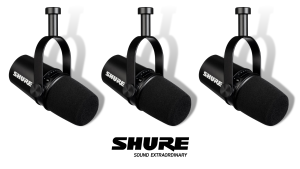 Are you a professional podcaster and willing to spend a little extra money to take your podcasting game to the next level? The Shure MV7 is a great microphone with a number of premium features to help you sound sensational on your next podcast. A consistent, high-quality sound is important for podcast professionals and broadcasters and this mic's auto-set features make it easy for any user to achieve this.
Amazon Review Rating: 4.5 Star Average
Amazon Price: $348
Type: Dynamic
Three Great Choices
There are literally hundreds of podcasting microphone choices on the market. The choices are seemingly endless. We've give you three different microphones at three different price points. You may find something else that works best for you.
A question we commonly get is what podcasting microphone does Joe Rogan use. The last we checked The Joe Rogan Experience is recorded with a Shure SM7B Podcasting Microphone.
Joe Rogan's Microphone – Shure SM7B
Amazon Review Rating: 5 Star Average
Amazon Price: $399
Type: Dynamic
Are You Ready to Find the Best Microphone for Podcasting?
Buying a podcast microphone is important for creating a podcast that sounds legitimate. After reading this guide, you should have all of the information you need to make your purchase.
Are you interested in taking your business podcast to the next level? Check out our top-notch podcasting services.
Don't forget to add a link to your podcast in the comments below and be sure to check out The Omaha Podcast on your favorite listening platform!