Find Out How a Business Podcast Can Help Your Business Grow
Attract a New Audience, Increase Brand Awareness, Establish Authority and Convert More Sales. Podcasts Can Do All That.
Business Podcasts Made Simple
Are you interested in starting an informative podcast for your business but don't know where to start? 316 Strategy Group is here to help. We record, produce, edit and promote your business podcast, so all you have to do is provide the voice. Give us a call today to get started. We can't wait to hear what you have to say! We work with businesses in Omaha and beyond. 
Why Choose a Podcast for Business?
Business podcasting is a great way to reach your customers anywhere, no matter what they are doing. Your audience is on the go and can't always sit down to read your content, but they might be able to listen to it in the car or while on a walk. This makes it easier to ensure that people are consuming your content. Podcasts also show your audience that you are an expert in your industry and that there is a real face behind your brand. When you combine this with an excellent podcast marketing strategy, this is a powerful way to drive sales. To learn more about the benefits of podcast marketing, check out our blog post here!

Explosive Podcast Growth Statistics
If you are like millions of people around the world, you are a big fan of this hot new medium. In the past few years, podcast growth has been explosive. In 2013, a report by Statista found that 32 million people in the United States listened to podcasts. Today, that number has soared up to 120 million and growing. In 2023, they estimate that number will be as high as 164 million active listeners. In addition to the sheer number of listeners, podcast listeners tend to be wealthier. A report by Edison Research shows that about 45% of podcast listeners had an income of $75,000 or more. 
The Possibilities Are Endless with a Business Podcast
When you choose a podcast for business, you get the opportunity to connect with your customers in a personal and authentic way. If you feel like other digital marketing strategies remove you from the equation, this is a great alternative. Business podcasts allow you to express your creativity, say what you want to say, show off new products and create a meaningful community around your business. We are here to help you create a top business podcast you can be proud of. 
Let Us Help You Create Your Podcast from Start to Finish
You love the idea of having a podcast, but the process of creating one might be intimidating. That's ok. When you choose 316 Strategy Group, you don't have to worry about anything. We handle the entire process from start to finish. Our team can help you identify the right content, record your podcast, edit it, and more. We will even handle tricky aspects like licensing music. Creating audio content has never been easier. 
How We Help You Start a Business Podcast in Omaha
Step 1: Content Creation
Not sure what topics to talk about during your podcast? Are you considering repurposing and enhancing your written content? We can help. Our team can help you finetune your ideas to ensure that you feel confident in your presentation. Our goal is to help you identify the content your customers are most interested in so they are eager to tune in. 
Step 2: Crystal Clear Recording
Once you know what you want to say, we record it for you in the comfort of your home or office. We use state-of-the-art technology to ensure your podcast comes out clear for an enjoyable listening experience. 
Step 3: Professional Production
This is where our expertise shines. We will edit, touch up and refine your podcast until it is perfect. We may add music, cut it into a more easy-to-digest format, and more. We make sure to properly license any music or outside content we use for your peace of mind. Then we send it to you for your approval. 
Step 4: Uploading and Sharing
Once you are happy with the finished product, we will upload your business podcast to Spotify, Apple Podcast, and wherever else your customers are consuming content. Once we've uploaded your business podcast, we use our marketing expertise to promote it across all channels for instant traffic. 
Step 5: Level Up Your Brand
When you have an intelligent business podcast strategy, you make it easy for high-paying customers to engage and learn from you in the comfort of their own home or car. This builds trust in your brand and services, so they feel confident about choosing everything you have to offer. Start connecting with your people today!
Why Choose 316 Strategy Group?
Do you like innovative digital marketing strategies? Do you want to get ahead of the competition and explore new ways of growing your business? Then you have come to the right place. At 316 Strategy Group, we refuse to remain stagnant. Our goal is to develop unique data-driven marketing strategies for each business we serve. We are where your customers are today, and we are ready to pivot to where they will be tomorrow. Our ultimate goal is to help our clients grow and continue to do all the amazing work they do for the community. 
How Much Do Our Omaha Podcasting Services Cost?
Every podcast we create is as unique as the companies we serve. Cost depends on the complexity and length of the project, but we are committed to providing competitive services that offer a high rate of return on your investment. We look forward to creating an estimate for you!
What is Podcast Hosting?
Whether you're seeking a podcast hosting company in Omaha or across Nebraska, 316 Strategy Group knows that nailing down your podcast hosting is a critical step in distributing your content for others to hear and enjoy. To take your podcast from concept to release can be a bit of a process but our podcast team in Omaha has your back. Hosting setup is an absolutely essential part of that podcast process.
The hosting platform is the home where your podcast lives. It is the place all of your episodes will be uploaded to be broadcast to your audience and the world. And since most people will not hear your business podcast directly from the hosting platform, the hosting site generates a "signal" called an RSS feed, which links the hosting platform podcast directories like Apple, Google, Spotify, and even YouTube.  Your podcast won't exist without setting up your hosting platform.
Why do you need a podcast hosting platform?
It provides storage for your podcast's episodes
It produces an RSS Feed that can be sent to the directories to get your podcast onto hosting platforms like Spotify and Apple.
It creates unique HTML embed codes so that your episodes can be added to your website
What should you look for in a hosting platform?
There are a lot of options when looking for hosting platforms for your podcast in Omaha and there is an ever-growing number of podcast hosting sites to choose from. There are variations based on the listener target demographic, features, pricing, ease of use, compatibility with landing page or website, networking options, monetization, and variations on analytics.  316 Strategy Group will help you navigate these waters and help you decide the best hosting platform for your Omaha podcast.
Ready to Learn More About This Fun and Effective Marketing Strategy?
Feel free to contact us and find out how we can help you bring your brand to new heights with our interactive and engaging business podcasts. Ask about our Omaha podcasts today!
We've Partnered With The Best in Omaha Podcast Production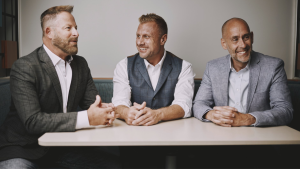 In December of 2021, Omaha Podcast Production got better! 316 Strategy Group and Two Brothers Creative announce a partnership to deliver next-level audio and video podcast production to the Omaha community and beyond.
Two of the area's most respected and talented digital media firms are joining forces to bring their clients audio and video podcast production that is unmatched in the Omaha Metro area.  Led by Matt Tompkins of Two Brothers Creative, and Joseph Kenney, and Christopher Slater of 316 Strategy Group, this partnership takes podcast production beyond a recording and into the next generation of production, distribution, and overall marketing strategy for business owners and thought leaders.
Read more about what this exciting partnership means for Omaha by clicking here!