What value does an Omaha logo designer bring to the table you ask? As a business owner in the Omaha metro area, it's important you stay focused on operating your business from one day to the next. But, it's also important to know when to call in the professionals.
Did you know that there's an 80% increase in brand recognition with colored logo design? Logos are carefully thought out and reviewed by multiple teams within a company because they stick with your brand forever.
You want to create an eye-catching logo that gets results. Keep reading and we will guide you through how an Omaha logo designer can boost your local business. And we should know! 316 Strategy Group is Omaha's best logo design company. As a multi-award-winning logo design agency, we know the importance of great logo design.
The Importance of Logo Design
Logos are key to business branding because they're typically the first thing a customer sees. They're the one piece that the customer remembers and can leave a big impression if it's successful.
Your logo can be an abstract design, similar to the Nike "swoosh," or a stylized version of your company's name. It can also be a combination of both; it's completely up to you and how you want to portray your company.
Our strongest logos tell the simplest of stories. ~ Joseph Kenney, 316 Strategy Group 
You want to make sure you choose the right people for the job when you're creating your logo so that it makes a positive, strong impression on consumers. It's smart to consult an outside party because they will be able to give you unbiased feedback.
They will also be able to look at the logo as an outside consumer and help you make sure you're getting the message across that you want consumers to remember.
316 Strategy Group in Omaha can help you with logo design and branding services. You can browse through a few of the logos we've done and with our careful, personal approach we want to create something where you will see results!
What to Consider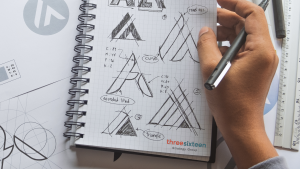 There is a list of things you want to consider when you're thinking about the best logo design for your company. You can walk through these steps with your Omaha logo designer.
Lay the groundwork: Understand what you do, why you do it, what makes you different, and what you value most
Start in black and white: Colors can be distracting, you want to start with the basic concept and work from there
Keep it simple: You want your consumers to remember your logo at a glance, which isn't possible with an overcomplicated design
Be different: If similar brands are all using the same colors or font, branch out and use something else
For example, Apple made their logo an apple with a bite in it because they wanted to set themselves apart from any other rounded fruit logos. Something as small as the bite has made Apple one of the most famous logos in the world.
Get Set Up with Your Omaha Logo Designer
Now that your company is ready to lock down a logo, start by hiring 316 Strategy Group, your Omaha logo designer.
You can work with them on laying the groundwork, start in black and white to get the initial image down without color distractions, keep it simple so that it's easy for people to remember, and strive to be different and stand out from other brands.
Start researching famous logos and get inspired or contact us today with questions and we can walk you through our logo design services.
For logo design in Omaha, call 402-315-9842.
For log0 design in Des Moines, call 515-779-6954.
For logo design in Kansas City, call 913-289-3009.
For logo design in Grand Island, call 308-390-7689.