We are ecstatic to announce that Two Brothers Creative and 316 Strategy Group have teamed up to provide Omaha with unmatched audio and video podcast production!
Two Omaha Production Companies Join Forces
Two of Omaha's most prominent and skilled digital media companies are uniting to give their clients access to the best audio and video podcast production in Omaha, Nebraska.
Two Brothers Creative and 316 Strategy Group are excited to announce their new partnership that takes podcast production to a whole new level.
This innovative team is led by Matt Tompkins of Two Brothers Creative, Joseph Kenney, and Christopher Slater of 316 Strategy Group.
Together they offer state-of-the-art recordings, distribution services, podcast SEO, and marketing strategies for business owners and thought leaders who want to take their businesses to the next level.
316 Strategy Group is Omaha's leader in social media management, SEO, graphic design, and website development. Two Brothers Creative has been a leader in video and podcast production and has created dozens of podcasts in Omaha and beyond.
This new partnership provides Omaha businesses with a one-stop shop for all their audio and video podcasting needs.
"We are beyond thrilled to be teaming up with Two Brothers Creative. This is a perfect example of two Omaha companies coming together to provide a service that is unrivaled in our city," says Joseph Kenney of 316 Strategy Group.
This podcast partnership has put Omaha podcast production on the map!
"This is a dream come true for us. We have always provided our clients with the best audio and video podcast production, and now we can also offer the best marketing and SEO services in the business," says Matt Tompkins of Two Brothers Creative.
Learn more about Podcast Production Services in Omaha and the state-of-the-art podcast studio at Two Brothers Creative in Omaha.
Podcast Production Services
This new partnership will provide the following podcast production services to the Omaha area:
Podcast development
Production of podcasts
Distribution of podcasts
Marketing of podcasts
Search Engine Optimization of podcasts
Nowadays, with how advanced media has become, it's no wonder that podcasting has taken off the way that it has. It's a beneficial platform for both those who host podcasts and those who enjoy listening to them.
Omaha Podcast Studio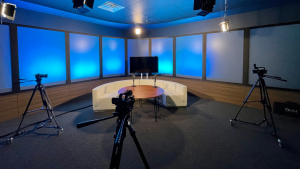 Image: The Two Brothers Creative podcast studio in Omaha offers cutting-edge technology.
In the summer of 2022, Two Brothers Creative launched its cutting-edge podcast studio in Omaha. This video podcast studio is unrivaled not only in Omaha but throughout the Midwest.
The Two Brothers Creative podcast studio has a designated podcast studio that more closely resembles a television studio.
The podcast studio in Omaha is equipped with a green screen, LED lighting, and multiple cameras. This technology allows for this dynamic partnership to produce professional and high-quality audio and video podcast production.
The dedicated production room at Two Brothers Creative has top-of-the-line computers, microphones, soundboards, and headphones to ensure that the audio quality is pristine.
Matt and Ben Tompkins have over 25 years of experience in radio, television, live performance entertainment, video production, and podcasting. With this wealth of knowledge at their disposal and a unique partnership with 316 Strategy Group, they will be able to make your dream podcast a reality!
This new partnership between 316 Strategy Group and Two Brothers Creative means that businesses in Omaha now have access to the best podcast production services in the Midwest.
Podcasting Services in Omaha
Whether you're a beginner or a seasoned Podcaster and you're looking for a "podcast production company near me", the Omaha podcast studio at Two Brothers Creative offers a complete list of podcasting services to help you in your Podcasting journey.
Omaha Podcasting Services
Recording
Distribution
Editing
Marketing
Search engine optimization
Professional voice-over
Podcast intros services
Podcast cover artwork
Video and live video streaming
The new Two Brothers Creative podcast studio in Omaha allows the partnership between Two Brothers Creative and 316 Strategy Group to continue to expand its roster of original podcast content while integrating the latest technology in audio recording and playback. Two Brothers Creative and 316 Strategy Group represent podcasts for entrepreneurs, small business owners, and industry experts including "The Omaha Podcast," "Blending Bourbon," "Driven Too Far", "Lift Your Future" and more.
In addition to the new podcast space, Two Brothers Creative's new studios are furnished with the latest audio & video technology.
"Making great podcasts starts with having the best equipment available to our hosts and engineers," said Joseph Kenney, 316 Strategy Group. "Matt Tompkins and Two Brothers Creative have chosen the latest and best audio & video tech, and I know our listeners will love what they hear."
"Podcasts are now a primary medium for content consumption and this is a trend that will continue to grow," commented Christopher Slater, 316 Strategy Group. "In this form of media, as in many others, the value and enjoyment depend on the quality of the audio — both during content creation and media consumption. With our Two Brothers Creative partnership we want to deliver the best possible audio & video experience to customers therefore we are thrilled to be partnering with one of the leaders in content production in this space, Matt Tompkins. He is simply the best around."
Video Podcasting in Omaha
If you had not been familiar with podcasts in the past, chances are, you are now.
"Back in 2006, only 22 percent of the adult population in the United States were aware of podcasting. By 2021, this figure had risen to 78 percent," said Kenney.
"Podcasting is an increasingly popular pastime in the U.S. and there were an estimated 120 million podcast listeners in the country in 2021. Forecasts suggest that the number of podcast listeners will surpass 160 million in 2023 after increases of around 20 million each year," he added.
Are you aware that video podcasts are becoming increasingly popular?
Whether you are a business or an individual, if you have something to say, there is a good chance that a podcast would be the right medium for you.
Small business owners in Omaha should learn the numerous benefits of video podcasting and take advantage of the state-of-the-art podcasting studio at Two Brother's Creative.
There are numerous benefits of video podcasts including:
Increased Engagement – A study conducted by Edison Research showed that people who watch a video podcast are 1.7 times more likely to finish the whole thing than if they were just listening to an audio-only podcast.
Improved SEO – Google loves video and is more likely to rank a video higher in their search results than they are an audio file. 316 Strategy Group brings to this partnership over a decade of professional SEO (search engine optimization) experience. Now, they are bringing their award-winning experience to the world of podcasting.
Builds Trust – Seeing the person behind the podcast helps build trust with your audience.
Improved Credibility – A study conducted by Forbes showed that "79% of senior executives would rather watch a video than reading text."
The best way to get started with podcasting is to reach out to the experts at of this dynamic podcast partnership in Omaha. We will work with you to determine the best format for your content and help you every step of the way – from content creation to post-production and distribution.
For more information about Omaha Podcast Production, please click here.