Amy Nakai is a force to be reckoned with in the tree industry, and her story is one that inspires small business owners and motivates people to call her for their tree care needs.
As the owner of Rooted Tree Specialists, she is the first ground-level female-owned and operated tree company in Nebraska, breaking barriers in a predominantly male-dominated industry.
Her passion for trees and the natural world began at a young age, caring for her own fruiting trees, plants, and garden. This love of horticulture and nature led her to the tree industry, where she started as an Office Manager.
Amy quickly fell in love with the industry and went to school to become a certified arborist. After graduating with her Certified Arborist license, she became a General Manager.
The Vision for Something Different
Amy's vision for the company was different from the traditional "money first" mentality. She wanted to educate the community on the importance of tree care, knowledgeable staff, and community involvement.
The money was ancillary; being rooted in the community, for the community, was their focus. This philosophy set Rooted Tree Specialists apart from the competition and made them valuable assets to the Omaha metro community.
Breaking Stereotypes
Breaking stereotypes in a male-dominated industry has not been easy, but Amy's determination and passion have been key to her success. As the leader and boss of her crew, it took time for them to trust and listen to her.
But with time, her crew and the community have been incredibly supportive. Her business partner, Jeron, has been instrumental in building strengths and creating a team that works together and fills in the gaps to help them succeed.
Amy is a Nebraska Arborist Association Certified Arborist and Licensed and Certified Pesticide applicator. She specializes in insect diagnosis, fungal diseases, and plant health care. Amy loves to work with trees to help prevent tree diseases and focuses on the long-term benefits for the community.
Rooted in The Community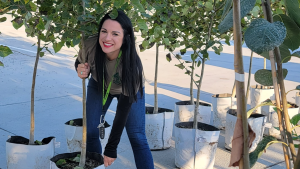 What brings Amy so much joy in the business is helping others and the community. She thrives on community involvement and making a difference in people's lives.
Rooted Tree Specialists has been involved in numerous community projects, including cleaning trash out of Lake Cunningham Park, packing in trails at Hitchcock Nature Center, removing hazardous trees for a local non-profit, writing the NRD grant for another local park in Gretna, and planting 27 trees in the local park.
They are currently doing a local toiletry drive for Humble & Kind and have much more planned for the year.
Commitment To Excellence in Omaha
The biggest challenge as a business owner has been people who want excellence and longevity for their trees but want it "cheap."
Amy invests a fortune in training her crew to be the best and be certified arborists so they know how to make the proper cuts and why to make them for the tree canopy's longevity.
This commitment to excellence and customer satisfaction has made Rooted Tree Specialists a household name in the Omaha community.
Learning From Others
Susan Jacques, former President of Borsheims for 33 years and current President of an international company, has been a role model for Amy. She learned from her how to work with local similar industry businesses while providing excellence to clients and staff.
The Future
Looking to the future, Amy wants Rooted Tree Specialists to be a local household name. She wants people to know their motto and start getting involved in the community with them at community events.
They will soon have a calendar of events on their website that lists the monthly community projects they volunteer.
Her Passion
Amy Nakai's passion for trees, her determination to break barriers, and her commitment to community involvement are truly inspiring. She has created a company that not only cares for trees but also cares for people and the community.
If you need tree work done or are a small business owner looking for inspiration, look no further than Rooted Tree Specialists and Amy Nakai. Her story shows that with passion, hard work, and determination, anyone can, defy norms, break barriers and achieve their dreams.