Members of the 316 eam took it upon themselves to explore the local Omaha community in search of five Mexican restaurants that you can proudly support this Cinco de Mayo.
Before diving into the delicious cuisine and lively celebrations, one of our team members Alejandra Govea also made it a point to educate the community on the significance of Cinco de Mayo as a day to celebrate Mexican heritage, culture, and food. So, what exactly is Cinco de Mayo?
Celebrate Cinco de Mayo in Omaha NE, or translated to the fifth of May, is a holiday that commemorates the Mexican Army's victory over the French Empire at the Battle of Puebla on May 5, 1862. While it is a relatively minor holiday in Mexico, Cinco de Mayo in Omaha has become a popular celebration of Mexican heritage and culture in the United States, especially in cities with large Mexican-American populations. 
Omaha, Nebraska has a rich history of Mexican-American culture and traditions, one of them being the celebration of Cinco de Mayo. From festive parades and live music to delicious food and drink, here's a look at how Omaha celebrates Cinco de Mayo.
Parades, Festivities, and Food
Cinco de Mayo in Omaha typically begins with a parade through the city's downtown area. The parade features colorful floats, marching bands, traditional dancers, and other performers, all decked out in vibrant costumes. 
Spectators can line the streets to watch the procession and join in the festivities. Following the parade, the celebration continues with live music and entertainment in various venues throughout south 24th St. Local bands and performers take the stage to play traditional Mexican music, including mariachi and salsa, as well as contemporary Latin music. Dancers perform traditional folk dances and have entertainment throughout the day.
Here are Five Locally Owned Mexican Restaurants in Omaha to Try
It is important to celebrate locally owned and independent businesses, like this list of local and independent Mexican restaurants in Omaha.
Small businesses like these play a crucial role in the economic growth and sustainability of the Omaha community, and they often offer unique products and services that cannot be found elsewhere or at chain restaurants like Chipotle. 
By supporting these businesses, we are also supporting the individuals and families who run them. In Omaha, Nebraska, there are a variety of locally owned Mexican restaurants that offer authentic dishes and flavors, along with special deals and discounts for Cinco de Mayo. 
"Supporting locally owned businesses on Cinco De Mayo is crucial, not only for celebrating Mexican heritage and culture but also for the longevity of these establishments. Around 60 percent of new restaurants fail within the first year, and nearly 80 percent close before their fifth anniversary. Many times, the primary reason for these closures is a lack of self-awareness about the restaurant's location and marketing. By showing your support for these businesses, you are helping to ensure their success and promoting the local economy." – Joseph Kenney
Not only does patronizing these establishments support the local economy, but it also allows us to experience and celebrate the rich culture and heritage of the Mexican-American community in Omaha.
Food and Drink
No Cinco de Mayo celebration would be complete without delicious Mexican food and drink. Cinco de May in Omaha has a vibrant Mexican culinary scene, with a wide range of restaurants and eateries offering authentic dishes and flavors. Some popular Cinco de Mayo dishes include tacos, enchiladas, tamales, and guacamole. Many restaurants offer special menus or discounts for the holiday, so it's a great time to explore the city's Mexican cuisine. Of course, no Cinco de Mayo in Omaha celebration would be complete without margaritas and other festive drinks. Many bars and restaurants offer specials on margaritas and other Mexican-inspired cocktails.
El Muchacho Alegre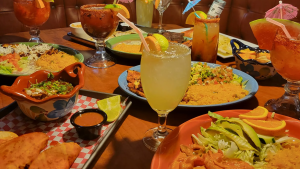 El Muchacho Alegre is a local Mexican restaurant in Omaha NE. They recently celebrated their one-year anniversary on May 3rd, 2023, and have a variety of specials to start your Cinco de Mayo in Omaha right. Some of their specials include kids eating for free! Yes, that is right!  Kids eat for free while you can enjoy your $4 margarita or $3 draft beer. El Muchacho Alegre is known for its authentic Mexican Cruise and delicious drinks.  
And, even more exciting, El Muchacho Alegre recently announced the opening of their newest location in Chalco!
LOCATION: 6222 n 72nd St , Omaha, NE, United States, Nebraska
OPENING SOON: 10177 S 168th Ave, #101
Javis Tacos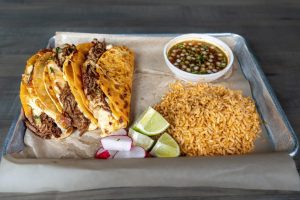 Javis Tacos has three Omaha area locations and features a variety of Mexican dishes in a family-friendly environment. One of their best-selling offerings is the Quesabirria Tacos. It's a Mexican dish comprising birria-style cooked beef folded into a tortilla with melted cheese and served with a side of broth for dipping. The dish has gained popularity in the United States through Instagram and is one of the top sellers at Javi's Tacos in Omaha.
Javier's approach to food challenges us to think more broadly about what it means to be "authentic." He emphasizes the importance of quality ingredients, attention to detail, and a passion for cooking, rather than rigid definitions or cultural stereotypes. This approach has allowed him to create a unique style of Mexican cuisine that has garnered a loyal following in Omaha.
Isla Del Mar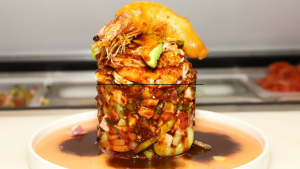 Isla Del Mar is a Mexican Seafood Restaurant with a variety of dishes for you to indulge in. Isla Del Mar recently opened up its second location in West Omaha allowing you to enjoy their food in two different locations now.
Isla Del Mar was the winner of Best Of Omaha 2022 for the category of Seafood. Be sure you will not be disappointed by not only the variety of dishes available but also by the Sushi Bar they have to offer. Isla Del Mar will be celebrating Cinco de Mayo in Omaha by having live music performers while you enjoy their delicious dishes. 
LOCATION: 2205 S 133rd Plaza Ste 105  
LOCATION:  5101 S 36th St    
El Vallarta Mexican Restaurant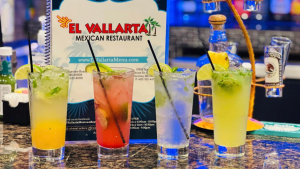 El Vallarta Mexican Restaurant is a local Mexican restaurant known for its authentic Mexican food made from recipes coming from Vallarta, Mexico. El Vallarta has four Omaha area locations. Their newest location opened the last month near 124th and Center.
Spend your Cinco de Mayo in Omaha at any of these locations and enjoy their specials. Some specials included are a $4.99 sixteen-ounce margarita and more specials you will not want to miss out on. El Vallarta is the place you go to when you need to relax and enjoy an atmosphere of great people and delicious recipes from Vallarta MX. 
LOCATION: 12405 W Center Rd   
Maximinos Cantina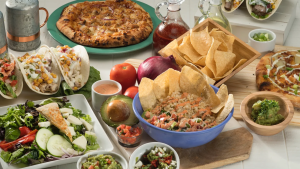 Cinco De Mayo is not only Celebrated in Omaha Ne but also in its surrounding areas such as Elkhorn past Boys Town area. Maximinos Cantina is a locally owned Cantina located in Downtown Elkhorn Ne.  Maximinos Cantina will have an exciting day with not only mouthwatering food and drinks but also entertainment while you dine. Maximinos Cantina will have a Mariachi and a DJ as well as some dance performers. Cinco de Mayo at Maxinmons will be an experience for you to enjoy in Downtown Elkhorn, as you explore the beauty of Olde Towne Elkhorn NE. 
LOCATION: 2613 N Main St, Elkhorn, NE 68022       
Community and Culture
Beyond the parades, music, and food, Cinco de Mayo in Omaha is also a celebration of the city's Mexican-American community and culture. The holiday provides an opportunity for people of all backgrounds to come together and learn about Mexican history, traditions, and heritage.
Many local organizations and cultural centers host events and activities that showcase Mexican art, music, dance, and other cultural expressions. These events provide a glimpse into the rich and vibrant culture of Mexico and its people.
A Joyous Celebration 
Cinco de Mayo in Omaha is a joyous celebration of Mexican heritage and culture, and Omaha, Nebraska, is a wonderful place to experience it. With its colorful parades, lively music, delicious food and drink, and vibrant community, Omaha's Cinco de Mayo celebrations offer something for everyone.
So if you're in the area on May 5th, be sure to check out the festivities and join in the fun by checking out a local Mexican restaurant!