Use these 3 tips to engage your podcast audience and supercharge your network today!
The key to a successful podcast is maintaining engaged listeners. If you're losing your audience's attention, it will be difficult to achieve the goals you have for your show.
At 316 Strategy Group, we pride ourselves on being the best Omaha Podcast Production company. And we are the host along with our partners Two Brothers Creative of The Omaha Podcast!
We don't just stop at recording your podcast- we go above and beyond to ensure you and your podcast listeners have the best experience. 316 Strategy Group offers a comprehensive system that will take your podcasting from beginning to end, including development, recording, distribution, marketing, SEO, and engagement.
If you want to successfully engage your audience, try following these three tips.
Reply to Comments On The Show
Your listeners can rate and review your show on Apple Podcasts, Podbean, or other platforms. And they may comment on something they love or even disagree with.
They may even go so far as to tag your podcast in their comments on Twitter or Facebook. This is another reason why we encourage our podcast clients to have strong social media channels established. Engaging with your audience on social media is key to higher listener engagement.
Select some of your favorite comments from social media, and read them on your podcast. Be sure to comment back to show you care about your audience!
By tagging your listeners on social media, you'll let them know that you're thinking of them. You are creating raving fans by doing this!
Make sure to announce your plan on your shows! The more people know about how they can get involved, the greater the response will be!
This allows your podcast to become more of a conversation than a lecture and makes your audience feel more included in your podcast content.
You're incentivizing podcast comments by reacting to them and advertising your listeners. You are engaging your podcast audience!
Your audience is more engaged and vocal, which translates to more comments and interactions.
And you'll be able to expand your podcast's audience by reaching out to other podcasters. As a result, many potential listeners are now searching for more information about the topics you discuss.
Chat Forums/Groups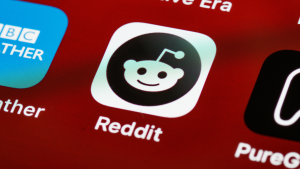 Engage with your podcast audience in chat forums and social media groups like:
Reddit
LinkedIn
Discord
Facebook
Clubhouse
Forums are the most overlooked way to engage your podcast followers. Social media is a great tool but you have to leverage it to your advantage. It really can help you and your listeners connect! Forums help you organize your chat space a bit.
When you create a group chat space for both yourself and your audience, it creates a shared experience that allows your listeners to bond over their enjoyment of your content.
The community you create with your podcast can help foster better communication and discussions on various topics.
Throughout the years, Facebook groups have been utilized by 316 Strategy Group on a variety of social media platforms. This is where we discuss everything from basic podcasting to corporate podcasting.
Now, learn how hosting LIVE events can help you engage your podcast audience.
Host LIVE Events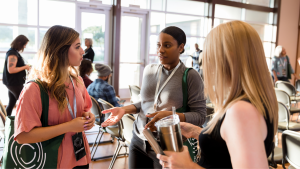 The best way to connect with your fans is by interacting with them face-to-face at LIVE events.
Try to do get-togethers during conferences or other live events whenever possible so that you can take advantage of in-person opportunities. Setting up a podcasting booth at trade shows is an excellent approach to connecting with your current audience and establishing a new one.
Live events are beneficial because they allow you to have in-depth conversations with people, unlike forums or leaving comments.
If you're looking for a place to have an official gathering, feel free to ask the conference organizers for rooms or event space. If you'd prefer something unofficial, there are plenty of places inside and outside the convention center where you can gather and set up an impromptu meeting area.
Recently, 316 Strategy Group set up an impromptu gathering area at the Traffic & Conversion Conference in San Diego with Ryan Deiss. Although the gathering wasn't the largest, it was worth the effort.
Though your first few gatherings may be small, don't let that discourage you! Just like every other engagement method, it takes time to forge relationships with your potential customers. The large audiences you see now have been years in the making, and it all started from where you are now!
Cross Promotion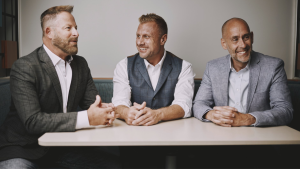 Image: Christopher Slater, Matt Tompkins, and Joseph Kenney are the hosts of The Omaha Podcast.
Another great reason to start a business podcast! Cross-promotion is a fantastic technique to expand your podcast following. Cross-promotion allows you to expand your audience by including other podcasts in your promotion, as well as introduce new listeners to your material.
Podcasts provide an excellent avenue for cross-promotion because they're shareable and have a large potential audience.
When you cross-promote with colleagues and fellow podcasters, it's important to find ones that complement your content. For example, if you're creating a podcast for small business owners, you may want to connect with other podcasts about entrepreneurs.
The end goal of collaboration, of course, is to reach new podcast listeners who may not have otherwise heard your podcast. A simple cross-promotion extends your podcast network significantly.
Your collaboration partners may cover the same subject as you, but they may have a different audience due to how they advertise their material.
The ideal method to earn new listeners for your podcast is by collaborating with someone who has a large social media following. This is all part of a development strategy that 316 Strategy Group offers to our podcast clients in Omaha and across America.
Starting a podcast might be a personal experience, but there is also much happiness in sharing something you enjoy with others so that they may discover it as well.
It's vital to increase your audience, but truly connecting with them is the key to keeping your podcast's following as it expands into shout-outs, LIVE events, cross-promotion, and more.
Do you need help with Omaha podcast production? Contact us today! We would love to hear from you!
316 Strategy Group in a unique and dynamic partnership with Two Brothers Creative is Omaha's leading podcast production company. We have produced digital content for clients all over the world. Podcasting is a great way to connect with your audience and build a community around your brand
Contact us today to begin growing your network and engaging your podcast audience!