Louisville couple takes a second entrepreneurial leap and opens second grocery store.
The Schmidt family has been calling Louisville home since 2013 and they are now making their mark on small town communities with The Market.
The couple moved to Omaha in 2006 for their corporate careers; Lindy in the food manufacturing and distribution industry and DJ in the car world.
Lindy and DJ never had dreams of owning and operating a small town grocery store, let alone two locations, but in the words of Lindy, "everything happens for a reason."
The Schmidt family was content living in Millard, going about their daily lives and everything was just fine. But there was a consistent tug on their hearts that they just couldn't seem to shake or brush off. Something was pulling them in another direction, Southwest. To Louisville.
Lindy is from Columbus, Nebraska, and has always had an affinity for small towns. DJ and Lindy have two children and wanted their young family to grow up with and around neighbors who genuinely care about one another. They envisioned a life where their kiddos could go to smaller schools and the family could truly feel connected to the community in general. At their core, The Schmidts just wanted a simpler, smaller, and slower pace of life.
Although they didn't know it at the time, they were about to take an entrepreneurial leap.
Community
So their search began and it was love at first Google when they discovered Louisville.
There were so many factors that sold the Schmidts on their beloved city.  It was relatively close to Omaha and at the time, their corporate jobs, but still seemed far enough away that it felt like its own little community.
The three state parks, excellent K-12 school system, and historic but growing Main Street drew them in. The charming and quaint small town atmosphere with the kind, smiling faces of the community made them fall in love. So they bought land and built their house just a mile outside of Louisville. And life was good.
The joy and happiness that living in Louisville brought the couple and their family was palpable. They knew with one hundred percent certainty that they made the right choice.
They were residing happily in Louisville while still making the corporate commute to Omaha every day until 2019, when along came another tug.
Lindy, having a lengthy career in the food industry, recognized a major need for fresh, bountiful produce available for purchase in the Louisville community. At first, she didn't really know what it would look like or how she would help fill this void, but she knew in her heart that she had to take action in some way. She was about to take a leap. An entrepreneurial leap.
Vegetable Bundles
So, with that need in the community coupled with a pull towards doing something new, Lindy started a fruit and veggie delivery business on the side. She built a website and sold produce bundles, featuring a different variety of fruits and vegetables each week. They sourced their products from a food service company, and the items were delivered directly to their home. They then assembled the bundles and delivered them directly to their customers.
Lindy and the Schmidt family team did that for a couple of months, and then in 2019 around Labor Day, the little Louisville grocery store on Main Street closed. And that was devastating to the entire community. Even the mildest inconvenience of needing a gallon of milk or a baking item became a major hassle, as the closest store was in Springfield.
Word spread quickly about Lindy's produce business and her extensive experience in the food industry, so it was a mix of fate and practicality when someone approached her about buying the grocery store. At first, she thought the idea was crazy. After all, her life plan certainly didn't include owning a small-town grocery store. But after some major soul searching and praying, it was clear that the town desperately needed this store to live on and Lindy was called to carry on the legacy.
The Seed Was Planted
There was no denying the tremendous need for a local grocery store, not only for the residents of Louisville but also for surrounding communities.
Lindy and DJ made the leap of faith and bought the store, and with lightning speed turnaround, they opened The Market on December 18, 2019.
And it has been a fun whirlwind adventure for the couple and their family. DJ left his job in the car industry and made the transition to join Lindy full-time at the store. And fast-forward to March of 2020, it was a must to have all hands on deck. The Schmidts had never owned a full-fledged brick-and-mortar business and the pressure was on.
There was no denying the tremendous need for a local grocery store, not only for the residents of Louisville but also for surrounding communities.
Lindy recalls that it was a strange time running the business when they knew it wasn't a normal year, but they also didn't know what a non-covid year was like either. But despite the unknowns of the pandemic and typical ups and downs of entrepreneurship, Lindy fondly says it's been nothing short of a great move, both professionally and personally, and a whole lot of fun.
There are so many people they have had the pleasure to meet and get to know through The Market. Customers are now friends and having the opportunity to serve the community and contribute in a worthwhile way is the biggest blessing to the Schmidt family.  Bringing life back to the local store on Main Street while making people's lives a little bit easier has been a source of joy for Lindy and DJ.
"When you own a business, you shoulder all the problems and responsibilities, but at the end of the day, we don't answer to anyone but our customers. Jesus, and the universe." – Lindy Schmidt
To Lindy, the weight and responsibility of owning a grocery store in a small town are much bigger than just the products on the shelves. It is her mission and passion to reignite the need and love for main street businesses. Quaint stores are around, but they're tired and antiquated. Often times they don't carry the freshest or latest cutting-edge items that are important to newer generations.
"When we created The Market, we wanted to take the small feel of an old-time mom and pop store and elevate and modernize it," Lindy says.
From the aesthetics to the products they carry, it's important to appeal to a different demographic. To combine the small-town feel with a modern spin that looks forward to the future. Lindy's vision came to life with beautiful wood-looking floors, clean finishes, bright and crisp colors, and modern twists and accents. Their marketing team at 316 Strategy Group helped them take it up a notch after opening the store to make it what it is now.
When 2021 presented itself with a bit of normalcy and revealed what would have been their "normal" first full year in business without covid, the visions for a second store emerged. From the very beginning when they purchased the Louisville store, DJ and Lindy had always planned to expand into multiple markets and locations.
They had been open for almost one year when someone approached them about buying a second store outside of Louisville in October of 2021. DJ and Lindy were ready and willing and thought the deal was locked down, but the universe had different plans. So they walked away and decided to wait for the next opportunity. DJ reassured Lindy that "it wasn't supposed to be ours."
Another Google Search
So they semi-patiently waited. Until another fateful google search and another entrepreneurial leap of faith.
DJ was casually poking around on Google when he found the store in Peru. Google said it was open for business, so the following weekend they made the hour-long drive from Louisville down to Decker's Food Store in Peru. However, upon arrival, they were greeted with a closed sign. But the universe and Jesus were at work that day because the wife of the store owner happened to be there.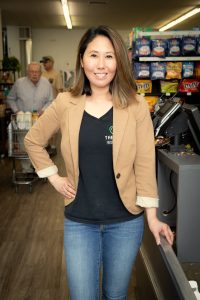 After discussions and negotiations that were mutually beneficial, they closed on the Peru building in October 2021, and the journey to open The Market location number two was underway.
Lindy assumed opening the new store would take a couple of months, as the Louisville store did. But the road to opening the Peru doors presented the Schmidts with a new set of problems to solve. They knew going from one to two stores would be a challenge, but they underestimated the major learning curve that was figuring out how to run multiple operations in different cities an hour apart.
"But that's how you learn by doing things that are uncomfortable. You figure it out! It's been messy and hard but we've learned a ton from opening The Market number two. And our hope is that this big learning curve will be the hardest," Lindy shared.
As for the support from the Peru community in opening The Market, it's been nothing short of amazing. The Schmidts worked closely with Peru State College, the Mayor, and City Council, as well as Deborah Solie, the Nemaha County Disaster Recovery Coordinator. This project was pivotal for the Peru community and Nemaha County, as the area was dramatically affected by the Midwest floods of 2019.
Deborah was an instrumental resource in helping The Market receive grant funding in conjunction with the Nebraska Department of Economic Development and SENDD (Southeast Nebraska Development District). Lindy and DJ are beyond grateful and realize the importance of having support from all of the agencies and organizations involved in the redevelopment of Peru.
Resources like these make it possible for others with the entrepreneurial spirit to take that leap of faith.
The Schmidt's personal mission is to bring small-town grocery stores back to the main street.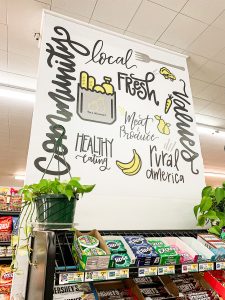 In the age of big box stores and online monsters like Amazon, we must remember that bigger is not always better. There's something irreplaceable about a small, intimate grocery store and how important they are to any town or city, no matter what size.
Locally-owned stores support their local communities. Small business owners live in the community and they give their time and money to things in their community. The Schmidts believe strongly in that notion and is a cornerstone value for The Market. No matter which industry you're in, it is important to truly know the people you do business with. When you support a local restaurant, boutique, or grocery store; you know the owners and you're not just a dollar sign to them.
The entrepreneurial spirit is what drives main street America. Locally owned and independent businesses like The Market are vital to the community. On average, for every $1.00 spent at a locally owned & independent grocery store .68 stays in the community. Conversely, for every $1.00 spent at a chain grocery store, .14 stays in the community. The choice is yours.
Our recommendation? Go support the local & independents that took that entrepreneurial leap of faith!
The relationships DJ and Lindy have with their customers are the most important thing to them.
When you buy from a small local business, that money stays and is reinvested back in the community. And that is aligned with their mission to keep communities vibrant and thriving. It is their dream to get people excited about living in small communities.  There are so many good things happening at the local level and they want to raise awareness of that.
And the Schmidts don't want to be alone in the Peru business owners club.
It's their mission to be excellent stewards of their resources and hopes to encourage other small businesses to open their doors in Peru. They would love to have The Market be an anchor on Peru's main street and will help drive more activity and development on the main street.
Joseph Kenney, President of 316 Strategy Group, admires the entrepreneurial leap the Schmidts have taken but knows the challenges that lie ahead. "Fewer than half of all small businesses survive their first 5 years. From limited cash flow to expansion plan missteps, there's a lot that can go wrong."Kenney said. "The Schmidts are doing it right. There are resources available for economic development in communities like Louisville and Peru. And Lindy is methodical in her research." Kenney added.
So, what does it take to beat the odds? Having a great support system, meeting the needs of the community, utilizing resources available, and going it together with other businesses. One of Kenney's favorite quotes is an African Proverb shared with him by his late friend Tony Hseih, the founder of Zappos.com. "If you want to go fast, go it alone. If you want to go far, go it together."
For this second entrepreneurial leap to be successful, they will need the support of the local business community and aspiring entrepreneurs. The Schmidts don't want to go fast. They want to go far.
Community Support
The excitement and community support have been awesome since announcing The Market Peru opening, happening on Thursday, September 22nd!
The Peru location will be similar in branding and style to its sister store in Louisville, as the store will be bright, open, and airy with updated modern finishes with small-town charm. It will be student-focused while balancing the needs of the community.
"We are ecstatic about our new Peru store staff and are extremely grateful for everyone's patience with us on our journey to open The Market in Peru!" – Lindy
Students who are looking for budget-friendly items and fast and nutritious foods will be pleased while the full-time residents will have a great selection of cooking and meal items; such as hand-cut meats, rotisserie chickens, bountiful produce, and local items from makers in and around the Peru area.
DJ and Lindy are thankful for the warm reception by the college and look forward to nurturing that relationship with events, initiatives, and collaborations. They intend to work closely with the college to meet student needs.
Communities across the area are encouraged to stop by The Market in Peru. The Schmidts are ecstatic about their new store and are grateful for everyone's patience.
And Peru is thrilled the Schmidts took that entrepreneurial leap.