For more than 30 years, The Cookie Company has been a beloved Omaha business serving world-class cookies right in the heart of Westroads mall.
David and Roni Fell took ownership of The Cookie Company three years ago and strive to maintain the classic cornerstones of the business while breathing new life and zest into the long-standing brand.
The road to owning a cookie business certainly wasn't one they had mapped out or planned for, as they aren't bakers or cookie makers. But one thing they do know how to do, and to do it very well, is owning and operating successful businesses.
The business became theirs in 2019 and now all they needed to do was learn how to make Omaha's best cookies. It may not be rocket science but it sure is a labor of love. And a craft that must be mastered.
After all, the Fell's had three decades of The Cookie Company legacy to uphold.
Entreprenurial Spirit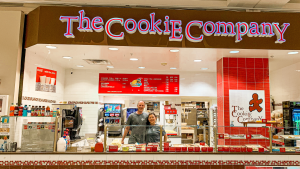 David, an Omaha native, left home to seek sunshine and perfect weather with a move to San Diego. Roni was born in the Philippines and then moved with her family to the east coast when she was 21. The couple met online while living on quite literally opposite sides of the country.
For more than 30 years, The Cookie Company has been a beloved Omaha business serving world-class cookies right in the heart of Westroads mall. 
David said that from their very first phone conversation, he knew Roni was the one. They began dating long-distance and after a short time, it was clear that 2,741 miles of distance just wouldn't do. Roni uprooted and left her home in New Jersey to make her way to the west coast to begin a new chapter with David in sunny San Diego.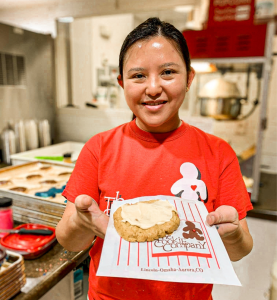 David is a serial entrepreneur and had spent much of his life solely focused on business endeavors. At the time, the chips were not falling in his favor, so he did the unthinkable and put his personal life first. And to his surprise, he found peace, happiness, and business began to boom. He credits and gives Roni all the glory for their success.
"She's the idea maker and I'm the workhorse." he proudly said.
While raising their family in San Diego, they built an extremely successful internet retail business, and life was good. But despite the success and fortune they earned, the price tag of southern California started to become a burden and began to outshine the perfect sunny days.
Their living expenses coupled with a desire to be closer to his family prompted their move back to Omaha in 2018.  Their daughter, Janine, was in transition with school and extracurricular activities, and David was battling some health issues, so the timing to head back home to the Midwest was right. Plus David's parents, despite the distance, were super involved with their granddaughter and the family yearned to be closer.
After a year of settling into their new life in Omaha and figuring out what they wanted to be when they grew up, Roni and David bought The Cookie Company in 2019. They courted many businesses of all varieties and even explored some franchise opportunities. But what they truly wanted was to invest in a local business that was already existing, but yet one that they could elevate and put their mark on.
The original owners, also a husband and wife duo, were retiring after 30 years and Roni and David were honored and happy to take over and step in their footsteps.
Preserving The Legacy
The Fell's driving force, and the main reason for buying The Cookie Company, was to preserve the legacy.
It has been an Omaha staple and cookie go-to for 34 years. And with that rich history also came a committed staff who brought years of valuable industry and company knowledge and experience. To David and Roni, the staff was just as important as the business.
The long-time team stayed with the company until the pandemic hit. Most retired or moved on to other ventures when things began to reopen after the height of Covid. The Fells are forever grateful for that OG staff.
Mentoring For The Future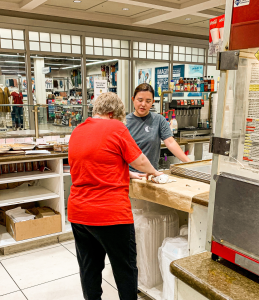 As for the new era of  The Cookie Company team, they look for employees who have dreams and business aspirations of their own. The Fells have a passion for helping their young employees achieve their own entrepreneurial success.
David says "we don't want them to be a lifer. We want our employees to have something of their own in the future."  This is why David and Roni add a heavy dose of mentorship to their recipes and business model.
"We're not bakers. Just business people who happen to own a cookie company and want to make a difference in the community." ~ David Fell
Cookie making is a skill and artwork. And you have to hire the right people who care and are willing to put in the time and effort to make things look good. It truly is a labor of love. And speaking of labor, it goes without saying that the labor shortage has been incredibly challenging to navigate.
We're In It Together
David, the owner, and the operator had to add the title of "cookie maker" to his resume, as he works right alongside his staff. He may have tired eyes, but to him and Roni, the long days are worth it.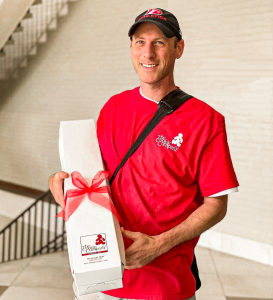 There's no job too small for David when it comes to doing what needs to be done for our business, our team, and our customers. ~Roni Fell
David does 90% of the deliveries, and while it may seem beneath the title of "Owner", to him, seeing the faces of happy and satisfied customers faces when delivering cookies makes it all worth it. The previous owners had the philosophy of working right alongside their staff and that mentality is woven into the Fell's mindset as owners and leaders.
David can often be found back in the kitchen mixing dough and pressing cookies. The pandemic forced David and Roni to learn the craft and know every inch and detail of the business. They have a great appreciation for their staff and lead with a "we're in it together" mentality.
David is certainly not afraid to get in the trenches. That's not to say it has been easy and smooth sailing. The pandemic majorly changed how they envisioned their experience as business owners, and it was definitely eye-opening. But they learned the business and are better for it.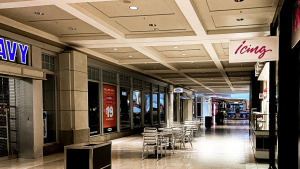 Throughout the pandemic, the Cookie Company was a beacon of light for the Westroads Mall and the community. It was a trying time, but despite the unknown, The Cookie Company never closed one single day. Even though the entire mall was closed in April of 2020, they never did and were open every single day. "It's because we care. We never stopped putting love and care into our cookies and our community. The more you give, the more it's going to come back to you. And in the end, it did."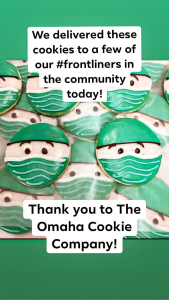 Businesses like 316 Strategy Group started using The Cookie Company to send messages of hope to area businesses and frontliners throughout the Omaha metro area. "Sending boxes of cookies with heartfelt messages to healthcare professionals was a unique opportunity to show our appreciation without getting in their way and making a bad situation worse." Said Christopher Slater of 316 Strategy Group. The cookies were unique and brought smiles to everyone.
Those "frontliner" cookies were a hit on social media, too. "It was great to see other businesses seeing the value in supporting a locally owned business like The Cookie Company while supporting our front-line personnel," Slater added.
The cookie business isn't easy. But the Fells focus on their mission.
"The cookie business is tough work, but it's fulfilling work. It's not empty work and that makes us happy." ~ David Fell
And that fulfillment is felt when they receive phone calls for orders from people who have been customers for over 30 years. Earlier this year when David was at the DMV in his Cookie Company t-shirt, the woman behind the counter immediately recognized the logo and fondly shares that she worked for The Cookie Company 15 years ago.
It brings David and Roni so much joy when they run into customers, former employees, and their families. The Cookie Company has made an impact on so many people. And the Fell's don't take that lightly. They understand how much this business means to so many people, near and far, and for many generations.
Not only do they serve some of the best cookies in Omaha, The Cookie Company also serves customers across the country. After 34 years of business, there are thousands upon thousands of people who grew up on or grew up with The Cookie Company. Many have left Omaha but their love for The Cookie Company moved with them. David shared that they have a customer in Florida, who grew up in Omaha, and now has a family of his own who orders a cookie cake twice a year.
David cuts up the cookie cake and includes icing bags so the family in Florida can reassemble and decorate their own cookie cake made with love in Omaha, Nebraska. It truly is amazing that the love he had for The Cookie Company as a child is now being passed on to his young family. He may not be here in Omaha, but the nostalgia moves on.
It's a tradition David and Roni are honored to keep alive.
National Impact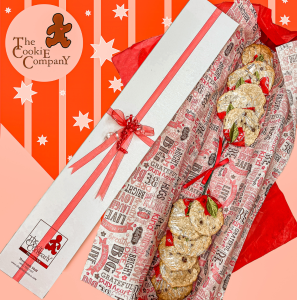 Their famous cookie bouquets are the number one item they ship all over the country. Customers near and far love the idea and novelty of the bouquets, from the long stem box and pretty paper it comes in. After all, flowers die but cookies get eaten and remembered for how comforting they were, both in happy and sad times. Their Chocolate Chip Long-Stem Cookie roses really are the ultimate in gift giving.
David recalls a woman in Georgia who orders them 10 to 12 times a year and mostly to send as bereavement gifts. It may seem small, but the comfort of a cookie can be a pivotal moment.
It's not about the cookie, it's about the people behind the making, baking, and giving.
It's about "saying it with a cookie".
And that is why Roni and David have visions to grow the brand and expand with additional locations.
While the pandemic halted that plan, they are still dedicated to that mission and look forward to the future.  For the Fell family, it's extremely important to uphold the reputation of The Cookie Company. They want to be successful while growing with heart and have a sincere hope to better people's lives.
It's About The Community
David knows how important local businesses are to the community they live and work in. Local businesses mean so much to the community. And that value has been instilled in every fabric of the business since day one. It is heartbreaking every time an Omaha business that's been around for 30 and 40 years closes its doors. It is Fell's mission to preserve the legacy and brand to ensure it lives on for generations to come.
"We live in this community and the people we serve are people we see around at church, at school, and in the grocery store. It's so nice to have that connection. Westroads is a gathering place for people all over Omaha and we love being a part of that community."
As a seasoned business owner, David has learned tough lessons through the ups and downs of entrepreneurship. And when asked what piece of advice he would give to new business owners, with gusto he said "to fall in love with your business. people (customers and employees) can feel it and if your heart and soul are in it, they will love it as much as you do. The love you have for your business and the community you serve shows in everything you do."
And that zest is why this is a family business for the Fells. From David pressing cookies and rolling dough to Roni working the counter and leading their employees, to their daughter Janine doing everything in between; it's a family affair for the trio.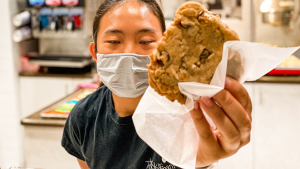 Janine, pictured above, began working at the store when she was just 13 years old, as she would accompany her mom and dad to work in the evenings and on the weekend. Janine is a young leader, as she has her hands in all the cookie jars, including baking, pressing, rolling, decorating, sweeping, mopping, and cleaning the glass. David proudly says of his daughter that "she is a real leader at the company."
Janine is a junior in high school and is also on the Junior Board of Lola's Angels, a local nonprofit that she advocates and raises awareness for. It is incredibly important to her and therefore it's also important to her parents and the company. When you stop by the store, you'll see a donation box on the counter for Lolo's Angels. When Janine is not busy studying, volunteering, and working; Janine is also on her high school cheer team, plays piano, and is in Show Choir.
The Cookie Company is a beacon of happiness in the community and the Fell family is honored to take the business to new heights while serving long-time customers as well as meeting new ones.
"We live in this community and the people we serve are people we see around at church, at school, and in the grocery store. It's so nice to have that connection. Westroads is a gathering place for people all over Omaha and we love being a part of that community."
The Cookie Company is a time-honored legacy in Omaha. Roni and David Fell serve customers, mentor young entrepreneurs in the kitchen, and give back freely to the community.