Yes, podcasts can benefit entrepreneurs!
According to the Pew Research Center, about one-third of Americans over the age of 12 say they listen to at least one podcast each week. This is up from right around 7% of people who said this a decade ago.
If you're an entrepreneur who is trying to gain more exposure for yourself and your brand, why not take advantage of this? Podcasting could be a wonderful way for you to spread your wings and become an even bigger deal than you already are.
So, why are podcasts good for entrepreneurs? Well, there are actually quite a few benefits that you'll enjoy when you begin taking podcasting for entrepreneurs seriously.
Today, we're going to run through some of the reasons why you should use podcasting for business purposes. It should have you running to start a podcast in no time at all.
Here are 15 podcast benefits for entrepreneurs.
1. There Is a Huge Demand for Podcasts Right Now
Image: Jeff Koterba, editorial cartoonist, is a guest on The Omaha Podcast located at Two Brothers Creative Studio in Omaha.
There are more than 2 million active podcasts that people can listen to through the different streaming services at the moment. Because of this, you might be under the impression that there isn't going to be much of a demand for a podcast from little old you.
But this simply isn't the case! As we explained earlier, there are tens of millions of people listening to a minimum of one podcast per week. As a result, the demand for new podcasts is through the roof.
You can help to meet this demand by starting a podcast that is all about being an entrepreneur. As long as you're able to put your own unique spin on it, you should be able to start getting some listens right away.
2. Entrepreneurial Podcasts Are Especially Popular at the Moment
There are a whole lot of people out there who dream about doing exactly what you're doing right now. Recent surveys have found that more than 60% of people think being an entrepreneur would be a great career.
At least some of these people are going to try to launch their entrepreneurial ventures by listening to podcasts created by entrepreneurs. You may be able to take full advantage of this by podcasting yourself.
There are always people searching for entrepreneurial podcasts that will teach them what it'll take to start a business and turn it into a success. If this is something you feel comfortable talking about, you shouldn't have any issues getting people to listen to what you have to say.
3. Podcasts Can Help Entrepreneurs Introduce Themselves to the World
There is no shortage of entrepreneurs in the U.S. as of 2022. Reports have revealed that more than 30 million entrepreneurs have set up shop in this country, and that number seems to grow every year.
The sheer number of entrepreneurs can make it difficult for you to stand out in the crowd. You'll need to do whatever it might take to put yourself on the map.
One good way to introduce yourself to the world and separate yourself from some of your fellow entrepreneurs might be by podcasting. You can use a podcast to tell people what you're all about.
4. Entrepreneurs Can Increase Their Traffic Numbers With Podcasts
In order to be a successful entrepreneur, you're going to need to establish a website and get people to visit it on a regular basis. You're also going to need to create social media accounts and form connections with "friends" on them.
Additionally, you'll need to aim to find ways to increase the traffic going to both your website and your social media pages. This could be as simple as figuring out how to start a podcast and recording new episodes all the time.
You can encourage those who listen to your podcast to visit your website, your social media pages, etc. for more information on you. It'll be a great strategy for those who might be struggling to get traffic otherwise.
5. Podcasts Force Entrepreneurs to Evaluate Their Industries in an In-Depth Way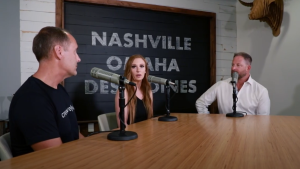 Image: Joseph Kenney, Kenzie Fulcher, and Christopher Slater at 316 Strategy Group in Omaha.
As an entrepreneur, one of your many jobs is going to be to stay on top of every single thing that's happening within your industry at all times. If you don't do this, you might find yourself falling behind and missing out on opportunities that may exist.
You can, of course, stay in the loop within your industry by reading, reading, and reading some more. You should be reading everything from magazine profiles on other entrepreneurs in your specific space to email newsletters written by entrepreneurs who cover the kinds of topics you're interested in.
You should also consider podcasting about the various things that are happening in your industry. When you do this, it'll force you to become an expert in your field, and it'll show people that you really know your stuff and can be trusted to talk about a wide range of topics.
6. Entrepreneurial Podcasters Can Build Up Followings Fast
When you're trying to cut your teeth as an entrepreneur, you're going to want people to buy into more than just the products and/or services your company is selling. You'll also want them to buy into you and take an interest in keeping up with what you have going on.
If you've ever sat and watched an episode of Shark Tank, you know how important it is for the entrepreneurs on the show to sell themselves to the "sharks." They have to demonstrate that they're going to be capable of serving as the face of a franchise and earning a faithful following.
You can begin to grow your following by podcasting. With a little luck, people will start to follow your podcast and listen to it every week. They'll also begin to look into where else they can follow you (mostly on social media!) so that they can keep up with your life.
7. Podcasts Are Great for Entrepreneurs Interested in Networking
One of the things that entrepreneurs spend a ton of time doing is networking. They'll do everything from attending entrepreneurial conventions to cold-calling other entrepreneurs all for networking purposes.
If you're someone who is always trying to make connections with other entrepreneurs, starting a podcast will enable you to do this. You can have other entrepreneurs come onto your podcast to talk about their adventures, and you can keep in touch with them as you move forward.
You never know when you might be able to benefit from a relationship that you have with another entrepreneur. You may be able to meet some incredible people through your podcast once you get it going.
8. Entrepreneurs Can Use Podcasts to Create More Brand Awareness
Creating brand awareness for your business is pretty much the name of the game for entrepreneurs. The more people know about your business, the more successful it should be.
There are lots of options for those entrepreneurs looking for ways to build brand awareness. Podcasting will be one of them.
You'll be able to work on getting your company's name out there every time you host a new podcast episode. It won't be long before a whole host of new people are familiar with your brand based solely on the fact that they've listened to your podcast.
9. Starting a Podcast Gives Entrepreneurs a New Way to Sell Things
Image: Production room at Two Brothers Creative in Omaha which produces The Omaha Podcast with 316 Strategy Group.
To be clear, you don't want to start a podcast and immediately begin trying to sell products and/or services to people. They're going to turn your podcast off before you even get a chance to show them what you're all about.
But as your podcast grows, you should be able to find some subtle ways to work your company's products and/or services into the mix. You might be able to give your sales a boost simply by mentioning some of the products and/or services that you sell from time to time.
10. Podcasts Can Provide Entrepreneurs With Invaluable Feedback
It's very important for entrepreneurs and their companies to experience a lot of growth during their first few years. And we aren't just talking about growth in terms of sales.
Instead, we're referring to the growth that you'll experience as you learn about what does and doesn't work in the business world for you. You should always strive to be the best version of yourself.
One way you can begin to grow as an entrepreneur is by gathering feedback from people who hear about you and your company and putting it to good use. You should be able to generate some of this feedback through the art of podcasting.
Every time you release a new podcast, you'll likely get some feedback from it. You can take this feedback, work on processing it in your mind, and then utilize it to grow as you push forward.
11. It Isn't All That Difficult to Start a Podcast in 2022
Some entrepreneurs are scared off by the idea of starting a podcast. They think that getting a podcast off the ground is going to be too complicated for them.
But guess what? In 2022, it's never been easier to start a podcast and get it to grow. All you'll really need to do it is a computer, a podcast microphone, and a ton of motivation.
As your podcast begins to get bigger, you can look into bringing a company on board to produce a podcast for you. But at the start, there is nothing wrong with taking the DIY approach to it. It'll be easier than you think to record podcasts yourself.
12. Podcasting Won't Cost Entrepreneurs Much at All
Although some people believe that entrepreneurs are swimming in cash, most of them have a lot of money tied up in their respective ventures. This means that they won't have much money to devote to podcasting.
Fortunately, they won't have to be concerned about doing this. As we just alluded to, you can start podcasting with little more than a computer and a microphone. You won't need to sink a bunch of money into a podcast.
Even if you decide to hire a company to help produce a podcast for you, it'll still be more affordable than you might think. You shouldn't write off the idea altogether because of cost concerns.
13. Entrepreneurs Can Make Themselves Look More Current by Podcasting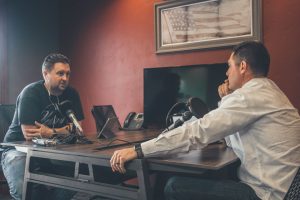 Image: Two podcasters sitting in a small business office.
All entrepreneurs want to make it look like they're on the cutting edge within the business world. It helps to get other people excited about their companies and what they can offer.
If you want people to get excited about your company by making it look more current, you can do this with podcasting. You'll appear to be a more active member of the business world when you're a part of the podcasting community.
14. Podcasting Might Create New Lanes for Entrepreneurs to Explore
As of right now, the only thing that you might have your sights set on is turning your latest entrepreneurial venture into a success story. That's what you're likely going to focus on while recording a podcast.
But if you happen to get really good at podcasting, your podcast itself could transform into a steady stream of income for you. You might also be able to land paid speaking engagements when you have a successful podcast with lots of listeners.
You obviously don't want to bank on these new lanes opening up for you right away. But you might be surprised to see which opportunities will come your way if you're able to carve out a career as a successful podcaster.
15. Entrepreneurs Who Don't Podcast May Lose Out to Entrepreneurs Who Do
At this point, we've supplied you with plenty of great answers to the question, "Why are podcasts good for entrepreneurs?" You should be well aware of just how beneficial setting up a podcast can be.
But if you're still not convinced, consider this: If you don't have a podcast and your biggest competitors do, that could be giving them a leg up on you. And that's the last thing you want.
You can even up the score and potentially even take the lead over your competitors by working to establish a winning podcast. It'll guarantee that you don't get overrun by the competition and left in the dust.
Stop Asking, "Why Are Podcasts Good for Entrepreneurs?", and Start One Up
As an entrepreneur, you already have a million and one things on your plate. It might make you question whether or not you need to add starting a podcast to all the madness.
But after hearing all the answers to the question, "Why are podcasts good for entrepreneurs?", it should be clear why you need to start a podcast. You'll be missing out on so many things if you don't.
If you need help producing a podcast, we would be happy to help. Contact us now to hear about the podcasting production services we can provide.
People are asking which podcast is best for entrepreneurs. There are dozens of great podcasts for small business owners and entrepreneurs. The Omaha Podcast is a community created to help entrepreneurs like you succeed in business. Don't let the title fool you, this podcast is for all entrepreneurs, not just in Omaha. The key to any business podcast is to find one you feel a connection to. And, once you find it…stay consistent and listen to each episode.