We've assembled the best business podcasts for entrepreneurs in one single article. This guide is a great resource so we encourage you to share it with other like-minded entrepreneurs and small business owners.
Did you know that only 25% of new businesses make it past the 15-year mark? To even make it five years as a new business is quite an accomplishment, but as an entrepreneur, your goal is always to build a long-standing thriving business.
How these businesses all got there is different. Different founders, different stories, different industries. But many of them are giving away their hard-learned lessons… for free.
And you can get them all on business podcasts.
There are so many podcasts for entrepreneurs that it can be overwhelming. Luckily, we've listened to all the podcasts, so you don't have to. And there are nearly 2 million active podcasts.
Our list of the Business Podcasts for Entrepreneurs is a great resource so let's dive in now!
Below are the TOP TEN picks for Small Business Owners!

1. How I Built This with Guy Raz
When there's a discussion on business podcasts, How I Built This is bound to come up. It is one of the most popular entrepreneur podcasts, and with good reason. This podcast is part of NPR, National Public Radio, and is available on all podcast streaming platforms.
What makes it so incredible is Guy's ability to effectively research and interview his guests. The podcast is only six years old yet has 20 million downloads.
This is because Guy is known as one of the "most popular podcasters in history." Guy has been a journalist for decades, so he's become exceptional at asking questions.
He and each guest dive deep into the emotional, financial, and creative resources it takes to build a business. He'll investigate with the listener and help you understand how the business went from point A to where it is today.
And the guests listed on How I Built This, well, let's just say it's like the Oscars of the podcast world. Past guests include Sara Blakely of Spanx, Chipotle founder Steve Ells, and even Lady Gaga, who discusses the "Gaga" brand.
Despite the current success of all the entrepreneurs on the show, the setting is very open and honest, so guests really walk you through their bottlenecks and how they overcame them when building their empires.
2. Masters of Scale
Speaking of empires, if you're seeking the best business podcasts for building a massive empire, Masters of Scale only interviews the biggest entrepreneurs out there. This podcast is all about strategies to build not a business but a billion-dollar heritage empire.
For this reason, you'll expect to see some big names on the podcast. These include Bill Gates of Microsoft, Richard Branson of Virgin, and Phil Knight of Nike. Because Reid Hoffman and his guests discuss scaling such large corporations, this show is more geared towards seasoned entrepreneurs looking to take their businesses to the next level.
The host, Reid Hoffman. He is a "master of scale" as the co-founder of LinkedIn, which was sold to Microsoft for $26.2 billion. Each episode is capped off with a theory behind the entrepreneur's success.
It encourages the listeners to take risks and think big.
3. The Omaha Podcast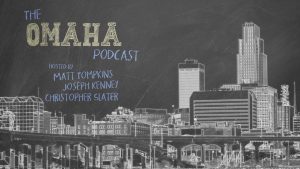 Hosted by powerhouse entrepreneurs Matt Tompkins, Christopher Slater, and Joseph Kenney.
The Omaha Podcast is a community created to help entrepreneurs like you succeed in business. In every episode, you'll learn what makes local businesses thrive, how owners created their own success, and the lessons entrepreneurs learned along the way.
You'll hear stories directly from solopreneurs, makers, creators, entrepreneurs, and business owners to help you create your own success story. This is podcast is a special community for entrepreneurs.
The Omaha Podcast is powered by the partnership of 316 Strategy Group & Two Brothers Creative, which are both invested in the strength and success of helping locally-owned businesses grow and thrive.
The Omaha Podcast offers both audio-only and video podcasting options for its listening & viewing community.
The Omaha Podcast on Apple Podcasts
4. Second Life with Hillary Kerr
Hillary Kerr is both a journalist and entrepreneur, so she is uniquely positioned as the host of the Second Life podcast. Hillary spotlights women who've embarked on their "second life" and made it big.
The second life entails making a career pivot. 99% of the guests are women, and new episodes are released every Monday, so the Second Life podcast is a reliable and fresh source of inspiration and education.
Hillary interviews a mix of very high-profile entrepreneurs, especially in the fashion, beauty, and lifestyle realms. Her own media company, WhoWhatWear, primarily focuses on those topics.
Past guests include Reese Witherspoon, who pivoted from actress to multi-faceted entrepreneur and producer. She's also interviewed Rodarte founders Kate and Laura Mulleavy, stylist Law Roach and more.
This podcast is great for anyone wanting to take the leap from the corporate 9-5 into entrepreneurship.
It's also great for entrepreneurs looking to pivot their businesses. Hillary's podcast always starts from the beginning by discussing what the guests studied in college or where they worked before going a different route and launching their endeavors.
5. Harvard Business Review IdeaCast
Hosted by Alison Beard and Curt Nickish, this podcast walks listeners through how to asses the quantitative aspects of their business. This podcast is designed to educate small business owners and large, with problem-solving tips.
Most episodes are relatively short, sitting around 20 minutes long, and new episodes come out weekly. So it's a pretty quick listen that's filled with information in such a short period.
Alison and Curt are both experienced journalists. Rather than being guest-centric, the podcast is topic-centric. They bring on guests that are best able to address topics such as business uncertainty, addressing the gender wage gap, and gaslighting.
6. Smart Passive Income
Smart passive income is all about monetization. You can have a great business idea, but if you can't monetize it, you can't sustain it. This podcast is great for entrepreneurs looking to monetize aspects of their business with things such as ads, commissions, or affiliates.
The podcast is also great for entrepreneurs in the media space like bloggers, influencers, YouTube stars, or people who want to become one.
If your goal is to work smarter, not harder, this is the podcast for you. Guests include Tim Ferriss, author of "The 4-Hour Workweek," and Ramit Sethi, author of "I Will Teach You To Be Rich."
While the show heavily discusses passive income strategies and how to make more money with less work, it also chats about how to make irresistible business offers and marketing strategies to reach your niche. The podcast is hosted by Pat Flynn.
Pat is a professional passive income maker. He's reported to make $3 million from affiliate links alone. Beyond that, he is an author and founder of several companies.
He also consults with various companies such as ConvertKit. Pat helped ConvertKit grow from $500,000 annual revenue to over $20 million in just four years.
7. The Tim Ferriss Show
There's a reason The Tim Ferriss Show continually ranks number one. It is currently ranked as the best business podcast on Apple podcasts and outranked well over 500,000 other podcasts.
Who is Tim Ferriss and what is his show about?
Tim Ferriss is an American entrepreneur and author of the famous "4-Hour Workweek" book. The book is a New York Times and Wall Street Journal bestseller. Ferriss started his career in entrepreneurship while working a full-time job simultaneously.
He founded BrainQUICKEN in 2001, an internet-based nutritional supplement company that generated him $40,000 in revenue. A month.
In 2007 he wrote his bestselling book. He is also an investor in several unicorn businesses, including Facebook, Twitter, and Uber, to name a few.
Tim's podcast has over 600 million downloads and remains incredibly popular to this day. Tim doesn't just interview entrepreneurs. He has interviewed founders like Mark Zuckerberg but also interviewed celebrities and athletes like Jerry Seinfeld and Maria Sharapova.
The podcast covers business strategy, life hacks, book recommendations, and personal and professional growth advice. It is truly a fascinating listen.
8. Life with Marianna
This is a great small business podcast. Marianna Hewitt herself is an entrepreneur and co-founder of the widely-acclaimed skincare brand, Summer Fridays. The skincare brand launched in 2018 with only one product, their famous Jet Lag mask.
They now have over 14 products and are sold in Sephora.
Life with Marianna is Marianna's podcast that brings on fellow founders who've scaled from a small idea into well-oiled machines. It is the leading fashion and beauty podcast, yet this podcast is all about entrepreneurship.
Marianna features many entrepreneurs who've utilized the power of social media to expand quickly. Some of these businesses are just a few years old and have already amassed millions in sales.
New episodes release every Tuesday and discuss topics such as building a business with entrepreneurs like Megan Roupe, and Kosas founder Sheena Yaitanes.
The podcast also features useful tidbits for entrepreneurs. There are episodes about goal setting, mindset progress, and overcoming the stress and anxiety that often comes with running and growing a company.
9. Startup Stories – Mixergy
Andrew Warner is a resilient entrepreneur. Fresh out of college, he founded Bradford and Reed. This company managed a collection of startups.
So not only does Andrew have experience building a company from the ground up, but he also knows the ins and outs of different businesses.
Andrew makes sure to pull from the pool of smaller companies for his podcast. This both shines a light on new businesses but more importantly, gives a unique perspective to the majority of podcasts out there all chasing Jeff Bezos.
Not everyone is going to be Amazon, and not everyone should be. For this reason, you'll hear new, unheard stories and learn skills that might not have ever been circulated in the podcast world.
The podcast has found a unique gap in the market. It's no wonder Startup Stories has 20 million new listeners annually. Guests include Rishi Mandal, the founder of Future, a personal training app valued at $100 million, and Profitwell founder Patrick Campbell.
Andrew Warner is a serial connector, one of the greatest business minds in the industry, and a brilliant interviewer. Trust us, there's a reason to Startup Stories = Mixergy has been added to our list of the best podcasts for entrepreneurs!
10. This Week in Startups
This Week in Startups is a tech-oriented startup podcast. It is great for entrepreneurs of any kind in tech, but others can learn from challenges and triumphs as well and apply them to their unique industries.
The host, Jason Calacanis, has a unique sense of humor that delights listeners. Jason is an American entrepreneur, angel investor, and writer. He is an early Uber investor, in which he made an investment of $25,000 that is now worth $100 million.
Jason's podcast brings on tech founders from a variety of backgrounds. Jason puts a lot of effort into finding his guests, so it's a useful investment podcast too. You can stay on top of the latest trends in tech and find new companies that are about to break the mold.
11. StartUp by Gimlet Media
This Spotify original is pretty unique from other startup business podcasts. It is run like a docu-series and was founded at the same time Gimlet Media was founded. In a way, it was created to document the founders, Alex Blumberg and Matthew Lieber; perspective's about what it was like for them to be starting a company.
The podcast was so popular it was adapted into an ABC sitcom called Alex, Inc. The show starred Zach Braff and won numerous awards. Gimlet Media was sold to Spotify in 2019 for $230 million, so it's clear Alex and Matt know a thing or two about business, to turn the heads of Spotify on their "best-in-class podcast production studio."
Because the podcast was created in real-time it has unmatched authenticity and vividly describes the raw ups and downs of entrepreneurial life. Consider it an ongoing vlog of what it's like to be an entrepreneur (just minus the video).
Listening to this podcast from beginning to end will remind you why you're on the journey yourself. Hopefully, it will help you find the motivation to keep going. Be sure to share StartUp with your colleagues! It's a great addition to our list of the best business podcasts for entrepreneurs.
Listen to These And Start Learning Now
As an entrepreneur, it feels like you're always on the clock. Every day is a workday, and every minute is a business opportunity. If you think like this, maybe you need some Smart Passive Income.
In all seriousness, time is money as an entrepreneur. Spending it wisely, like listening to these business podcasts while working, will double your knowledge in half the time.
Learn from the mistakes of fellow entrepreneurs, big and small, from these podcasts.
It will protect you from making the same mistakes and get where you want to faster. As they say, "if you want to go far, go together." Get in touch if you need help with your essential business services.
Do you know of a great podcast that should be added to our list of Business Podcasts for Entrepreneurs? If so, drop us a note here!
Benefits of Starting Your Own Show
Are you interested in learning about the benefits of launching your own video podcasting show? Click here to read one of our most recent articles. In addition to telling your story or showcasing your products or services, Podcasting is also great for SEO.
Contact a podcast production company if you need help with the planning, recording, production, and distribution of your first podcast.
In December of 2021, 316 Strategy Group partnered with Two Brothers Creative to bring the most state-0f-the-art podcasting services to the Omaha area. If you're eager to connect with an Omaha Podcast Production company, give us a call.