Apple is one of the most popular options out there for music and podcasts. For several years, it was topping the podcast world with the most monthly viewers.
By the end of 2021, Spotify did pass them in this category. However, Apple podcasts still get an average of 28 million viewers per month.
With that in mind, there are some features of Apple podcasts that are not quite clear to the listener. One of these features is Apple podcast replay.
When you type the question, "does Apple podcast have replay?", the first link in the search results does not even provide you with an answer to that question.
That is the purpose of this guide: to answer questions about Apple podcast replay and if it even exists.
Is There Apple Podcast Replay?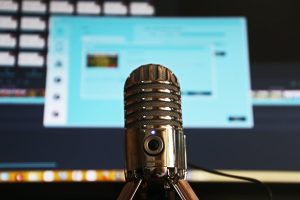 To start answering the question above, the solution was to go right to the source and see what Apple had to say about its podcasts. On their website, they gave instructions on how these podcasts worked and how you could view certain episodes.
In the link above, one notable section, there is one that discusses choosing the order in which episodes play. At the bottom of the screenshot in that section, you will notice an "Episode Display" section. That section gives you the option to either hide played episodes or not hide them.
So, if you choose to hide the podcast episodes that you already listened to, that should prevent the possibility of having an episode you already listened to show up in your display again. With that, you should not be easily able to replay it.
However, if you choose not to hide previously played episodes, they should still be able to be seen in your episode display. In this same section, Apple explains that podcast episodes are played either from oldest to newest or newest to oldest. This means that rather than replaying an episode that you already listened to, Apple goes to the next episode in the rotation.
Apple Podcast Statistics
Along with replay, some people may be wondering if Apple has podcast statistics available for creators and listeners. Well, Apple does offer the creators of their podcasts some sources that provide statistics and analytics for a podcast's performance.
One example is simply tracking the number of listeners that each episode of a podcast gathers. Taking that a step further, Apple also keeps track of how many engaged listeners a podcast episode has. This keeps track of what episode points people listen to the most and other moments some people may tune out.
You can also compare episode numbers to one another along with keeping track of ratings and reviews for each episode of a podcast.
On the listener side of things, the main version of listening statistics comes from the Apple Music Replay side of things. That allows listeners to see how many hours they listened to music in a year, plus which artists they listened to the most.
Dive Deeper Into Podcasts
Despite Apple podcast replay not really being a thing, it is important to note some of the features that were mentioned above with an Apple podcast. If you start to learn more about those features and analytical tools, perhaps you can create a successful podcast of your own.
Are you ready to get started? Read our strategic consulting session today.