Omaha podcasts to listen to now. And, this list of Omaha podcasts is growing! Did you know it's estimated that 120 million people in the United States listen to podcasts? If you're not already familiar with the concept, podcasts are a series of digital audio files that are downloadable.
Podcasts allow you to learn about a new topic, listen to a breakdown of news or current events, tune into an interview, or enjoy the entertainment of conversation.
If you live in Nebraska, or better yet Omaha, and like listening to local podcasts, you're in luck. Omaha is home to several inspirational, motivational, and informative podcasts. Here's a breakdown of the top 16 Omaha podcasts that you should listen to now.
Why You Should Download These Now
If you're not an avid podcast listener, you may need some convincing. Let's go over a few reasons you should listen to podcasts.
Convenience
Podcasts have become mega-popular for their convenience. All you need is a digital device to listen from, allowing you to tune in while on the go. This portability is a big plus for busy folks.
If you're someone who's always running errands or bouncing between work and other activities, listening to a podcast may be easier for you than catching the latest episode of your favorite television show.
Have a long car ride, road trip, or travel day coming up? Download episodes from your favorite Omaha podcast and watch the hours (or miles!) fly by.
Health Benefits
Podcasts are more than entertainment. They provide real health benefits.
Similar to reading a narrative story, a 2016 study found that listening to podcasts can stimulate various areas of your brain.
Why is this a good thing? Brain stimulation helps engage you more mentally. This engagement improves things like your senses and ability to focus.
Free Entertainment
Most podcasts are free to listen to as long as you have an app to download it from. You can access podcasts from a variety of places like Spotify, the Podcast app, iTunes, and more.
Some podcasts even have a website that links to episodes, allowing you to download podcasts right then and there.
Not to mention, they're just plain fun to listen to.
Variety of Topics
There are podcasts on a wide variety of topics, ranging everything from true crime to history to sports. Maybe one day you want to hear the latest on breaking news and the next day you want to listen to a casual, fun interview with your favorite celebrity.
The podcast options are endless and there is always something new to tune into. It's hard to be bored when you have a wealth of podcast topics right at your fingertips.
Below are the top 16 Omaha podcasts to listen to now!
The 16 Best Omaha Podcasts You Should Listen To Now:
The Omaha Podcast
North Omaha History
Omaha Talks
Weekly Geekly
Faturday Omaha
Faith Family Church
Punchboard Paradise
Bar Talk
Grow Omaha
Humanities
Omaha Dines
Bootstrappers Podcast
Lift Your Future With Nicole Winkler
Feeding The Family with Dr. Kristin
The Lady Lawyer League
The Nebraska Greats Podcast
Let it Fly Show
Restaurant Hoppen Podcast
The Shick and Nick Show
The Midwest Mindset Podcast
If you're an Omaha, Nebraska local and want to dive into the top podcasts, here's a guide to the 10 best Omaha podcasts to listen to. Listed in no particular order, here are the best Omaha podcasts to listen to right now:
1). The Omaha Podcast

The Omaha Podcast is a community created to help entrepreneurs like you succeed in Omaha, Nebraska. In every episode, you'll learn what has made local businesses thrive, how they built their success, and the lessons learned along the way.
You'll hear these stories directly from Omaha entrepreneurs, business owners, and community leaders, to help you create your own success story. This is your community, this is The Omaha Podcast.
Take a moment to subscribe to the link(s) below. This is definitely an Omaha Podcast to listen to now!
2). North Omaha History
Are you a history buff? If so, you might want to start tuning in to the North Omaha History podcast.
Join historian Adam Fletcher Sasse as he covers interesting people, places, and events that have occurred in North Omaha history.
Examples of historic topics covered include KOWH—a soul music radio station owned by African Americans in Omaha from 1970-1979. And if you like to eat, you'll enjoy the episode on historic restaurants in North Omaha.
If you've recently moved to Omaha, you might be interested in the episode that covers historic neighborhoods in the area.
Tune in by subscribing via iTunes or visit the podcast's site to listen to episodes there.
Keep reading to learn about the rest of the Omaha podcasts to listen to now!
3). Omaha Talks
In the popular Omaha Talks podcast, learn about the latest events in society and culture from local Omahans. This podcast is based on conversations with fellow locals, like small business owners, local artists, and more.
For those interested in learning about a variety of topics and where they originated from in Omaha, this podcast might be for you. Their latest episode covered an interview with Cody Land, an MMA fighter.
Or, listen to the episode on Francis Rhoe, an iconic name in the Omaha food industry.
Tune in via iTunes. Happy listening!
4). Weekly Geekly
Do you like to geek out on fun topics like music and comics? The Weekly Geekly podcast focuses on having fun exploring many different topics. Plus, they frequently interview celebrities and content creators from around the world.
Sit back, relax, and listen to an episode on a movie review of Studio 666. With an impressive 4.3 out of 5 rating on iTunes, it's safe to say listeners enjoy tuning into this podcast.
For a more casual form of entertainment that's sure to make you laugh, the Weekly Geekly comes highly recommended.
5). Faturday Omaha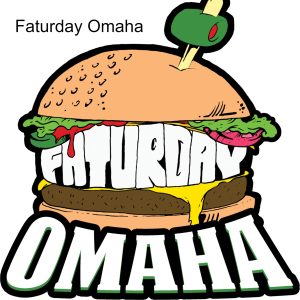 If you're a foodie who loves nothing more than trying new cuisines and learning about different fishes, the Faturday Omaha podcast is a sure winner.
Tune in with hosts Sam, Dave, and TJ as the cove the tastiest places to grab a bite to eat in Omaha. Every Saturday at 2 p.m., this trio sits down to tell listeners what they're munching on that day.
Eat while you listen for the full experience, or simply make a mental note to visit whichever restaurant they're trying that day.
They also sit down with owners of restaurants and cafes to talk about everything from recipes to business. These episodes pull the curtain back on what goes into building a successful restaurant in Omaha.
6). Faith Family Church
If you identify as particularly religious or spiritual, get your weekly gospel with the Faith Family Church podcast. Each episode functions like a sermon, allowing you to "go to church" virtually.
Its mission is to reach people and change lives by spreading the Christian message. Listeners find the episodes uplifting and inspirational.
7). Punchboard Paradise
For the competitive types, the Punchboard Paradise podcast has something special in store for you. This podcast focuses on all things board games—listen to the hosts Chad, Cleft, and Richie talk about the latest games they've played and how they've ranked them.
Besides giving you ideas for your next family or friends' game night, Punchboard Paradise also lets you know of the hottest board games to hit the market.
Also, learn some valuable tips on game strategy, so you can go into your next game night with confidence.
8). Bar Talk
Any lawyers out there? Join the Omaha Bar Association (a combination of attorneys, judges, and law students) as they discuss all things law.
Rated a 4.5 out of 5 on iTunes, Bar Talk is known for putting an entertaining spin on an otherwise tedious topic. Hear from former law professors and attorneys where they discuss their trials and tribulations.
Or, tune in to their latest episode which covers "Law through the eyes of an 8th grader".
9). Grow Omaha
Omaha is a rapidly growing city, full of exciting opportunities and developments. In the Grow Omaha podcast, join hosts Jeff Beals and Trenton Magid as they cover the latest on local business development, real estate, and new construction in the city.
Find out about the newest retailers and restaurants to hit the area. They also divide their podcasts into clickable video segments, so if you'd rather skip to your favorite part, you can easily do so.
10). Humanities
Another good choice for history lovers, the Humanities is one of the best podcasts that cover life and culture in Nebraska over the past 200 or so years. You'll be sure to learn a fact or two that you can recite for your next dinner party.
Learn about literature, art, religion, and history. One of their latest episodes covers a recent court ruling in Nebraska that could disrupt ballot initiative plans.
Or, learn about how long COVID is affecting thousands of Nebraska residents. Whichever episode you choose, you'll be sure to learn something new.
11). Omaha Dines
Another podcast fit for foodies, Omaha Dines covers the Omaha dining scene, as well as favorite meals, recipes, cocktails, restaurants, and more.
Find your next go-to restaurant for date night, or learn about a new recipe to try at home. A word of warning, though: You might be hungry after listening to this podcast, so it might be best to grab a snack or meal before tuning in.
12). Bootstrappers 
Description: Real Conversations About Property Management. Bootstrappers is a program designed to bring you up-to-the-minute ideas and concepts to understand what it takes to succeed in business and life. We bring knowledge into the property management industry from different business industries to create a richer experience for our audience. We invite the best authors, thinkers, and business people to the show and we pick their brains in their areas of expertise. We interview our guests and gain key insights that can help our audience on their own path to success.
13). Lift Your Future with Nicole Winkler
Description: Welcome to Lift Your Future, a podcast that teaches you coping skills through stories, methods and proven techniques, to improve relationships and outcomes in your personal and professional life. Welcome to Lift Your Future, a podcast that teaches you coping skills through stories, methods, and proven techniques, to improve relationships and outcomes in your personal and professional life. I'm Nicole Winkler, a licensed therapist and (turned) executive coach. On this podcast, we will share relatable life experiences to help you with practical ways to grow in your thoughts, feelings, and behaviors to impact your life personally and professionally in order to Lift Your Future.
14). Feeding the Family with Dr. Kristin
Description: Welcome to Feeding the Family with Dr. Kristin where we help you navigate the challenges of feeding your family and learn about the role food plays in our health and relationships. Feeding and food relationships can be stressful, confusing, and even destructive. I am a pediatrician and mother of four who has been researching and sharing what I have learned about feeding for over 10 years. In this podcast, I'll share my experience and expertise to help our kids (and ourselves!) with everyday survival tips for real parents. This podcast is about progress, not perfection.

15). The Lady Lawyer League
Description: Tracy Hightower-Henne and Susan Reff are partners at their firm, Hightower/Reff Law, out of Omaha, NE. The all-women law firm brings their experiences knowledge, and lessons learned to this podcast to help you navigate through life's most challenging times.

16). The Nebraska Greats
Description:
The Nebraska Greats Podcast is a weekly program produced by The Nebraska Greats Foundation, which serves former collegiate athletes facing medical and financial challenges. Each week hear from hosts like Jim Rose, Jerry Murtaugh, Corey Mckeon, Ross Jernstrom, Brett Wetton, and big-name guests with Nebraska ties. Your tax-deductible contribution will change the life of a former college sports hero online at
www.negreats.org
.

That wraps up our top 15 Omaha podcasts to listen to now! Keep reading to learn about Omaha's most experienced podcast production and marketing team.
16). The Omaha Podcast

The Omaha Podcast is a community created to help entrepreneurs like you succeed in Omaha, Nebraska. In every episode, you'll learn what has made local businesses thrive, how they built their success, and the lessons learned along the way.
You'll hear these stories directly from Omaha entrepreneurs, business owners, and community leaders, to help you create your own success story. This is your community, this is The Omaha Podcast.
Take a moment to subscribe to the link(s) below. This is definitely an Omaha Podcast to listen to now!
17). Let It Fly Show
The Let It Fly Show is a captivating sports podcast that focuses on delivering a variety of enthralling content to its listeners. Hosted by Mike?l Severe and Josh Jones, this show guarantees an exciting and unique perspective on all things sports, with a specific focus on Nebraska.
Each week, this podcast delves deep into the world of sports, offering up-to-date news, insightful analysis, and engaging interviews. From the latest game highlights to fascinating behind-the-scenes stories, The Let It Fly Show promises to bring never-before-heard narratives to its audience.
As avid sports enthusiasts themselves, Mike?l Severe and Josh Jones are dedicated to providing an immersive experience for their listeners. They go beyond the surface of sports topics, engaging in deep conversation and sharing exclusive content that offers a fresh and captivating outlook on the industry.
One of the distinguishing features of The Let It Fly Show is its ability to attract prominent names in the sporting world. Through their interviews, Mike?l Severe and Josh Jones bring the excitement and knowledge of these esteemed guests directly to their audience, creating a must-listen experience.
In summary, if you're a sports fan looking for a podcast that goes beyond the traditional sports coverage and offers exclusive stories, insightful analysis, and engaging interviews, then The Let It Fly Show is the perfect choice. Prepare to journey into the captivating world of Nebraska sports, as Mikel Severe and Josh Jones guide you through fascinating stories and conversations that will keep you coming back for more.
18). Restaurant Hoppen Podcast
The Restaurant Hoppen podcast, hosted by Dan Hoppen, is an engaging platform that brings together food enthusiasts and local chefs. It aims to bridge the gap between creators and consumers by offering a behind-the-scenes look into Omaha's vibrant culinary world. Whether you're a first-time explorer of Omaha's gastronomy or a seasoned foodie, this podcast provides valuable insights into the creativity, passion, and hard work that are poured into each delightful meal. Embark on a journey with Dan as he explores the city's restaurants, allowing you to discover the intricate stories and experiences behind the dishes. Tune in to the Restaurant Hoppen podcast and immerse yourself in the fascinating world of Omaha's food scene.
19). The Shick and Nick Show
The hosts of The Schick and Nick Show podcast are Matt Schick and Nick Bahe. They come together each week to deliver an entertaining and insightful podcast experience.
20). The Midwest Mindset
The Midwest Mindset podcast is centered around the concept of helping others selflessly, without expecting anything in return. This unique mindset is ingrained in the culture of Omaha, Nebraska and is what sets it apart. Two Brothers Creative, a highly renowned podcast production and marketing brand, captures this essence in their nationally-known podcast, The Midwest Mindset.
Initially starting with the title "The Omaha Podcast" with Joseph Kenney, Christopher Slater, and Matt Tomplins in its first season, the show aimed to assist local businesses in their growth. However, an enlightening moment led to its transformation into The Midwest Mindset for Marketing.
Hosted by Matt Tompkins, The Midwest Mindset Podcast is dedicated to providing affordable and impactful marketing solutions for all businesses. Matt and his guests share invaluable insights, practical tools, proven techniques, and easy-to-implement marketing strategies that are often kept hidden by larger agencies. Moreover, they disclose a well-kept secret: businesses can successfully handle their marketing efforts independently.
By taking on The Midwest Mindset, listeners are empowered with the knowledge and understanding needed to navigate the world of marketing effectively. The podcast serves as a platform to equip businesses with the skills and confidence they need to achieve marketing success on their terms.
How To Help Grow Your Business
While podcasts are entertaining to listen to, they aren't all fun and games. They can actually be used as an invaluable marketing tool for your business or company.
Below are a few quick points on how a podcast can help grow your business. (After you launch your podcast be sure to let us know so we can add you to our growing list of Omaha podcasts to listen to now!)
Easy Set-Up
Podcasts are the secret tool every business should be utilizing. Why? For starters, it's pretty easy to get started with podcasting.
Be sure to find a company that can host your podcast, like the 316 Strategy Group. From there, you decide on strategic topics to cover and start recording.
Working with a digital marketing agency that can consult you on these matters is a big help, too, when it comes to getting started.
Increase Brand Recognition
Not to mention, once you do create a podcast for your business, the regular cadence of episodes allows you to market your brand or service. You're also able to establish a personal connection with your audience.
This can ultimately improve brand recognition, and help consumers create a positive association with your business.
Increase Traffic
Similar to any other form of digital content, podcasts can also increase traffic to your business's site. How? Podcasting enables you to reach new audiences that you might not have otherwise connected with.
You can also add links to your business's website, products, or services on the show notes for your podcast. This offers more ways for consumers to engage with your brand
And, it's helpful to link to the things you're referencing during the podcast.
Cultivate More Brand Authority
Podcasts enable you to bring on experts from your brand and show consumers you're a credible, trusted source of information. Not only can they learn more about your business, but they can also feel a sense of authority from your audio content.
Not only that, but podcasts also give you greater access to finding experts if you're in need of some. You never know who might be tuning in to your podcast—it just may spark a listener to want to work with you.
Increase Revenue
Businesses, after all, are about seeing a return on your hard-won investment. That's why podcasting is a great resource to add to your business toolkit!
Podcasts can add an additional stream of revenue. How? Once you build a large enough audience, advertisers will pay you to be featured in your stream.
Keep in mind though that the more consistent you are, the better. Consistency helps you grow because it allows consumers to interact with you and your brand on a regular basis.
And, the more consistent you are, the most consistently you can bring in revenue. Consistency also incentivizes other brands to monetize your episodes through sponsored content, affiliate marketing, and more.
Simply put, the more well-known your podcast, the greater the revenue.
Find a Company to Host Your Production Today
Hopefully, now you know the top Omaha podcasts to listen to now. Not to mention, a podcast has numerous ways to help you market your brand by increasing key things like brand recognition and authority.
Grow your business by working with 316 Strategy Group and Two Brothers Creative. Their dynamic partnership brings a state-of-the-art video podcasting studio in Omaha, over 25 years in radio, and 50 years of small business and digital consulting.
They can help advertise and expand your business through a variety of digital marketing tools like social media, web design, digital media, podcast SEO, and strategic consulting.
And if you're interested in podcast production, the 316 Strategy Group has you covered. Contact them to create a podcast for your brand and get a quote today.