TikTok for business? Yes! Aside from the obvious, the explosion of TikTok's popularity helped define 2020. From dance crazes to lip-sync videos, TikTok!
This wildly popular social media platform, mostly favored by Generation Z but growing across all demographics. TikTok has 800 million monthly active users.
The platform lets users share short, viral videos. In some ways, it's like the 6-second looping videos of the short-lived Vine platform. Recently, Instagram launched its Reels function to compete with TikTok.
TikTok has been downloaded over 2 billion times and has over 800 million users. You can no longer ignore those statistics if you're a business owner. ~ Joseph Kenney, 316 Strategy Group
TikTok is perfect if your business targets Generation Z customers but don't overlook this platform for other platforms, too. TikTok can be an excellent addition to your social media strategy.
Wondering how to use TikTok for business? This guide covers content ideas, how to find followers, and paid advertising options.
What Content Works Well on TikTok?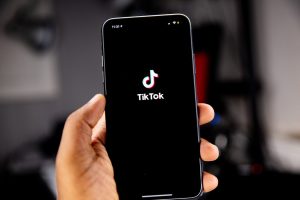 Other platforms often reward original thinking. Look at Medium, which prizes your innovative thoughts and writing. Or Youtube with its love of controversy. It can be daunting to figure out what to post on these platforms.
It's much easier to capture the zeitgeist on TikTok. That's because the platform loves a trend. Witness all the dance trend TikToks on the app.
Users might replicate existing TikToks, or create their own spin-offs. By using the hashtag for the trend, your TikTok appears in the feed.
Look at high-performing or trending hashtags. Where can you identify areas where your brand can create a TikTok? Which trends align with your brand values? Do these trends also appeal to your target customers?
This is where you can get started creating TikToks. It's a good way to try the platform out without a large investment of time or money.
Brand Voice
You can also focus on carving out a niche for your own type of content. This is a good idea if you have an established brand and you want to continue its 'voice'.
The Washington Post picked up over 400,000 followers in less than a year. Their TikTok focus is more light-hearted and entertaining than their presence on Twitter.
This reveals one of the keys to finding success in TikTok. Find a way to repurpose content to suit the feel and vibe of TikTok.
You can also upload an existing video. If they're within 60-seconds, you can post them as they are. You'll need to trim any videos longer than a minute.
Try uploading any videos you have for Instagram Reels. It's a simple way to get started on the platform.
How Do I Get Followers?
Creating TikToks that combine your unique spin and existing trends is the quickest way to get started. Add trending sounds to boost your chances of TikTok showing your video to other users.
TikTok does take location into account when you publish videos. It prioritizes showing your videos to people in the same location as you.
That makes it a great way to get followers who live in your area. Local brands can capitalize on this to build a local following. You want a loyal, active fanbase that interacts with your TikToks. This will help push your videos to international users.
As with Instagram or Twitter, use niche-specific hashtags. This helps TikTok to show your videos to people who will be interested in your content. The more interested the audience, the more likely they are to interact.
Share Content
Unlike Instagram, TikTok works better when you share content from other users. This makes it closer to Twitter in nature. That's because it's a community-based platform.
You have options for sharing content. If you have a branded hashtag, like Nike, share content created by users. This is essentially free advertising, The only effort you need to make is hitting 'share'.
Or you can share content from hashtags that you use a lot. This is a good way to build a following with users who match your target audience. Share their content because it's good and you think your followers will enjoy it.
What Is a Good Time to Post on TikTok?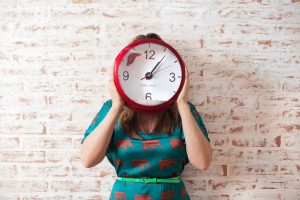 TikTok fiercely guards their algorithm so it's difficult to 'game' the system. This provides a better experience for users and levels the playing field for brands.
That said, there are some commonly held factors about TikTok profiles. The app uses interactions with each video to decide what to show users.
It pushes these to users alongside popular videos. If those first users interact with it, the app pushes the TikTok to more users. And so on.
That's why good, creative, or unusual content can go viral very quickly. You want to create the kind of content that gets shared, liked, or commented on.
This approach to sharing content means you'll need to experiment with times of day for posting.
How Do I Use TikTok to Drive Traffic?
At the time of writing, not all users can add a website link in the TikTok bio. You can link to your Instagram feed or Youtube channel. It's still a great way to drive traffic to your other social media platforms.
Make sure you have your website URL in your Instagram bio. Link to it in every YouTube video, if you have a brand channel.
You can repost your TikToks to your Instagram Stories, giving you new content for an existing account. Other users can also share your TikToks to their Stories. This helps to expand your visibility on Instagram.
Why Should I Use TikTok Marketing?
So far we've focused on how to use TikTok for business marketing. Let's look at several reasons why you should use it in 2021.
It Rewards Innovation
One of the advantages of TikTok is no one has yet figured out a marketing playbook. The platform is young enough to have no definitive strategy but popular enough to make experimentation worth it.
That might sound unappealing. How can you know what works if there's no specific marketing formula yet?
Look at it from another perspective. Every time a strategy becomes popular on a social media platform, it soon stops working. Everyone races to use it and have a short flurry of success until the platform changes its algorithm.
When you embrace a platform early, you get to define what works for your business.
You Don't Need a Huge Following
Having a huge following doesn't guarantee viral status, as it does on platforms like Instagram.
That means you can still aim for millions of views when your account is brand new. It makes it easier to establish a following on TikTok.
Getting views early means you can quickly gauge what content works well. Create more of that and watch your popularity soar.
Content Has a Longer Shelf Life
Be aware that older videos can also go viral. A less-popular hashtag might start trending, pushing your video to the fore.
This is a good factor that differentiates TikTok from other platforms. Content on Twitter and Instagram has a much shorter shelf life. That means you can end up spending a lot of time and effort on content few people see.
Focus on creating good-quality TikToks since you never know which of your videos may suddenly go viral.
The Homemade Aesthetic Works Well
TikTok's content is made by amateur users in their homes. As a result, the production values are low. The only equipment you need is a smartphone.
That doesn't mean everything looks terrible. Add filters or Beauty mode to improve your videos before you post them.
You won't need to invest in a camera crew or expensive editing to create videos. Creating content needn't take long. Focus on creativity or entertainment over aesthetic values.
This is a great way to use authenticity in your branding. You can embrace a more down-to-earth and approachable form of marketing on TikTok. 'Playful' and 'spontaneous' are your watchwords.
Using Social Media for Business: A Caveat
You want to be successful in using TikTok in your social media marketing strategy. So you need to remember this fundamental point.
Social media is still essentially social. Look at the brands who've done well on other social media platforms.
We'll use Oreo as an example. In 2013, a blackout hit the Super Bowl. Oreo tweeted a simple image with the tagline, 'You can still dunk in the dark'.
It was an awesome example of real-time marketing. The image took advantage of the fact people turned to their phones and social media while the game was off the air. The tweet entertained people and provided fun content while also advertising the brand.
How about Burger King? In 2019, they started liking tweets posted by social media influencers back in 2010. Their confusion created a buzz around the brand. It helped Burger King relaunch their funnel cake fries, originally introduced in 2010.
The point is this: people go to social media to be entertained. Maybe they want to share their gripes with the world. They want a connection.
Make sure whatever content you share on TikTok fits the vibe of the platform. Then you'll earn loyal fans with whatever you post.
Paid Methods for TikTok Advertising
We thought it was best to finish this guide with paid methods for using TikTok for business.
Influencer Marketing
One option is influencer marketing. It works in much the same way that it does on other platforms.
Identify influencers on the app that suit your niche. Do they match your brand values?
If so, approach them about a collaboration. The influencer will dictate how their video works since it needs to fit their brand too.
Yet they might talk about services or products, or post a link to your URL in the description.
Influencers charge more for partnerships when they have more followers. TikTok videos can go viral with fewer followers. So try approaching influencers with smaller audiences first.
A small audience can often be more engaged than a large one.
Sponsor a Hashtag Challenge
TikTok shows these challenges on the Discover page. Users can create their own content and share it on the hashtag.
These are a good option for two reasons. First, users will watch your videos first as you explain the challenge. This is a great way to introduce your brand to a new audience.
Second, this gives you a raft of user-generated content to share on your own account.
These work well for brands that create products people use, like tech.
Brand Takeover
A brand takeover splashes ads on a user's feed so they're the first thing the user sees. If they tap the ad, they're taken to your landing page.
It also means you get a specific category to yourself. The app only allows one ad per category on a daily basis.
This is a great way to drive traffic from the app to your website. Use a custom landing page to help measure conversions from TikTok.
Native Ads
You can also pay to run a video ad between TikToks. The ad can run for up to 15 seconds. The downside is users can skip the ads.
A Brand Lens
Finally, you can create your own filter specific to your brand. Users can then use them in their own videos for a period of ten days.
TikTok will add your filter to the trending list. This gives you a great way to promote your brand through user content.
Experiment with these options as you get more confident with the TikTok platform.
Will You Use TikTok for Business Marketing?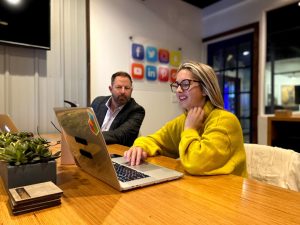 Now you know how to use TikTok for business. It can be a great platform for reaching younger markets and it works well for fun, quirky content.
You can get started without expensive equipment. Head to the Discover page to see what's trending and put your own spin on it. Track what works well and create more of it.
Once you've mastered organic TikTok, try out their paid options. A sponsored hashtag challenge has a lot of benefits for the right brands.
Keen to get help in using the platform? Contact us today to find out how we can help you use TikTok in your marketing.