Local businesses in Omaha should avoid these six pitfalls.
At 316 Strategy Group, we understand the challenges that come with starting and running a small business in Omaha, Nebraska. We've worked with hundreds of clients throughout the Omaha metro area and we've visited with thousands of business owners across the country.
According to the U.S. Small Business Administration, over 50% of small businesses fail in the first year and 95% fail within the first five years. As locally-owned small business owners, we want to help other small business owners in Omaha succeed.
Starting a small business and keeping it afloat in the early stages is not easy. It requires a combination of management skills, business savvy, product-market fit, and access to the proper capitalization. As a retail startup, the challenge is even greater. But even surviving the first year of operation makes you a success story.
To help local businesses in Omaha, we've identified the most common reasons for failure among small businesses.
Poor Management
Failure to Optimize Conversions
Lack of Product Market Fit
Failure to Innovate
Failure to Build a Tribe
Not Identifying Customer Personas
By enhancing any of these areas, you can increase your odds to become a prosperous local and independently-owned business in Omaha!
Poor Management
Restaurants and retail businesses are complex and require a combination of skills and talents to successfully run a small business. It takes more than just determination to grow a business, it also requires business knowledge, organizational skills, time management abilities, and an aptitude for dealing with people, products, and marketing.
Christopher Slater, a business strategist with 316 Strategy Group, says that as a manager, you must not only lead but also inspire customers, employees, partners, and investors to see the unique value of your brand and how it contributes to the Omaha community.
However, it's important to note that not everyone possesses these rare talents or passions that are necessary for profitability. And not everyone is able to grow their business quickly enough to meet the margins required to stay in business. It's important to give your business idea time to grow and adapt to the real world.
Failure to Optimize Conversions
To achieve long-term success, local businesses must not only survive but also grow. One of the key ways to achieve this is by converting existing customers into loyal, high-value customers. This means effectively building customer engagement and creating strategies to bring customers back to the store or location.
Joseph Kenney of 316 Strategy Group believes that every locally owned small business should strive to foster devoted customers and build a loyal following and a raving fan base.
For retail entrepreneurs, this requires a strong understanding of the target customer and their needs, as well as a well-established brand that appeals to them. By having a deep knowledge of the product-market fit and the culture of the target customer, retail entrepreneurs can create an elevated brand that is more likely to convert new customers into regular ones and regular ones into high-value customers.
Optimizing conversions is also about creating effective marketing campaigns, such as loyalty programs and discounts, that bring customers back to the store and re-engage them with the brand.
According to Christopher Slater of 316 Strategy Group, staying connected with your customers is a fundamental component of sustaining and growing your business in the long run. Reaching out through email or SMS campaigns can be an effective way to keep them engaged or win them back!
Lack of Product-Market Fit
To be a successful local business owner, it is crucial to offer a product or service that is in high demand or fills a valuable niche. This is especially true for small businesses, restaurants, and retail stores. Knowing your competitors and striving to do better is essential, as well as providing a unique selling point that appeals to your target audience.
Even with a strong brand and quality products, small businesses still need to create an effective sales funnel and customer acquisition strategy. The customer experience must be memorable and align with the target audience. The business plan must clearly communicate the unique value of the brand and offer exceptional products, supported by an effective marketing strategy that ensures the product and market align. This requires constant adaptation and not every business will be able to execute it successfully. It requires a deep understanding of customer needs, constant optimization of the customer experience, and empowering employees to succeed.
However, even with all the right elements in place, a retail business may still struggle if there is not a strong product-market fit. There are intangible factors, such as trends and shifting customer preferences, that can change overnight, and competitors that may rise to take market share. Therefore, it is crucial for retail entrepreneurs to conduct thorough research before starting a business, to ensure that there is a strong product-market fit and a viable market to support the business.
According to Slater, a key strategy for restaurants to attract and retain customers is to have a signature dish that is unique and can't be found anywhere else. This can help to create curiosity and interest among customers and can be used as the focal point for marketing campaigns. Examples of this strategy in action include The Drover's famous Whiskey Steak,  Javi's Tacos' Trash Can Nachos, and the Croque Garcon Burger at Block 16, which have helped to build a dedicated fanbase for these businesses. Each of these locally-owned restaurants in Omaha has garnered national attention and a fiercely loyal fanbase.
Failure to Innovate 
One of the major challenges small businesses face is the ability to adapt and innovate in response to changes in the market and consumer preferences. Very few locally owned businesses will survive their 10th year in business, and retail entrepreneurs must be particularly attuned to these changes. Implementing technology and best practices that enable businesses to be responsive to customers at every level is crucial for survival.
As entrepreneurs, it's important to remain open-minded and not become overly fixed in our approach. In order to continue growing and evolving, small businesses must be agile and adaptable to the marketplace. This includes being able to control expenses, manage inventory, track key performance indicators, and remain customer-centric with evergreen branding and a flexible approach to the target audience.
As a small business founder, it's crucial to be open to implementing technology and using data to inform decision-making. This can help to streamline operations, automate tasks, and ultimately deliver better results for your business. By balancing the needs of customers, employees, and technology, a small business can become a well-oiled machine that empowers the business model and drives profits.
Failure to Build a Tribe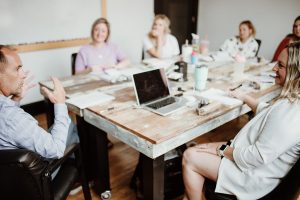 The concept of building a dedicated community of customers, also known as a "tribe" or "raving fanbase", is something that greatly excites Christopher Slater. In a recent interview, he emphasized the importance of finding your niche and fully committing to finding and building a loyal following.
Creating a community, or "tribe", of loyal customers and devoted employees is essential for the success and sustainability of any small business, especially in the retail industry. This means connecting with people on a deeper level, not just as a brand or for discounts or products, but as a message to the local community that your business brings value to their lives.
Slater says that building a tribe requires establishing a solid brand and executing effective marketing strategies. This includes creating a sense of community through events, partnerships, charities, in-store happenings, and connecting people together at your business. By being a leader in your community and inspiring your audience with your products, you can create a market need for your business and establish a loyal customer base.
Create a raving fan base and you'll build generational wealth. ~ Christopher Slater
However, building a tribe is not easy and takes effort and dedication. It is important to remember that if you started your business for the right reasons, it will be easier to build a tribe that resonates with people authentically. Slater says, 42% of small businesses fail because there's no market need for their services or products. By building a tribe effectively, you can create a market need and contribute to the growth and development of local economies and entrepreneurship.
42% of locally owned small businesses fail because there's no perceived market need for their services or products. In reality, those businesses have failed to connect with their tribe.
To understand your target customer, it's important to conduct market research and gather data on the demographics, behavior, and needs of your target audience. This will help you to create a unique selling point and market it to the right customer.
Customer Personas
According to Tracy Winkler, a professional EOS Implementor and strategist at 316 Strategy Group in Omaha, it is crucial for local businesses to develop customer personas. This is because by identifying the needs of their ideal customers, businesses can be more efficient in their marketing efforts and create more effective products and services. Customer personas play a vital role in refining ad campaigns and creating content such as email campaigns and blog posts.
Winkler states that it is not uncommon for local businesses to not have created a customer persona and to struggle with identifying their target customer.
Additionally, it's important to stay informed about industry trends and your competitors to stay ahead of the game.
Another key aspect of local small business success in Omaha is having the right financial strategies in place. This includes having a solid business plan, budget, and forecasting, and ensuring you have access to the proper capitalization. This can help you to manage and grow your business effectively.
Finally, it's important to have the right technology and tools in place to support your business operations. For local retailers in Omaha, this includes point-of-sale systems, inventory management, and data analytics tools. These tools can help you to streamline your operations, reduce costs, and improve efficiency.
At 316 Strategy Group, we offer marketing solutions for restaurants, retailers, and locally-owned small businesses.  These marketing solutions will help local Omaha businesses thrive today and tomorrow. We understand small businesses and can help local owners in Omaha, Nebraska to succeed. Contact us today to learn more about how we can help you to achieve your business goals.