Instagram claims that over 200 million of its users visit a business profile at least once a day, making it a useful platform to grow your consumer base. Because there is so much content posted on there, though, you might be having a hard time reaching a large audience.
The good news is Instagram recently came out with a feature called "reels," which is perfect for marketing your business. These are 15-second clips that you can polish off with music and special effects.
To know how to go viral on Instagram, you'll need to learn some tips and tricks first. Keep reading to get the inside scoop.
How to Use Instagram Reels
Once you've got your business profile established, making an Instagram reel is pretty simple. To get to the reels feature, click on your profile picture.
When your camera opens, click the "reels" button at the bottom of the screen. Just hold down the grey capture button to start filming.
If you want to break your video into clips, take your finger off the button, prepare the next shot and then press down again. With the timer countdown option, it only takes one person to film the reel.
As a business account, you can post your reels to your grid and your stories, as well as to the "Explore" page that Instagram just created. The Explore page is where any user can stumble across your reel and where you can become a featured pick. If you receive a notification saying that your reel is featured, that means the algorithm thinks it's high-quality and will suggest it to more users.
How to Go Viral on Instagram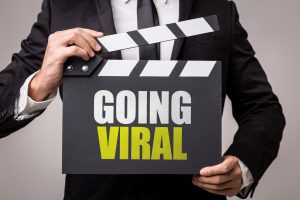 Coming up with ideas for your Instagram reels means that you need to balance trendiness and authenticity. You want to stand out from the crowd and establish a unique voice.
Because you only have ten seconds before the viewer decides to click off, you'll need to hook them with a compelling opening line, like you would in a book. From there, you should find a creative way to showcase your brand, products, and services while incorporating popular aesthetics.
Furthermore, keep your audience in the back of your mind when you are creating content. You wouldn't make the same types of videos for people in their early thirties as you would for teenagers. Look at your Instagram Analytics to gain a better understanding of who's watching your videos.
Do you remember when hashtags were just for fun? Now, they're a smart way to get your reels featured on multiple pages. Create a hashtag for your company and sprinkle in some more general ones to gain a wider following.
The last thing to keep in mind when you want to go viral is to engage with your audience and other brands. When your customers tag you in a post, leave a comment.
When their followers see that your page is active, they'll be more interested in following you. It might be a bit more work on your end, but it is worth the results.
Keep Making Content
Joseph Kenney, a digital strategist with 316 Strategy Group, recommends the following:
Create videos you enjoy making.
Unleash your creativity. Don't hold back. Get outside of your comfort zone.
Level-up your audio and visual equipment.
Stay consistent.
Don't give up.
Kenney says, "The more content you make, the higher a chance you have of going viral." Continue to crank out quality content to keep consumers coming back, and before you know it, you might have multiple trending videos.
Part of courage is simply staying consistent. ~ Joseph Kenney
Now that you know how to go viral on Instagram, you might be looking to hire a marketing and consulting firm to help you out. Check out 316 Strategy Group's social media services today, and your Instagram reel views will start to soar in no time. If you need assistance crafting an award-winning strategy for your Instagram account, please reach out to one of our strategic consultants.