There are dozens of options for Omaha logo designers. Here's what you need to know to choose a good one!
Logo design involves many factors, and certain patterns, colors, and descriptions impact how effective a particular design will be. Your logo represents your brand, and it's no exaggeration to say that logo design has a significant impact on the success or failure of your company.
Is your logo memorable and relevant? Creating one that is should be the goal of any designer.
We're here to tell you how to hire the right Omaha logo designers for your business to make your brand stand out. Keep reading to learn about questions to ask, factors to consider, and much more.
Find Someone That Understands Your Brand Identity
Ask yourself right now, what is your brand identity? If you don't know the answer, you can't expect your logo designer to either.
Brand identity encompasses the visual aspects of your company. It includes brand colors, logos, typography, mascots, and other visual aspects.
Think about your business, including your target audience and your goals. For instance, maybe you want to focus on saving customers money through great deals. One of your values might be to provide people with high-quality products at an affordable price.
If you explain this to a logo designer, they should be able to come up with a design that reflects your values, goals, and brand identity.
You don't want to send the wrong message to your customers. That's why it's critical that you get a design company that can understand your business as well as you do.
316 Strategy Group has an award-winning team of Omaha Logo Designers. Learn how we help small businesses define expectations and goals!
Define Your Expectations and Goals
Whether you're starting a new business from the ground up or going through a rebranding process, it's important to define your expectations.
What do you want this logo to convey and accomplish? If you know what you want or what you don't want, be sure to tell your designer.
If you're indecisive, be upfront about this in the beginning when visiting with Omaha logo designers.
It's better to talk about your concerns early on rather than be disappointed with the end result. Being upfront about your expectations and goals also saves both you and your designer time. It can help them create a logo that fits your brand image better.
Ask Them Questions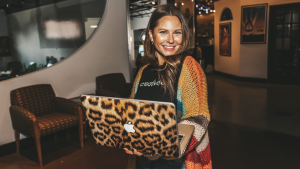 Sarah Sabaliauskas of 316 Strategy Group
You should feel comfortable asking your logo designer questions. They need to know as much about your business and goals as possible to design an accurate logo that reflects your brand.
If it's difficult to get answers back or they never seem to respond in a timely manner, these are red flags.
Here are some questions to get started:
What do you need from us to start?
What's your experience?
Do you have examples in a portfolio or references?
How do you handle copyright?
What services are included?
What's an estimated timeline for this project?
What file format will we get?
Communication between the client and the designer should feel open and easy. Additionally, you should expect them to ask you some questions in return. This is a good sign.
Here are some questions a logo designer might ask you:
Who is your target audience?
What are your business goals?
What do you want this logo to convey?
How do you want others to perceive your brand?
What are your company values?
Do you want to avoid any themes or colors?
Do you have any logos you admire?
What is your unique selling point (USP)?
The more you can communicate about your goals and vision, the easier it will be for Omaha logo designers to create a logo that suits your brand.
Branding That Fits Everywhere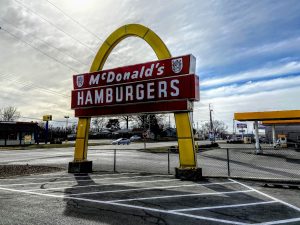 Image Credit: The iconic McDonalds arches taken by 316 Strategy Group. 
A common mistake that designers might make is creating a logo that looks good in one place, such as on a website, but not in other places. For instance, if your company has an app you want the logo to look crisp and clear on a phone screen. You also want it to look good on marketing materials, from newsletters to business cards and more.
Too much detail and too many words may not look good when scaled down.
We mentioned there's a lot to consider when creating a logo, including colors and images to the font. You'll have to decide whether you want your company name in the logo.
Take a moment to consider some of the most iconic logos out there right now. Maybe you think of the Nike Swoosh, the Apple logo, or the McDonald's arches. In these cases, the company behind the image is so well known that the name isn't necessary.
However, small businesses aren't as well known. So deciding whether to include your name or not can influence how well your brand sticks in a customer's mind.
Talk about the pros and cons of this with your designer and see what they have to say.
In any case, you need a logo that looks good and works consistently well in different places.
Next, you'll learn why asking about the pricing of Omaha logo designers is important!
Ask About Pricing and Fees
The cost of logo design varies greatly depending on what you need, who you choose to design your logo, and the experience of a designer. You might pay a few hundred dollars, or you may pay a few thousand.
That's why it's critical to have a budget in mind before looking for a logo design company.
After booking a consultation, get a quote for their services. Ask about any fees and what's included in the job. For instance, you should ask about revisions, timelines, file formats, etc.
The best Omaha Logo Designers will work hard to understand your brand and your goals to create a logo that suits your needs.
Find the Best in Branding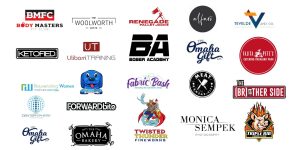 Omaha business logos designed by 316 Strategy Group.
Growing your small business means investing in the right services. You need a logo design that accurately reflects your brand. Use these tips to ensure you hire the right firm.
If you're looking for quality Omaha logo designers that understand your business needs, look no further. 316 Strategy Group is based here in Omaha, Nebraska, and we specialize in logo design, business marketing, SEO, web development, and more.
So, if you're not sure how to choose a graphic designer in Omaha, NE. click here and 316 Strategy Group will help take your vision to the next level.
Call us to set up a consultation and talk about your business branding today.