Are you a small business owner searching for a logo designer in Omaha, NE.? Then you're probably not alone. Choosing that logo that represents your business can be a stressful time. You need a custom logo design that best represents everything your company stands for. A design that your customers (and potential customers) will be able to look at and identify quickly.
This is why hiring the best logo designer in Omaha can be such an important part of your business.
When you're hiring a professional to come up with that logo design, there are several things you want to keep in mind. Let's discuss what you should look for in those logo design services. It will help you to narrow down your options and make that big decision.
1. Understanding Your Brand
One of the most important areas, when you're choosing a brand designer, is to find someone who knows your brand. When the designer understands, you will have an easier time talking about what you like and what is best. They too will understand what you're looking for most.
You want to be able to speak freely with your designer. Their opinion is just as important as your own. They are the professionals who know the business and what is going to attract your customers.
Now, every logo design agency will have a slightly different approach, but most would certainly agree that running a discovery phase and developing some sort of a brand strategy is an absolute must. 316 Strategy Group will dedicate the time necessary to learn about you, your business, and your competition.
Discovery is about getting to know the client's business, it's history, industry, competitors and audience. ~ Christopher Slater
Often, logo designers get off track right from the start. Logo design is not art, so we shouldn't just start coming up with logo ideas out of thin air relying purely on our sense of aesthetics. A logo should serve a specific business objective, so therefore you need to stay objective in the process in order to design something that is appropriate for long-term success.
A logo is the centerpiece of all brand communication—it's literally everywhere—so it should stand the test of time.
We naturally don't want to redesign that logo in the foreseeable future, so we want to give ourselves the best possible chance at designing a logo that will endure.
2. Prior Experience
Everyone is a designer these days. Sites like 99 Designs and Fiverr only complicate your problems. Finding a designer who has prior experience is going to be beneficial to you and your brand. Ask the designer or agency to review their portfolio of prior designs to look at. This way you will know if their logo, design, and branding work are what you've been searching for.
When you're deciding on a designer, discuss what they've done in the past. Take a look at references and reviews. All of these bits of information will help you in making your final decision on finding a logo designer in Omaha.
3. Within Your Budget
When it comes to business logo design, you want to always stay within your budget. Have a plan on how much you are looking to spend but please understand that you get what you pay for. You can literally spend $200 on 99 Designs and get dozens of options to choose from. Not one of them, however, has you in mind. Not one of the designers conducted a discovery or research phase. Not one of these designers researched your competition. The old adage that you get what you pay for couldn't be more true than with logo design.
4. Willing to Work With You
Find a designer who is easy to communicate with. You need someone that you can have a conversation with and talk out ideas to. This logo is one that your brand is going to be represented by.
Find a designer who is great at working with people. You should be able to have open discussions about what you're hoping your logo includes.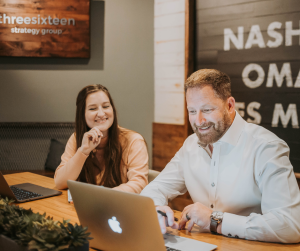 Admittedly, we're choosy at 316 Strategy Group. We don't work with every company that contacts us. We're simply not a good fit for everyone. Our team is deeply passionate about the companies and brands we represent. It's imperative that you find a professional logo designer who feels the same about your business!
Keep These in Mind When Choosing a Designer
By thinking about these different aspects of your logo you'll find the right designer for you. Finding a logo designer in Omaha may not be difficult, but finding the right one for your business can be tricky. You want the logo that's going to be easily recognizable, make your business pop, and help turbocharge your bottom line for years to come!
For other helpful business tips besides your company logo design, we're here to help you. Make your business everything you desire with our award-winning logo design team. 316 Strategy Group has designed logos for locally-owned Omaha businesses as well as national and international franchises. Whatever the size of your business, get in touch with us for more information today!