The best gifts in Omaha are from All Seasons!
As we wind down summer and step into fall, we here at All Seasons Floral and Gifts can't help but get excited for the season of giving. All Seasons is your one-stop shop for anything and everything gift-related in Omaha. One of our favorite seasons to experience in Omaha is fall and winter because we have the opportunity to create festive floral arrangements for your family and friends.
And we witness the love and gratitude shown to one another through the giving of thoughtful gifts. ~ Tessie, All Seasons Floral & Gifts 
It's hard to think that BRRR season is just right around the corner. This year is flying by, but the cold-weather months of September, October, November, and December are upon us, and with the 'ber comes the best part of the year, in our opinion!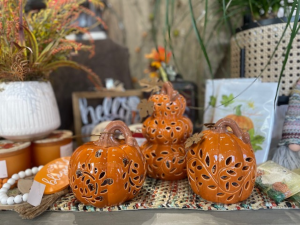 (Customers can find a wide selection of fall decor and seasonal gifts at All Seasons Floral & Gifts in Omaha)
From fall décor, pumpkin spice everything, pots of soup, and homemade bread, to an unending attitude for gratitude, and in the thoughtfulness and sentiment you share are tangible with wrapped gifts under the tree.
This is where locally owned, small businesses really get to shine and do what they do best. Dana Bean is the entrepreneur behind this Omaha gem. She and all of our friends at All Seasons Floral and Gifts in Omaha do it as well as anyone. They were recently honored with the title of Best of Omaha (3 years running) for full-service florist and gift shop.
Whether looking for gifts in Omaha, for exquisite flowers, or the perfect gift, located at 168th and W. Center in the Shops at Legacy – All Seasons Floral and Gifts in Omaha is here to accommodate your every gift need.
Our team at 316 Strategy Group has them on speed dial! We've used All Seasons Floral and Gifts for customer gifts, employee appreciation, parties, photo shoots, and holiday events.
From the moment you walk in, you are greeted with seasonal gifts, décor, food, clothing, and the smell of fresh flowers. ~ Christopher Slater, 316 Strategy Group
The only thing better than the smell is the service. Dana and her team are the best of the best and treat every customer, new or familiar, with care and concern. They know every product and can help expand your floral and gift horizon in new fun ways. If you're searching for unique gifts in Omaha, All Seasons Floral is what you've been searching for!
Of course, there's no limit on the items we have in store that could be given as gifts, but we do have a few lines and brands that are near and dear to our hearts. ~ Dana Bean, All Seasons Floral & Gifts 
Unique And Practical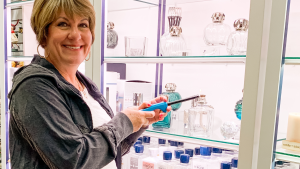 (Dana Bean, the owner of All Seasons Floral & Gifts, demonstrates the Lampe Berger system)
Is Sunday's bacon breakfast still lingering around your kitchen? Come in and have a little chemistry lesson about the Lampe Berger system and how it literally cleans the air in your home or office. The Lampe Berger system is one of the most unique gifts we've found in #Omaha. We've found a variety of uses for these incredible gifts that you won't find anywhere else in the metro area.
Are you going through paper towels like crazy? Chat with the Omaha gift experts about Swedish Dishcloths with kitschy sayings and why should you be using them. And you won't find a wider selection in the area. Our recommendation? Collect them all!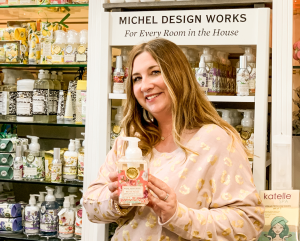 (Lori holding a Michel Design Works sample at All Seasons Floral & Gifts in Omaha)
Or ask about this season's Michel Design Works line of soaps and lotions. From delicious scents for any smell preference to luxurious lotions, Michel Design Works make for the ultimate housewarming gift.
Looking to spruce up your door? Might we suggest a door hanger? They carry a line made in the USA that won't fade in the sun and are super lightweight.
Needing a custom door wreath? It's the perfect gift made in Omaha! Dana and her team have silks, greens, and wreaths. Their talented team of designers is ready to walk you through the design process, with a 24-hour turnaround on most orders. Or are you just in need of a wreath refresh? No problem! They can take what you already have and give it new life.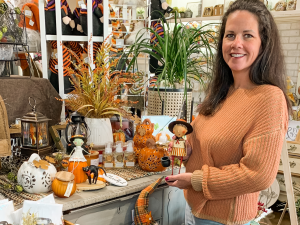 (Lori is holding a Halloween figurine)
Are you dreaming up ways to take your tablescape to the next level for the holidays? All Seasons Floral and Gifts creates hundreds of custom-made centerpieces for Halloween, Thanksgiving, Christmas, and New Year. If you are someone who prefers to decorate for the seasons rather than specific holidays, they have you covered.
The team at All Seasons Floral and Gifts in Omaha will create stunning centerpieces, tablescapes, and arrangements for each season. And they can make one that matches any design or aesthetic. Prefer silk and the longevity it offers? Yup, they do that too.
The boutique line of clothing they carry in store is hand-picked to be current with the season's style while not being too trendy. They are pieces you can wear year after year and provide endless versatility.
Dana's team can even help you style and accessorize with belts, jewelry, earrings, cuffs, and bags, which all make for excellent gifts for your favorite fashionista. They know how everything fits because they personally take the time to try it on themselves, which helps them help you!
Customized, Personal & One-Of-a-Kind
Looking for something that is customized, personal, and one-of-a-kind gifts in Omaha?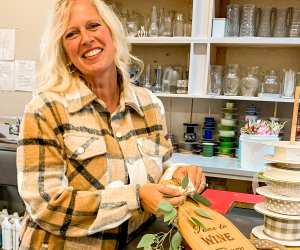 (Deb is holding a custom engraved carving board)
All Seasons Floral and Gifts in Omaha has an in-house laser engraver. They are mastering their craft by creating cutting boards, insulated cups, and ornaments with an individualized touch. The turnaround time is 48 hours or less. Nowhere else in Omaha can you get gifts and services like ours.
Something Special for Friends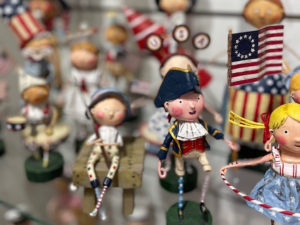 (All Season Florals carry a wide selection of Lori Mitchell collectibles)
Are you buying a gift for a friend that has a passion for collectibles? The Lori Mitchell collectibles make fantastic gifts; whether you are starting your collection or growing it.  Ask the gifting team about new 2022 Lori Mitchell collectibles and swoon over the ones that have recently been retired.
For Every Occasion
All Seasons in gifts in Omaha carries something unique and special for every occasion.
Gifts for the hostess, the birthday girl, and the soon-to-be mom for her baby shower. They specialize in holiday and seasonal items, so there's no shortage of gift ideas for family, friends, and colleagues. Ready to let your hair down? They carry a wide variety of birthday and wedding gifts.
And gifts for every major milestone; from a new house, new job, or saying hello to retirement life. They also carry a wide selection of special bereavement pieces. All Seasons Floral and Gifts is your one-stop shop for anything gift-related this holiday season.
Their wide array of items in every gift category is expansive; from kitchen gadgets to cookbooks, and charcuterie boards to board games. From our famous spiral candles to pajamas and slippers to wine tumblers, coffee huggers, and items for the littles.
We've even used All Seasons Floral & Gifts for business showers!
Going To a Party
Are you attending a party or watching the big game with family and friends and shopping for a hostess gift?
They carry Country Home Creations dips and drink mixes. Not sure what to make for dinner tonight?  Stop in and ask the team about their favorites. They have used all of their mixes in a variety of ways and can share their recipes and ideas.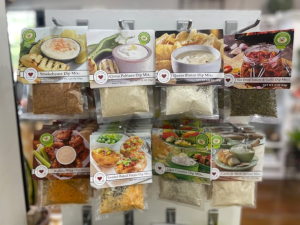 (Specialty soup mixes and dips at All Seasons Floral & Gifts in Omaha)
Looking to shake up meatloaf night? Try the BLT dip mix. Don't know what to do with those boring chicken breasts? Mix up some Cilantro Lime Dip Mix, dollop a spoonful on those chicken breasts, sprinkle with panko breading, and watch your family lick their plates.
Need a quick easy dessert to serve with coffee after dinner? The No Bake Cheesecake mixes are the answer. Don't make your life more complicated. All Seasons has the answers and they are ready to help with all your gift needs in the Omaha metro area!
Running Short on Time and Can't Stop to Shop in The Store?
They offer nearly all our products online. You can shop our inventory at www.shopallseasonsfloralomaha.com. They even offer an in-store pickup option. Just give them a call when you arrive, and one of our friendly staff members can bring your order out to you.
Dana and her design team are well versed in floral design work, too. They are master floral designers in their own right and are always chomping at the bit to put out new fresh styles and designs. We've used them countless times and highly recommend them!
You can check out their work on their Facebook, Instagram, and TikTok channels. They keep it fresh, fun, and exciting, and the behind-the-scenes videos and stories remind you that they are real people with real lives and experiences.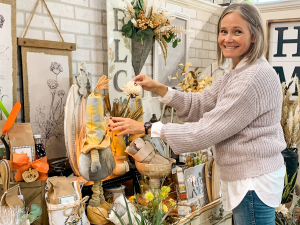 (Tessie making sure all the gift displays look perfect)
Dana and her team pride themselves on their diligence and attention to detail. Just ask any of their brides. Their wedding work is unmatched in Omaha and beyond. Even after the weddings, the grooms come back year after year for anniversary flowers, new baby flowers, and graduation flowers.
Their amazing customers know they can trust All Seasons Floral and Gifts in Omaha to carry the highest quality flowers and can translate their sentiment into a design that says what words cannot.
If you haven't stopped in for a while, they want to see you! If you've never been in, then you are in for a treat.  You will leave with high-quality flowers and gifts, more information than you ever wanted to know, and very likely, some new friends.
Some gifts are big. Some gifts are small. But the best gifts come from All Seasons.