If you are in the know around the Omaha restaurant community, then you're already familiar with Copp's Pizza and how Kristopher Copp and his team have securely woven themselves into the storied fabric of the metro area's pizza scene.  Since opening its flagship location on 72nd and Jones street just north of Nebraska Furniture Mart in October of 2019, Copp's is regularly voted among the best pizza in Omaha.  While there are no plans for that to change, Copp's is now expanding their menu at their larger, second location and you won't believe what is about to hit your table and your taste buds.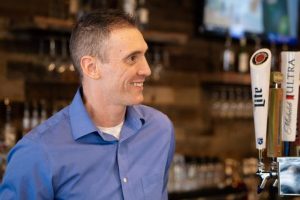 Our team of foodies was recently provided the opportunity to sample each and every one of the new menu items, which are now debuting at their Shadow Lake location. While the Jones street location will continue to serve some of the best pizza, wings, and appetizers in town, the expanded menu can be found at their Shadow Lake Towne Center location, in the original Nebraska Brewing Company, where they offer an extensive bar and cool vibe for families and date nights alike.  Opening in Papillion in October of 2020, Copp's has already established itself as a cornerstone of the Shadow Lake destination. Kris Copp is grateful for the community he has found in Papillion. "Everyone wants to be wanted…" he said. "It's a blessing to know and feel that people want us to do well. They're rooting for us" he humbly added, and he is excited about the new menu offerings as he is evolving his restaurant to serve a wider demographic of patrons.
We spent nearly five hours photographing, learning about, and of course, eating and enjoying every single bit of this incredible menu.  Of course, you'll always be able to get that signature pizza, and those wings and apps, but the new appetizers and entrees are soon going to be opening a lot of diners' options for an exceptional meal and night out.  Reviews of these amazing dishes are soon to come, but let us introduce you to the new menu!
Gettin' Started
Six new appetizers have hit the menu, and while all are exceptional, the Bam Bam Shrimp is a star! It is joined by another beautiful shrimp dish, the delightful Wonton Shrimp.   You'll also find that the Garlic Truffle Fries, Calamari, Mini Corn Dogs, Pot Stickers, and Ahi Tuna appetizers do not disappoint!  None of them lasted long on the plates, despite the fact we knew we had the new Entrees to sample, and we were blown away by the steady stream of plates coming out of the kitchen.  We missed the memo on pacing ourselves.
Let's Talk Entrees
Five new Pasta dishes are debuting, including an amazing Italian Grinder Pasta, Steak Pasta, Fettuccini Alfredo with Grilled Chicken Breast, Spaghetti and Meatballs, and Mac & Cheese. Trust us, you will not leave hungry, especially if you choose what you may soon find to be the best-valued steak dinner in the Metro.  Artfully serving Certified Angus Beef, Copp's is offering a 14oz Ribeye, an 8oz Sirloin, and a 6oz Filet.  All are cooked to melt-in-your-mouth specs and served with flavorful and fluffy mashed potatoes, seasoned veggies, and a side salad.  Is steak not your thing? Copp's has you covered with more new entrees, including Hand-Breaded Chicken Fingers, a Grilled Chicken Dinner with your choice of garlic butter, lemon pepper, Cajun, or Heartland style.  To our delight, Copp's is also serving an incredibly prepared Salmon.  The Atlantic Salmon Filet with mashed potatoes and seasonal vegetables came out perfectly prepared with a beautiful crust that revealed flaky meat that was bursting with flavor.
Kris is determined to make sure that your visit to Copp's is a dining experience you want to repeat, and is honored and humbled when people choose to walk through the door. "My mission is to make others' days better," he said.  When somebody comes in as a 4, I want to know how we can turn that into a 5-Star-Day" he added. Kris is rightfully proud of these new menu items and eager to share them with the public.  For a limited time, Copp's in Shadow Lake is now offering a special on their new entrees Monday through Wednesday, when you can buy one entrée and get the second for half price. Now is the perfect time to check out Copp's if you haven't already, and for those who already know Copp's, you're about to be introduced to just how they keep getting better.
My mission is to make others' days better. ~ Kris Copp
New Location Opening in West Omaha          
As if that's not exciting enough, the menu isn't all that's expanding.  Kris beams as he describes how he and his talented team will be opening their third location in June of this year, re-imagining the space of the former Applebee's in the area of 180th and Center with an impressive remodeling and strong concept to be the area's affordable, yet upscale full menu and bar.  Of course, Copp's will still be serving their signature pizzas, wings, and apps. You won't be disappointed. Omaha has patiently been waiting for this concept.
The Panda Express Influence on Kris Copp
The irony of taking on the former Applebee's location is not lost on Kris.  When he was a young 17-year-old Applebee's server in Kansas City, where changes were embraced, he was the very first Car-Side Server in the history of the restaurant. He took a bit of a hiatus from the restaurant biz while attending college in Kansas to play basketball, but a knee injury took him off of the court and into focusing on his studies in PreMed. As he was exploring the option of med school, Kris landed a job with Panda Express and was largely influenced by the team-centric leadership and founder, Andrew Cherng, who Kris often refers to when it comes to the positivity he aims to spread.  "You create your own weather," Kris said.  Soon after joining Panda, Kris was overseeing an average of 14 locations as an Area Manager but knew that he had his sights set on creating his own restaurant.
Success is not an accident. When you put yourself in the right place at the right time, then you're likely to be more successful in life because of how you prepare yourself on a daily basis. ~ Andrew Cherng, Chief Executive Officer of Panda Express
Lessons Learned at Home
Arriving in Omaha in September of 2019, it was just one month later that Copps Pizza opened its first location, and Kris and his team have not looked back while striving to provide a top-notch experience and give back to the Omaha community.  When sitting down with Kris, that passion is evident and infectious especially when it comes to impacting others, a trait he learned by observing his parents, repeatedly referencing his father throughout our conversation and visit. "I would not be who I am, or where I am without him," Kris said matter-of-factly.  Growing up, he watched his parents help others, even at a sacrifice to themselves. "I learned that everybody has a need" Kris explained. "Most don't take the time, or energy to learn what people need. I learned how to observe, listen, and help from the example my Dad set".
Life is pretty boring without a purpose. ~ Kris Copp
Even with all of the incredibly exciting things happening with the expanded menu and plans to move swiftly on the new Elkhorn location, Kris' passion for impacting others permeates and shapes the conversation. "I strive to impact others, who can then impact others," he said emphatically as he demonstrates with his actions the definition of paying it forward. He is thrilled to soon be sharing the latest changes and the newest location's upscale, affordable, family vibe.  But it is all part of the larger picture as Kris, his family, and the team looks to the future of how they can continue to impact a community.  "Life is pretty boring without a purpose," he said.