The Simple Man – Omaha's Most Unique Men's Store. The holiday season is here and beyond the typical activities like baking cookies, putting up the lights, and family movie nights, the number one task for us all is finding the perfect gifts for those on our list.
For some, finding that unique gift that resonates with the recipient is a self-driven contest, full of excitement.
For others, it may seem a frustrating weight on one's shoulders. Always indecisive, wondering if the next store may bring some inspiration.
Regardless if you find holiday shopping a task or a challenge, one thing becomes clear in the endeavor.
Men Are Hard To Shop For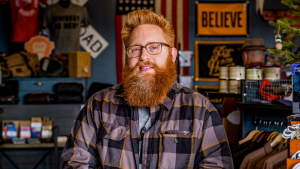 Image: Boyd Redinbaugh curates unique gifts and quality clothing for men. 
Have you ever asked him what he'd like for the holidays only to hear "I don't know" or "ah, nothing"?
Perhaps he really doesn't know what he wants. Perhaps he is thinking of something more practical as in something that is needed for the household. More often than not, men don't tend to think of things they want for themselves. And if they do, they may talk themselves out of the 'nice to haves' to instead lean toward a 'need to haves.'
This is where I buy everything for my husband. I enjoy visiting with Boyd. He is really helpful and knows everything about the products he curates in the store. ~ Nat Ogura
Men also tend to be creatures of habit and when they find a brand or item they like, they stick with it. Why change what isn't broken? Why take the time to search for something new?
Quality is Key. Durability is a Must.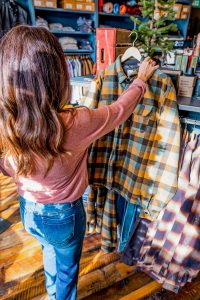 Regardless if he wants it or not, men always require products of high quality. They tend to be more particular and require the products they keep are made well and will last.
They want to feel the shirt on to know the sleeves are the right length. They want to touch the leather wallet to see how it feels in their hand and fits in their pocket.
It is important because they won't change their wardrobe per season, not even per year. He will wear that flannel for a few seasons, use that whiskey glass for years and own that pair of right-fit jeans for a decade, if possible. This requires items that are almost timeless. High quality is key, and durability is a must.
The Simple Man carries quality and durable brands like Howler Brothers, Flag & Anthem, Schott, The Normal Brand, and others.
But, Boyd's curation of unique clothing and products for men goes one step further than just quality. He seeks out brands with a story.
Brands With a Story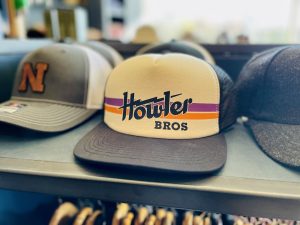 Brands with a story they can resonate with at a good price. Men require products, clothing, and accessories that are of quality, timeless, are durable and for many men, the bonus is if that piece also has a unique story.
Let's say you are looking for a gift for an avid do-it-yourselfer, a carpenter, or tradesman perhaps, one that greatly appreciates the lost art of hand-forged bottle openers or knives. Or maybe he might be one to know that the ceramic coffee mug was thrown by a local artist.
Have a guy who loves the outdoors? He'd love to hear the story of the Howler Brothers' eclectic, coastal-style clothing brand and how it was launched when two friends went surfing in Costa Rica.
And we know that when it comes to buying gifts for your family or friends, you want to get the best quality and value for the money you spend on them all.
A One-Stop Shop – Literally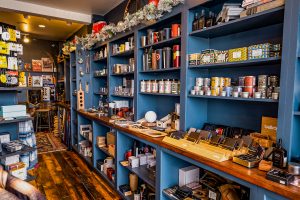 One other reason men are hard to shop for is lack of choice. Sure, you could fight the crowds at the clique big box, hardware, hunting, or sporting goods store. But more often than not, you find yourself standing there thinking "where do I begin" feeling lost, searching for any associate to help you navigate.
There are few specialty shops in Omaha. The kind that is quaint with exceptional customer service. The one where the associate asks you to share a bit about the guy you are buying for and then offers suggestions.
Boyd is a wealth of knowledge when it comes to every item in the store, as he curates it all himself. For anyone looking for that perfect gift for the guy who has everything  and appreciates quality, comfort, and casual sophistication, this is the place. Locally owned & independant. The Simple Man won't dissapoint. ~ Christopher Slater, 316 Strategy Group
Have you ever walked into a place that just makes you feel cooler?  The Simple Man is one of those stores and has something for every guy.  From high-quality clothing items and the most comfortable t-shirts, grooming products, accessories, and barware …. you name it, you will find it at The Simple Man.
That is Why The Simple Man Was Created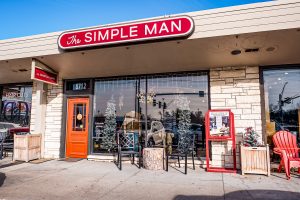 Image: The Simple Man is located in Countryside Village which is near 87th and Pacific in Omaha.
Located in the Countryside Village in Omaha, NE, owner Boyd Redinbaugh describes his concept for the store to be different from traditional men's stores, where clothing is the focus and the rest of the goods, accessories, and such are secondary.
Instead, The Simple Man equality balances those timeless clothing staples with the other items and gifts a man desires based on his unique interests.
Most of the products have a great story to accompany them.  Many are made by craftsmen, using methods and techniques of a bygone era; each as storied as the people crafting them.  The stories, the people, and the products make for a one-of-a-kind shopping experience.
The Simple Man's mission is to provide simple, well-made, durable goods with customer service beyond expectations.
And you know you've found the one-stop shop the minute you walk in. The atmosphere feels inviting, and warm, with dark blue walls and beautiful hardwood floors. You are greeted by Boyd and quickly learn the heart of this small, local shop is that of conversations and story-telling.
You share a bit about those on your list, and soon you'll be perusing products and learning stories about the makers, the products, and how each is unique.
Don't worry. Shopping for him doesn't have to be hard. This locally owned and independent men's clothing and gift retailer in Omaha will help you find the perfect gift for the man in your life.
Shopping For Him Doesn't Have to Be Hard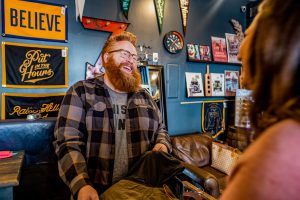 Image: Boyd Redinbaugh helps a customer purchase a holiday gift.
This holiday season, you can conquer the gift-giving game and find that perfect gift for all the men on your list.
It doesn't have to be hard when you can visit one, unique men's store and find everything for all the men in your life. From clothing to barware, accessories to leather goods, grooming products to décor for his man cave.
Customer service is where you can ask questions, take your time and find that gift that will have him say "Wow, I didn't even know it, but this is just what I wanted".
It's simple.
——————————-
The Simple Man Store
Address: 8712 Pacific Street
Phone: 402-979-6423
Website: The Simple Man
——————————–
Image Credits: 316 Strategy Group in Omaha