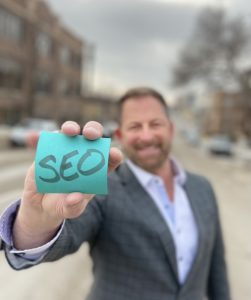 Dominating Omaha SEO is no secret but it does take time, dedication, and knowledge. In previous articles, we've discussed how Google has changed a lot over the years. Google has gotten a LOT smarter over the last 10+ years, and now it's all about becoming an authority in your niche. If you offer handyman services, then you better be the authority figure. If you sell cakes, then you better be the authority figure. If you are a Chiropractor, then you better be the authority figure. You get the hint, right? Be the authority figure in whatever you do, offer or sell.
One simple trick will change the course of your business. Be the authority figure in whatever you do, offer or sell. Once you do this, it's like cracking the Google Code. ~ Christopher Slater
Google flips a switch that just allows you to start ranking your business in the Omaha search results. Yes, you really can dominate Omaha SEO for your niche! Whether you sell products or services, your business can rank in the local Omaha Google search results!


Is it really that easy to climb the Google rankings? Yes. But how do you actually become an authority in Google's eyes?
There are essentially 3 elements that it takes to get there, and today we're going to break down the first element for you:
Getting The Right Content
The first step in becoming the authority in your niche is getting the right content on your website.
This happens in basically 2 ways (so pay attention here Omaha business owners….)
Here's how it works:
When someone in Omaha searches Google, Google wants to give the user the BEST match possible to a local Omaha business.
If you want your site to come up, you need to have a page on your website that matches that.
It might sound way too obvious, but we see too many sites that miss this basic point. The vast majority of business websites in Omaha lack enough content to crack the Google code so to speak.
If you want to rank for "dog washing Omaha" you need to have a page about "dog washing Omaha"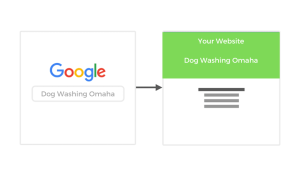 Similarly, if you also want to rank for "dog grooming Omaha" you need to have ANOTHER page about "dog grooming Omaha" specifically.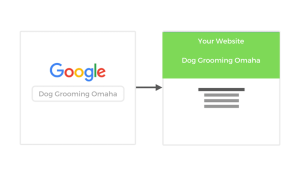 You need a page for each thing you want to rank for. Omaha businesses that invest in developing their content will be rewarded by our friends at Google, Yahoo, and Bing!
So, for every product or service your business sells, you'll want to build a separate page for that product or service. Trust us, we're the SEO experts in the Omaha area.
A Common Mistake
Now, a lot of people and SEO companies just try to rank homepages for everything they sell. We see this all the time amongst Omaha businesses!
Trust us, that's not going to work!
As a business owner, you're able to create a page on your site for each thing you want to rank for, you'll have a lot better chance of being relevant in Google's eyes and ranking for the keywords and phrases that are important to your businesses.
Plus, when customers in Omaha land on your site, they'll quickly find exactly the thing they were searching for which increases your conversion rates and lowers your bounce percentage. Dominating Omaha SEO for your niche isn't complicated but it does take a strategy and a little bit of time.
A lot of websites in Omaha could massively benefit from this one tip alone by just building out separate pages for each product/service they sell. Let's think about our dog groomer example for a moment. A dog groomer should have specific pages for their grooming, boarding, training, daycare, and washing services as well as pet supplies, too.
But this is only 1 part of dominating Omaha SEO and showing Google you're an authority with content.
You're also going to need the 2nd part:
How To Juice Up Your Site With More Authority
If you want to juice up your authority and turbocharge your bottom line revenue, you're going to want to add more content that answers common questions that your customers have.
Think about our Dog Grooming example.
They should have content about everything that has to do with dog grooming:
Pretty much any question about dog grooming, they should have answers on their website.
So if you want to be an authority in mechanics, plumbing, cake decorating, chiropractic work, massage therapy, insurance, handyman services, lawn mowing, then you need to do this too.
The easiest and most practical way for most businesses in Omaha to do this is with strategic blog content.
316 Strategy Group does this on our site as well. Yes, we really do practice what we preach.
While we have our sales pages for the logo design & website development, and Omaha SEO services we sell, we also write about logo design, website development, and SEO topics that people commonly have questions about.
On our site, we offer insights into everything from search engine optimization to style-guides to business logos to Instagram tips and more.
What's cool about this is that it not only shows Google you're an authority in Omaha, you also:
Rank for more keywords in your niche (because each new blog is a chance to rank higher)
Attract more customers in Omaha (because people search for these questions every single day)
Help convert those Omaha customers (because you just helped them solve their problems with just a few clicks on your website)
What's crazy is that every business owner in the Omaha area has the same opportunity to rank for the keywords and phrases that are important to their business.
Business owners who focus on Omaha SEO will likely get way more traffic from these keywords than we even from their sales pages!
Building up content is the first part of becoming an authority in your niche. Turbocharge your bottom line revenue and dominate Omaha SEO with these search engine optimization strategies.
Need help getting started? Our team of SEO experts in Omaha is standing by and ready to help you soar to new heights. Our SEO experts are surrounded by creative content writers, bloggers, and a strong web development team. We're here to help. Click here to connect with one of our search engine strategists.