FOR IMMEDIATE RELEASE
(Omaha, NE. – April 13, 2022) A list of winners for the 2021 MUSE Creative Awards has been officially released by the International Awards Associate (IAA). Having received over 6,000 entries from all over the globe, the MUSE Creative Awards were created to honor the TOP creative professionals in the industry for their excellence. 316 Strategy Group took home three international awards for the production of a reality tv show pilot, Boutique Boss.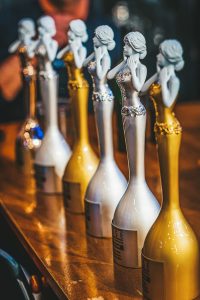 316 Strategy Group, headquartered in Omaha, Nebraska took home a GOLD Muse for the best retail video, a SILVER Muse for the best fashion video, and a SILVER Muse for the best shopping video. The work that landed 316 Strategy Group this decisive victory was created by their founder, Joseph Kenney for A-List Fashion Boutique. "I'm taken aback by the incredibly creative work of our team at 316 Strategy Group. Their unique approach to showcasing a talented boutique owner in Boutique Boss was refreshing." Said Kenney.
The MUSE Creative Awards is open for participation to the world at large. These awards are hosted by the International Awards Associate (IAA), which aims to promote excellence in various creative and design industries by providing professionals a platform to compete against their peers. Thomas Brandt noted, spokesperson of IAA said, "IAA commends all our entrants for their dedication to their crafts, and may their unceasing passions further the limits of creativity and design."
By setting up a jury composed of industry professionals, IAA is able to uphold impartiality and assessment criteria based on industry standards. The jury's sole mission is to seek out companies and individuals whose excellence and talents are capable of serving as new benchmarks in their respective industries.
Each entry for the Muse Creative Awards is evaluated with standards relevant to their respective industries. To further the guarantee of impartiality, the blind judging method is employed. This allows for entries to be evaluated by multiple judges without being directly compared to each other, lending credence to the winning works' excellence.
A-List Fashion Boutique was founded by Amanda Hadenfeldt and is located in the trendy Hedde Building in Grand Island, Nebraska. Hadenfeldt is well respected in the fashion industry, has one retail store in Nebraska, and provides a VIP shopping & styling experience to customers throughout the United States.
316 Strategy Group specializes in the production of reality shows, full pilots, trailers, and sizzle reels for businesses to promote themselves online or to pitch to television networks. 316 Strategy Group works with clients all over the nation, from major cities to small towns. They develop creative reality show ideas for TV and the online market.
After visiting A-List Fashion Boutique in Grand Island, 316 Strategy Group approached Hadenfeldt about shooting a reality television pilot. Hadenfeldt and her team were up for the challenge and production started within a few weeks. On location for 48 hours, 316 Strategy Group captured enough interviews, footage, and b-roll for 12 reality show episodes. The reality show, Boutique Boss, highlights the unusual life of a small-town boutique boss with an eye for fashion. Hadenfeldt is a professional fashion stylist who has gained a massive fan base, across the country, because of her edgy style and homespun attitude toward life, family, and friendships.
On February 17th, 2022, over 20 members of 316 Strategy Group gathered in Omaha, Nebraska to reflect on the accomplishments of 2021, accept the MUSE Creative Awards and celebrate the success of the reality show pilot.
A-List Fashion Boutique hosted their Luxury Nights Fashion Show in Grand Island on February 8th and unveiled the reality tv show pilot. The response to the pilot has been overwhelming to Hadenfeldt, her family, and her friends.
316 Strategy Group has a strong network of relationships with cable and network tv stations. They have actively started pitching the reality show pilot, Boutique Boss, and the early feedback has been very positive. 316 Strategy Group plans to release the reality series on social media platforms if the series isn't picked up by cable or network television stations.
A-List Fashion Boutique has recently expanded its operations in Grand Island to handle its national customer base. Hadenfeldt and her team are very active on Facebook, Instagram, and TikTok, and they leverage the wildly popular boutique app CommentsSold to streamline the online purchasing experience.