Best Social Media in Omaha. Here's what you need to know!
Did you know that 73% of small businesses invest in social media marketing? But unless you're an expert, it's easy to get lost among the noise, with so many businesses actively online. So you need the best social media in Omaha, Nebraska.
It's not a surprise, considering how many people spend their time on social media. If you're one of those people who's constantly scrolling through Instagram or Facebook, then you know how effective it can be for a business to have a strong online presence.
If you find the right social media management company, then everything will suddenly fall into place. Your branding, your social media scheduling, the same voice used across each platform, with tons of engagement and followers ready to be your clients–you'll have it all, and because someone else will be handling it, you can focus on what you do best: running your business.
It's all about hiring the right company. Once you find a right fit for you, you'll be well on your way to success. Read on to learn more about our tips on how to find the right social media company for you.
Understand What Social Media Help You Need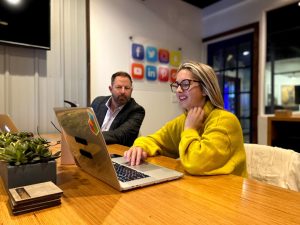 Even before you start researching the right companies, it's important to know what social media help you need. Are you starting from zero, with branding? Are you a brick-and-mortar business looking to move into e-commerce? Or do you have a full-fledged strategy–but it just isn't working?
Once you've identified where you are in terms of social media management, you'll want to put together a list of specific strategies you want to work on, whether that's a total social media audit or help planning your posts so that they are more likely to reach your customers.
This will help you both find the right business with the right services and lead them in the right direction once you start working together.
If you aren't sure where to get started, conduct a social media audit. According to the Harvard Business Review, this means thinking about:
WHO is posting on social media (your business)
WHERE you're posting content (on what platforms, for example, Facebook)
WHAT kind of content you're posting (such as photos or videos)
WHEN you're posting (how often, but also what kind of engagement you're getting)
WHY (the purpose of your message, and what your KPIs are)
Having this information laid out in front of you will help you get a pretty good idea of where you might be lacking. For example, maybe you have a variety of high-quality content, but you aren't getting much engagement because you don't post enough–in which case you'll want to focus on scheduling and researching your ideal clients' online habits.
Study Their Successes and Clients
Any social media management company that gets results is going to brag about those results. When researching your options, take a look at their website to find reviews from happy clients.  These will give you a good idea of why they were great to work with, whether that's improved ROI, higher engagement, great customer service, or all of the above.
Many of these companies will also work with a certain kind of customer. For example, if you're running a hair salon in Omaha, Nebraska, working with a digital marketing business that specializes in working with high-tech companies in New York City might not be the best small business strategy.
Instead, you'll want to work with a company that better serves your niche.
If the company has a list of past clients, this can be helpful, too. Take a look at those clients' social media pages. Do the tone and style reflect a personality similar to your brand? Then they'll be the right fit.
Check Out Their Own Social Media
Another great indicator of if this social media management company knows what they're doing? How they manage their social media.
In addition to checking out their social media pages, do an actual analysis. Notice how often they post. Ask yourself if their tone is the same across all channels, or if shifts; it should be consistent. Then, play private detective and start engaging with their channels. Does it take them a while to reply, or do they get back to you right away?
Analyze their content, too. When they post it, is it shared often? Do people like and comment? Do you think it's artfully done, or is the content itself not as impressive as it should be, given they're the experts?
Look at Their Portfolio–or Ask for Samples
In addition to knowing what clients they work with and how happy they are, another way to find out if a digital marketing business is right for you is by looking at their portfolio.
Usually, a portfolio is available on a social media management company's website. If you can't find it there because of confidentiality issues, ask them for samples. There's no point in working with a business if you don't know what kind of work they'll be doing for you.
When looking at the portfolio or samples, there are certain things you'll want to watch out for, to ensure they're the right match:
Tone of voice (Does it match yours?)
Branding across channels (Is it consistent? Or all over the place?)
Actual evidence of success (Such as KPIs)
An aesthetic that appeals to you (If it doesn't, they won't be a good fit)
For a fee, you can ask the company to create some samples for your business specifically. This can also include ideas about scheduling and how they see your company improving its social media presence with their help.
Know Your Budget
Your budget is going to determine a lot when it comes to what company you choose to hire. However, it's not as simple as you may think, since you can get a bit creative here.
Remember at the beginning of this article, when we told you to understand what social media help you need? Let's say that, turns out, you only need help managing your accounts 24/7. In that case, you can reach out to a high-end social media management company and ask if they'll give you a discount if they only cover the hours when you aren't in the office.
Generally speaking, you'll want to follow this rule: any business with a revenue of less than $5 million should be spending 7-8% of revenues on marketing.
When working with a social media management company, be upfront about your budget. Otherwise, you're wasting their time–and yours. You'll also want to ask about payment options.
Some businesses will expect all the money upfront, while others might base it around milestones completed or followers gained. Others may have a sliding scale or discounts for nonprofits, so be sure to ask about this if you think this might apply to your business.
Interview the Best Social Media Management Companies
Once you've taken these steps, you'll be ready to start interviewing the different companies you're considering.
First, you'll want to see if they're a right fit in terms of working together. Even though they might seem like a right match from having looked at their portfolio and client work, they may not have the same mindset as you. Their approach to work may be different, too. Ask them questions such as:
"How often do you meet with your clients?"
"How involved do you expect clients to be in social media strategy?"
"What would you expect me to work on?"
"How would you describe your ideal client?"
It's also great to ask them for ideas about what they would improve in your business's social media strategy. If they seem to want to change so much that your business brand wouldn't have anything to do with what you imagine, then they won't be the right fit.
Finally, ask about specific services you identified when figuring out what social media help you need. That way, you can find a company that specializes in exactly that.
The Best Social Media Management In Omaha, Nebraska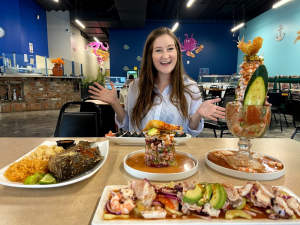 Once you've selected which is the best social media management company for you, you'll want to get the most out of your working relationship. Whether you're based in Omaha, Nebraska, or anywhere else, these strategies will help pave the way to making a real impact with your business's social media presence.
To learn more about these strategies–and other tips, such as the best social media management tools you can use and marketing strategies for small businesses–contact us today. We offer the best social media management In Omaha, Nebraska!