The BeReal App is quickly climbing the ranks of most downloaded apps, and it is currently at #61.
More and more people are joining this app that promotes having an authentic feed rather than a curated one.
This can be a great option for small businesses, as the app isn't saturated yet but is easily growing. But how do you use the BeReal app for small businesses? Keep reading to discover why this app is rising in popularity. We'll explain everything you need to know to incorporate this into your social media strategy.
What Is BeReal App?
An old GoPro employee, Alexis Barreyat, founded this app with Kevin Perreau. They launched it in January 2020.
When you use the app, you'll get a notification each day to post an unedited photo once a day. Once you receive the notification, you'll have up to two minutes to share a picture, and you'll also be able to see what your friends posted.
The app is very easy to use, and it'll take a photo with the front and back-facing cameras simultaneously. The company says that they're offering a chance for users to showcase their true selves and personality, which can be a great way to share behind-the-scenes footage for businesses.
Still unclear how the BeReal app works? Well, you're not alone. Our social media experts will lay it all out for you!
How Does BeReal Work?

The concept is very simple, and most businesses should be able to figure out how to use this. You'll download the app from the app store, and then you get a notification once a day.
Once you get the notification, you'll have two minutes to take a picture and then post the photo of what you're doing, regardless of how boring it might seem. There's no way to anticipate the notification; it will come at random times of the day, which adds to the app's appeal.
The app hasn't revealed how they choose each day, but it's not random. That means that the potential window for posting could open up at any point.
You can't post videos on there yet, and you'll have to take a photo at the moment; you can't upload one that's already taken. Once you post it, you'll be able to see a social feed that only has an unedited photo of what people are doing.
You can only post once a day, so there's not a lot of clutter that clogs up the feed. One of the best things about this app is that your business has the option to be more authentic than on other social media platforms.
This authenticity can be very beneficial for your employer's brand, and you also won't have to spend as much time polishing and producing high-quality content.
By now, you're probably wondering if the BeReal app is safe or not?
Privacy Concerns
Is the BeReal app safe?
There have been some privacy concerns because the photo will automatically upload your exact location as well. It will upload the image coordinates, but you can disable this in your settings.
The coordinates create a type of Snap Map, which can benefit your business if you're at an event. However, if you don't want people to know where your business is in live time, you may want to disable it.
The app has promised that it won't sell data to third parties, but some users are still concerned about it.
BeReal app has been wildly popular because it's not "just another social media network". It really is different. But, is it effective for small businesses to use? There are a number of challenges but our social media managers have outlined them below.
The Challenge for Businesses

This app can be challenging for social media marketers because how can you build a brand on an app that doesn't explicitly allow promotion?
However, you can think of using this app in a way that will get people talking about your product or service. You may have to shift your strategy from an influencer strategy to a brand awareness strategy.
But this might be a good thing, depending on your primary audience. Paid influencer marketing declines with younger generations, so you'll need to be authentic to earn Generation Z's approval and money. That's where BeReal comes in.
However, while the app is growing, you shouldn't give up on your strategy on all other social media accounts. It could be a passing moment in social media, but it's best to jump on it before it blows up.
How to Be Authentic
When you're using this app, the primary strategy is to try and be authentic. You won't have much time to stage a photo, and you'll need to snap your surroundings as they are.
You could wait to post for a notification where you have something great to take a picture of. However, it might seem more authentic if you post photos every day of things that you're doing.
For example, if you're at the office, you could highlight a different employee each day. Or you could post a different feature of the product if you have it readily on hand.
If you're selling services, you might want to post a photo showcasing different features or options with your service.
Authenticity is determined more by the brand, regardless of the app. You may even want to think about carrying some of your authenticity from this app onto others.
Discover More about How to Use the BeReal App for Small Businesses
These are only a few things to know about using the BeReal app for small businesses, but we're here to help you out with more social media strategies.
If you're not sure how to effectively utilize social media for your small business, you might want to consider hiring a company that can manage social media marketing for you.
Best Social Media Firm in Omaha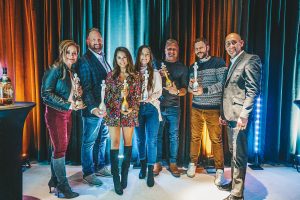 316 Strategy Group has earned the distinction of B2B Magazine's Best Social Media Firm, and after nearly a decade of growing businesses and harnessing the distinct power of strategic social media, the social media team at 316 Strategy Group is thrilled to be recognized by the Omaha Business Community.
Do you want to get ahead of your competition and learn how to diversify your business strategy with social media? Learn from our trusted social media experts in Omaha, rub elbows with our influencers, and take your small business marketing to the next level!
Want more help along the way? Check out our social media consulting services to help with your business growth.
For help with social media management in Omaha, call 402-881-2811.
For help with social media management in Des Moines, call 515-779-6954.
For help with social media management in Kansas City, call 913-289-3009.
For help with social media management in Grand Island, call 308-390-7689.