Regardless of whether your business is a startup or a long-standing corporation, it's crucial to stay informed about the latest trends in your industry. 62% of Americans do this by listening to podcasts—and so should you.
However, it's not enough to simply log into Spotify and listen randomly. You need a strategy for choosing which podcasts are worth your time. This list of the top business podcasts of 2022 will help you narrow your search.
From interviews with top executives to discussions on hot topics like finances and mental health, these podcasts keep you ahead of the curve. Read on for some of the best business podcasts available today!
School of Greatness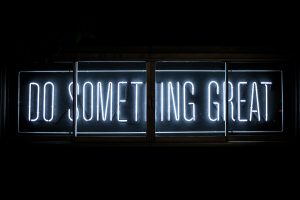 You can't talk about the best business podcasts of 2022 without mentioning the almost decade-long show by Lewis Howes. The School of Greatness is a top choice for entrepreneurs and business professionals who want to learn more about persistence.
In each episode, Lewis interviews inspiring guests who share their stories of how they overcame adversity on the road to riches. If you want to be inspired and motivated, here's your chance. The podcast airs every week on Apple Podcasts and Lewis Howes's website.
Image Credit: Clark Tibbs
The BizChix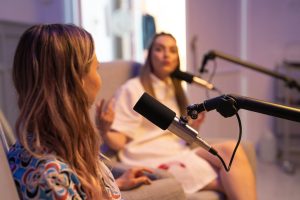 The BizChix is a weekly podcast that offers advice and guidance to female entrepreneurs. It's perfect for those who are looking for help navigating the challenges and triumphs of running their own business. There are also episodes geared toward teaching startups how to scale.
For women who feel like their business could use more direction or community support, this show will provide both in an entertaining way. Learn how to find the balance between work and personal life by tuning in on Apple Podcasts or Stitcher Radio.
Image Credit: Sebastian Pandelache
The Omaha Podcast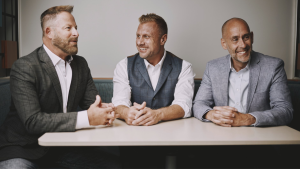 The hosts of the Omaha Podcast use their years of experience as entrepreneurs, CEOs, and business consultants to inspire others. Their advice is raw and unfiltered, offering listeners an honest look at what it takes to be successful in business. The founders of Saas-enabled marketplaces, digital media companies, magazines, and video production companies share their unique stories and expert insights on the show.
Don't be misled by the name. Although the podcast originates from Omaha, Nebraska, this no-nonsense business advice is for entrepreneurs all over.
The purpose of this podcast is to guide and support entrepreneurs in Omaha, Nebraska so they can attain their business goals. Every episode features a story about how a local business succeeded, including the challenges faced and lessons learned.
You'll hear from entrepreneurs, business owners, and community leaders about their success stories so that you can learn how to create your own.
This is your community. This is The Omaha Podcast.
Gary Vee Audio Experience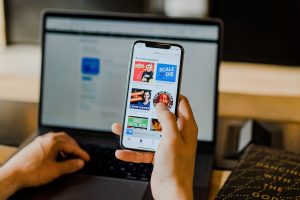 Gary Vee is an entrepreneur, CEO, and author who offers raw business advice to inspire others. He's the founder of Vaynermedia. This social media marketing agency works with clients like PepsiCo, Mastercard, and Coca-Cola.
It goes without saying that Gary Vee has a lot of experience in the business world. He doesn't censor himself when it comes to his opinions—perfect for ambitious entrepreneurs who need an extra push to succeed in their careers.
If you're looking for some tough-love business advice, be sure to log on every day for a new episode on Apple Podcasts or Vaynerchuk's website.
Image Credit: Austin Distel
TED Business
Every Monday, TED Business reveals the most important and thought-provoking ideas that shape the business world. The show features interviews with high-profile CEOs and entrepreneurs addressing everything from workplace injustice to marketing strategies. Its goal is to change the world for the better.
TED Business is available on Spotify, Apple Podcasts, and its own website.
Image Credit: Ilyass SEDDOUG
Social Proof Podcast
The Social Proof Podcast teaches listeners how to use the power of influence in business. It's earned its spot as one of the top business podcasts of 2022 because it aims to teach listeners how to be more persuasive, rather than just providing information like other podcasts.
It has tons of interviews with successful entrepreneurs, and each episode is packed with insights from the guests. It's not just for executives, but for anyone who wants to become more productive at their job or in life. You can listen on the Apple Podcasts app and see if the advice resonates with you.
Wisdom From the Top With Guy Raz
Guy Raz is the host of NPR's popular business and leadership podcast, Wisdom From the Top. Each episode features interviews with some of the world's top business leaders. They all share unique perspectives on how to succeed in today's ever-changing landscape.
Raz conducts the interviews in a fun and approachable way that makes them easy to listen to, even if you're not into business. Whether you need to brush up on your professional communication or you're looking for inspiration to be a better leader, this is a great place to start.
You can listen to this program on NPR's website, Spotify, Apple Podcasts, and many other streaming platforms.
The Goal Digger Podcast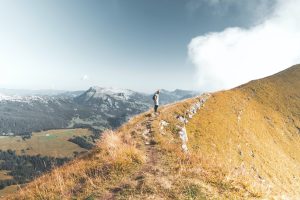 Jenna Kutcher is an author, speaker, and business coach who also hosts the Goal Digger Podcast. The podcast explores actionable strategies for living a more joyful, peaceful life—while making a profit on the side!
Each segment provides you with practical steps that will help you achieve your goals. It's an uplifting podcast that inspires its listeners to live a better life through topics like self-love, personal growth, mindset shifts, and more.
It includes very open and direct conversations, which can be disturbing to some listeners. But if you're willing to bravely delve into your own mind (and heart), you can find episodes on Apple Podcasts and Spotify.
HBR IdeaCast
HBR IdeaCast is a weekly podcast that shares important ideas from the pages of Harvard Business Review. The podcast covers business strategy, innovation, leadership, and management. Episodes are between 20 and 30 minutes long, so you can listen to an entire segment on the subway or during your lunch break.
You'll learn about climbing the career ladder through hard work, determination, and smart decisions. This could be an excellent resource if you're looking for inspiration from others' experiences.
Brown Ambition
Brown Ambition is a personal finance podcast hosted by Tiffany and Mandi. They're both warm, friendly people who want to help you save money and invest wisely. Their tips are easy to understand and fun, so even the most mundane saving strategies become interesting.
Various sources have recognized Brown Ambition as one of the greatest personal finance podcasts, including Insider, Time Magazine, and Forbes. To explore why the podcast is so good, check it out every Wednesday on Apple Podcasts or Brown Ambition's website.
Tune In to the Top Business Podcasts for Entrepreneurs
These are the top business podcasts for professionals looking for growth. They're informative, entertaining, and inspiring. Each episode is full of useful information that can help you improve your business or personal life.
You should listen as often as possible so that you can internalize the advice and make it part of your character.
But don't stop there! The information in podcasts is great as a general guide, but genuine success comes from getting tailored advice. Reach out to a consultant at 316 Strategy Group to see how we can supplement your podcast notes.
People are busy, and they don't always have time to read lengthy blog posts. It can be difficult to find the information you need when this is the case.
If you want to promote your business, podcasts are an excellent tool. Sure, blogging is easier in some ways. But not everyone has the time to read a long blog post to find the information they need.
Realizing that people have unique needs is vital for any entrepreneur. The best way to accommodate a variety of different types of people is by thinking about the type of content that would suit them best. When it comes to finding success in this endeavor, podcasting provides numerous benefits.
5 Podcasting Statistics That Will Absolutely Blow Your Mind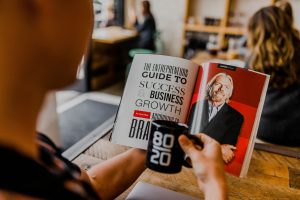 On-demand listening, which includes podcasts, has gradually increased over the years and doesn't look like it will be decreasing anytime soon. This is probably because they are easy to listen to while you're busy with other things. If you need more convincing, take a look at these amazing statistics:
More than two million podcasts are currently active and growing, according to recent research by Podcast Insights.
In the United States, Spotify was the most popular app for listening to podcasts in 2020, with 25 percent of listeners using it.
EMarketer predicts that marketers in the US will spend around $1.74 billion on podcast ads.
A total of 32 percent of podcast listeners in the US have an annual household income of more than $75,000.
Around 67 million people in the US listen to podcasts every month. The average listener spends six hours a week listening to podcasts.
Did you know that podcasts can help increase traffic to your website?
If you want to reach more people with your brand's message, podcasts are a great way to do that. They help you connect with new audiences and build familiarity. Plus, if people like your podcast, they're likely to become regular listeners. So try to be consistent, and pretty soon you'll start attracting a loyal audience—and getting recommendations from them to other potential listeners.
Growing your traffic and generating more leads is precisely what this will do for you.
Podcasts Are a Great Way to Build Networks and Connect with People.
As an entrepreneur, networking is key to expanding your business. One of the most effective ways to network with other entrepreneurs is through podcasting.
When creating a podcast, it is important to focus on aspects that make you unique and show your personality in order to create a good connection with your listeners.
The best thing about podcasts is that they help build brand awareness in an organic way. When you're podcasting, it shouldn't feel like you're selling something. Instead, focus on creating a quality show that people will want to listen to. If you can do that, your branding will take care of itself.
Podcasts Are an Interactive Platform Where You Can Connect With an Audience on a Personal Level.
Who wouldn't want more engaged listeners that eventually lead to higher revenue? Podcasting gives you that chance by getting your listeners involved.
Podcasts are a great way to communicate with your audience, and they offer more flexibility than other mediums. They're also less overwhelming for both you and your listeners.
The Bottom Line
Podcasts are one of the most efficient ways to cultivate a loyal and involved audience, no matter the size of your business.
If you want to make more sales, focus on building relationships and engagement. Don't wait too long to get started!