The Vault Salon Studio is opening in the heart of Papillion, Nebraska, a town where history whispers tales from the past through its timeworn walls, a new story in the realm of beauty is ready to unfold.
Mark your calendars for Wednesday, November 2nd, because that's when The Vault Salon Studio, nestled within the city's historic first Sarpy County Courthouse, will throw open its doors. Here, we'll be delving into a delightful blend of history, innovation, and a vibrant community spirit. Leading the charge on this exciting journey is none other than the indefatigable Jordyn Hermsen, a hairstylist extraordinaire with a remarkable 11-year odyssey in the hair industry. Her solo venture took flight a full five years after graduating from the hallowed halls of Capital Hair School.
Crafting the Pathway to Salon Ownership: A Dream Unveiled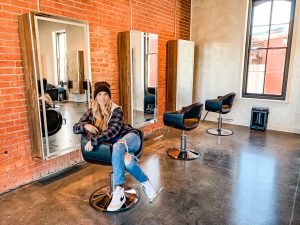 Jordyn's journey in the world of hairstyling was forged in the crucible of her own experiences and the guidance of influential mentors like Tara Seng of Moxie and Brandi McDonald of Salon Gallerie. These luminaries played pivotal roles in honing her craft. But Jordyn's passion for the art of hairstyling goes way back to her childhood when she was captivated by her mother's deft hands in the trade. The allure grew stronger during high school when she found herself conjuring hairstyles for performers in musicals. Her dedication ran so deep that she yearned for the lingering scent of hair coloring on her pillowcase.Jordyn's dream of having her own salon has its roots firmly planted in the past, but her journey toward it has been nothing short of extraordinary.
Jordyn Hermsen's evolution in the world of hair styling was a gradual process. She began with men's haircuts before gradually expanding her repertoire to encompass the full spectrum of salon services. It was her encounter with a client's struggle against cancer and subsequent hair loss that steered her towards specializing in hair extensions. In an act of compassion and determination, Jordyn spent a grueling 12 hours providing her client with meticulously bonded hair extensions—a gesture born from a deep-seated desire to make a difference.
Working Alongside The Renowned Chrissy Rasmussen
In her relentless pursuit of perfection, Jordyn embarked on a journey to Arizona, where she apprenticed under the renowned Chrissy (Rasmussen) at Habit Salon. Chrissy is famous for her extensive list of celebrity and influencer clients.
In those days, social media influencers with millions of followers made pilgrimages from Los Angeles to Gilbert just to experience the magic wielded by owner Chrissy Rasmussen and her team of colorists and stylists at Habit Beauty Salon. These visits were often documented with before-and-after snapshots and behind-the-scenes transformation videos, creating a distinctive hallmark on the salon's Instagram account: stunning, long, blonde, or light brown wavy hair. For Jordyn, this opportunity was nothing short of a milestone. She became the first Nebraskan ever to shadow Chrissy, learning the exclusive Habit Hand Tied Method—a technique known to only a select few six years ago.
Jordyn's journey from Nebraska to Arizona was not just a unique opportunity; it was a transformative experience that would shape her future in ways she couldn't have foreseen.
The Vision: A Fusion of History and Modern Elegance
Jordyn's decision to establish The Vault Salon Studio in Papillion was driven by a desire to be closer to her children and to create an environment that nurtures the growth of fellow stylists. The choice of the building, the former historic courthouse of Papillion, held a special allure, particularly the old vault where important documents were once safeguarded. The historical significance and unique features of the location served as the muse for the name "The Vault Salon Studio."
Determined to infuse the sophistication of Beverly Hills into the heart of the Midwest, Jordyn's vision crystallized when she stumbled upon this remarkable building, captivated by its historic charm and distinctive architectural elements. Jordyn knew the old Sarpy County Courthouse would serve her and the Papillion community well.
Just as she is dedicated to preserving the old "Vault" door and revitalizing the beauty of a historic building, Jordyn brings the same fervor to her salon clients in Papillion, the greater Omaha metro area, and beyond.
Not only is Jordyn a master of hair extensions and a wickedly talented stylist, but she is also a gem of a human. The love and care she pours into her clients also runs deep in her love for her three young daughters. From behind the chair to mom duty, her number one goal is to show her clients and her daughters that women can do it all, and she aims to be the example and definition of following your dreams. ~ Sara Sabaliauskas, 316 Strategy Group
With a steadfast commitment to delivering an elegant experience and fostering meaningful connections with her team, she aims to blend the charm of the Midwest with a touch of Beverly Hills sophistication.
The Promise of Connections and Growth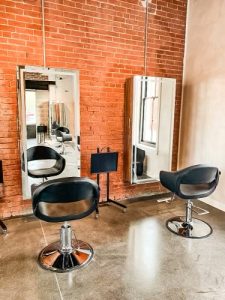 As Jordyn gears up for the grand opening, she acknowledges a mix of nerves and excitement, but what truly excites her are the relationships and connections she's bound to forge within her new community. Her unwavering dedication and exceptional skill are evident in the lengths her clients are willing to travel to see her. One loyal client makes the journey from Oklahoma every six weeks—an unequivocal testament to the trust and admiration she's garnered through her unrelenting commitment to her craft.
The Vault Salon Studio, located at 136 N Jefferson St, Papillion, NE 68046, will exclusively feature UNITE hair products. UNITE is celebrated for its dedication to clean, versatile, and cruelty-free hair care, aligning perfectly with Jordyn's values and commitment to quality and ethical practices.
Entrepreneurial Dreams Need Support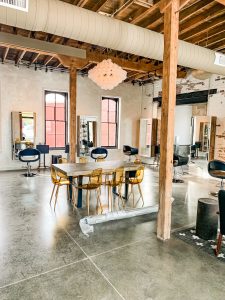 As The Vault Salon Studio prepares to swing open its doors, it symbolizes more than a sanctuary of beauty; it stands as a testament to the power of dreams with a reminder that they thrive on support. So, on November 2nd, take a moment to step into The Vault, where history, community, and beauty intertwine in a celebration of Papillion's rich heritage and the promise of a vibrant future. This is a place where dreams are intricately woven into its essence, and where the indomitable spirit of an incredible entrepreneur like Jordyn Hermsen finds the encouragement it needs to soar.
Don't just wait for your hair appointment; get out, say hi, stop by, or send a card of encouragement. Choose The Vault Salon Studio over a franchise – it's more than just a salon; it's a community rallying around a dream.
Address: 136 N Jefferson St, Papillion, NE. 68046
Sources: