SEO consistency will beat the competition and turbocharges your bottom line. The third secret to a winning SEO strategy is consistency. Let's review what we've covered in recent articles about search engine strategies for small business owners.
Your small business should become the authority in your niche:
You need to have 

the

right content on your business website and in your blog content.
You need to build high-quality links that help Google better understand you for the authority figure you are in your niche.
The third secret, however, is critical for long-term business success. And, quite frankly, it probably holds more business owners back than anything else. The third secret really isn't a secret at all and often restricts many of us from achieving our personal and business-related goals.
You've probably guessed it by now. Consistency is the key to SEO success. 
Think about new year's resolutions for a brief moment. How quickly they fade away, right? Millions of Americans post about their desire to lose weight and build muscle in the new year but how many of them actually follow through with it? Recent research suggests that fewer than 10% follow through on their resolutions for the new year.
Let's face it, it's easy to give up because results take such a long time to see. Skipping the donut today won't yield any noticeable results tomorrow. Skipping donuts for six months might!
The Grand Canyon, one of the seven wonders of the world, was built with consistent effort over millions of years. Almost everything that lasts is built with consistent effort, over a long period of time.
And that is exactly how SEO works. Businesses must learn to trust a well-crafted SEO strategy. Consistent SEO efforts will drive traffic to your business and increase your bottom line revenue.
The Biggest SEO Mistake for Business Owners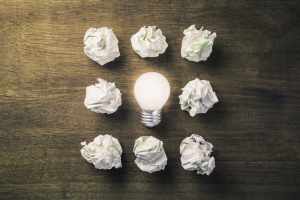 Over the last eight years of operating SEO strategies for Omaha business owners, we've identified the single biggest mistake in SEO.
When business owners start doing SEO on their own they often have unrealistic expectations about results. And why shouldn't they, right? If you own a business, you've received countless calls from telemarketers claiming to be from Google with promises of 1st position rankings on Google within just a few days. It's all hogwash. They aren't from Google; they are scammers. They don't believe in SEO consistency and use shady tactics to game the system.
The biggest SEO mistake a small business owner makes is not deploying a consistent SEO strategy over a long period of time. All too often, business owners are looking for that home run. Trust us, Google wants you to be an authority figure in your niche and not a home-run king! After a couple of months, the typical business owner looks at their site visits. If their site traffic hasn't spiked or if online sales haven't increased, they abandon SEO and discard it as useless snake oil. Little did they know, they were two months into one of the best investments they've ever made into their business.
Learn from your mistakes. SEO consistency will change your business!
SEO Consistency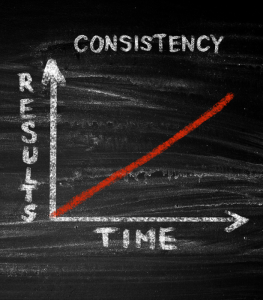 Business owners need a multi-faceted plan, executed CONSISTENTLY over time to see real desired and measured results. Remember, Google weeded out all the "tricks" years ago.
Google is now looking to reward authority sites that PROVE they are worthy of rankings by showing consistency in content, articles, and high-quality link building.
Small business owners don't trust professional SEO agencies long enough or they quit their SEO efforts because they buy a few links and it doesn't work right away.
But when small business owners do SEO consistently month over month, Google will view your site as an "authority" figure in your niche and unlock the rankings in your area!
Reasonable Expectations for SEO
Our SEO team sits down with each prospective client and sets reasonable expectations. Business owners shouldn't expect rocketship-like results. Oh sure, they'll see improvements within just a few weeks. But, our comprehensive content & link-building strategy takes six months to really take hold and leave the competition in the rearview mirror!
Customers who stick it out for 12 months or longer are slammed with traffic, messages, and calls.
Search engine optimization is a long-term game, and when you stick with it long enough Google will view your business as the authority figure in your niche. And, get the results you're looking for.
What we've seen is that it takes about 6 months of consistent content and link building to really start seeing results that make a difference in your business.
How To Stay Consistent, The 316 Way
The problem is that without a real strategic SEO plan, it's going to be hard…if not impossible for you to keep consistent in your content and link-building efforts. If you're like most of our clients in Omaha, Des Moines, Kansas City, or Nashville, you could really use some expert SEO help so you aren't wasting time doing the wrong things.
If you want some help putting together a comprehensive SEO plan, we're here to help you. Contact a member of our Omaha SEO team and schedule a quick call to discuss your individual needs and budget.