Podcasts on YouTube are becoming increasingly popular. Brands are starting to understand the power of watchable podcasts.
In this article we will discuss unlocking the power of watchable podcasts: how brands and Individuals can use YouTube to reach new audiences.
At 316 Strategy Group, we are committed to providing comprehensive podcast production services in Omaha and beyond. Our services cater to the evolving needs of our clients.
Recent data from Morning Consult suggests that more and more podcast listeners in the US are opting to watch podcasts on YouTube rather than listen to audio-only versions.
A Shift in Audience Preference
This shift in audience preference is especially prevalent among younger listeners aged 18 to 34 years old who are discovering podcasts for the first time.
According to Christopher Slater, business strategist at 316 Strategy Group, one of the key advantages of using YouTube for watchable podcasts is its ability to generate ad revenue for creators sooner than many other social platforms.
According to Christopher Slater, business strategist at 316 Strategy Group, one of the key advantages of using YouTube for watchable podcasts is its ability to generate ad revenue for creators sooner than many other social platforms.
According to Slater, 316 Strategy Group closely monitors the digital actions of large organizations like ESPN and others.
YouTube's recent rollout of a dedicated "Podcasts" tab, along with the inclusion of featured shows from reputable sources such as The New York Times and NPR, suggests that the platform is continually refining its podcast strategy to offer greater visibility for content creators.
Big Companies See Significant Growth in Viewership
At ESPN, the benefits of video podcasts have been clear. Mike Foss, ESPN's Vice President of Digital Production, notes that the platform has seen significant growth in viewership since expanding its presence on YouTube. Small businesses and personal brands should take note.
With 28 podcasts and four YouTube-only shows, ESPN has been able to create a healthy content ecosystem that includes both short-form clips and longer podcasts. This strategy has helped to drive both scale and retention on the platform, while also reaching a new audience of viewers.
Slate, another digital news organization, has also embraced the benefits of YouTube for its podcast production. The company recently announced that it would be partnering with YouTube to bring its shows, including extensive archives, to the platform. Slate President and Chief Revenue Officer Charlie Kammerer notes that the move to YouTube presents a real opportunity to build scale and reach untapped audiences, which has become increasingly challenging in the competitive podcast industry.
Leveraging Non-Traditional Distribution Channels
It is important for smaller brands to consider the impact of having podcasts on both YouTube and traditional distribution channels such as Apple and Spotify.
ESPN and Slate aren't the only large companies moving in this direction either.
NPR, with its 65 weekly episodes from 25 active podcasts, has also found success in leveraging YouTube for watchable podcasts. The organization's podcasts tend to perform better on the platform when they include more visual elements, as opposed to those with limited or static graphics.
According to Joel Sucherman, NPR's Vice President for Audio Platform Strategy, the organization approaches YouTube through multiple lenses, including reach and revenue, research and development, and reaching new audiences.
Reach
Revenue
Research
Development
New Audiences
The value of video podcasts is undeniable.
Unlock The Power of Video Now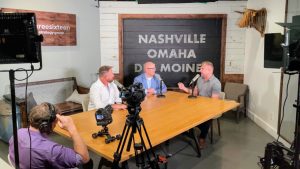 Over the past 24 months, 316 Strategy Group has closely monitored the ever-changing world of podcasting and more specifically the value of video podcasts on YouTube.
The key to success with watchable podcasts is understanding the nuances of YouTube, including which topics and formats perform best on the platform. 316 Strategy Group works closely with clients to identify their target audiences, optimize video podcasts and create a sound marketing strategy for maximum engagement.
In addition, our team can help creators develop effective strategies for maximizing ad revenue from their content as they grow their presence on YouTube.
Watchable podcasts are becoming increasingly popular, and understanding how to use the platform is essential for brands that want to reach new audiences and realize new opportunities.
Working with an experienced podcast production team like 316 Strategy Group can help you unlock the potential of watchable podcasts and make the most of this trend.
316 Strategy Group, we believe that YouTube presents a unique opportunity for brands and individuals to produce and distribute watchable podcasts to a wider audience.
With our expertise in planning, production, distribution, and marketing of podcasts, we are committed to supporting our clients' growth on YouTube and beyond.
As the podcast industry continues to evolve, we believe that podcasts on YouTube will play an increasingly critical role in reaching and engaging new audiences.
Omaha Podcast Production
Two of Omaha's most prominent and skilled digital media companies are uniting to give their clients access to the best audio and video podcast production in Omaha, Nebraska.
Two Brothers Creative and 316 Strategy Group are excited to announce their new partnership that takes podcast production to a whole new level.
This innovative team is led by Matt Tompkins of Two Brothers Creative, Joseph Kenney, and Christopher Slater of 316 Strategy Group.
Together they offer state-of-the-art recordings, distribution services, podcast SEO, and marketing strategies for business owners and thought leaders who want to take their businesses to the next level.
316 Strategy Group is Omaha's leader in social media management, SEO, graphic design, and website development. Two Brothers Creative has been a leader in video and podcast production and has created dozens of podcasts in Omaha and beyond.
This new partnership provides Omaha businesses with a one-stop shop for all their audio and video podcasting needs.