What is a Google Business Profile or a Google My Business Profile you ask? For small business owners seeking local niche DOMINATION! The Google Business Profile is of the single largest influencing factors on building local visibility in Google.
Have you ever wondered how Google & Google Maps learn about businesses? The Google Business Profile is essentially your control center for how your business's information is displayed on those platforms.
Are you a small business owner ready to take control and dominate your niche locally? Then keep reading and let's dive into it!
What Is a Google Business Profile?
A  Google Business Profile or formerly known as Google My Business (GMB) is a free tool from Google that allows local businesses owners to create a business profile and control how their business's information appears in Google search and on Google Maps. Pretty darn important, don't you think?
With a Google Business Profile (formerly known as Google My Business (also referred to as GMB), you can add services, information, business hours, photos, create compelling business descriptions to entice customers to visit your small business. You can also manage your Google business reviews that customers leave for your small business.
Mobile App
Google Business Profile also has a mobile app that you can use to monitor your online presence when you are away from your desktop computer. This is an easy-to-use app that helps busy business owners just like you. You can easily pull up your Google Business Profile from your mobile device, update information, access analytics, or respond to a customer.
Why Is This Important?
The Google Business Profile is an important ranking factor in organic local search. According to Moz's local search ranking factors, the Google Business Profile consistently ranks as one of the top spots for ranking factors in local map search.
The Google Business Profile is a gamechanger for locally owned small businesses. ~ Joseph Kenney
As a small business owner, you know how important getting local search engine traffic is for your business. It's mission-critical for you to set & optimize your Google Business Profile account.
Digital marketing 101 says that being visible in local searches makes it easy for customers to find you. Our research indicates that customers that are looking for businesses on Google maps and in local searches are usually ready to buy from your business!
Here's an example of what shows up when I search for "pizza" on Google. In this example, the Google maps results are displayed above the organic search results:
As a business owner, you want to make it easy on your customers…right? Well, Google maps make it easy for customers to get directions and see exactly where you are located. Bottom line…getting listed on Google maps can drive a significant amount of traffic to your local small business. Sound good so far? Keep reading!
Having a Google My Business account also allows customers to leave reviews for your business. Reviews are another important ranking factor for search engines, so being able to accumulate reviews will also help you rank better in local searches.
Imagine customers leaving misinformation or negative reviews! The Google Business Profile allows you to set the record straight, respond to negative reviews, or thank customers for the 5-star review of your small business! Being proactive and replying to reviews lets customers know that your business cares about their customers, which will increase people's confidence in doing business with you. AND, Google expects business owners to respond to every Google review.
How To Set Up Your Profile
To sign up for a Google Business Profile is simple. Simply go to Business.Google.Com and click on the button to get started. Confused already? Don't be. And don't forget, Google My Business is now known as the Google Business Profile.
Once you click on the button, Google will ask you a series of questions, starting with your business name. You will also be prompted to enter your address, business phone number, and hours of operation. Simple stuff, right? Trust us, you can do this!
Be sure to also upload photos of your small business and be sure to take the time to write a compelling business description that will encourage customers to visit your business location. Taking the time to write an excellent description of your business is the cornerstone of success for your Google Business Profile! Next, grab your DLSR or an iPhone and take high-quality photos can encourage your customers to click on your listing and visit your small business.
You will be prompted to upload a logo as well. If you don't currently have a logo for your small business, 316 Strategy Group can quickly take care of that for you. Click here to learn more about our business logo design services.
After you've completed the requested information, uploaded your sweet-looking logo from 316 Strategy Group, and taken awesome pictures of your business…  Google will send a postcard to your business address to confirm your location. They indicate the postcard will be received within a couple of weeks. If you don't receive the postcard after two weeks, please log back into your Google Business Profile and request a new verification. Assuming you've received the postcard from Google, it will have a code that you can use to confirm that you are the owner of the business. After you've entered the code, your Google My Business account is confirmed and active. Until the "Google Code" has been verified, your account information cannot be viewed by the general public or your customers.
Clear as mud? If you need additional information about setting up your Google Business Profile, click here. Google created its own guide to help small business owners set up their Google Business Profile.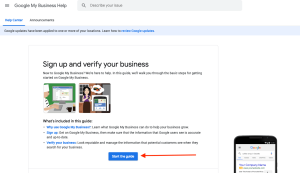 It's important that you keep a close watch on your Google Business Profile, though. Google allows people and Google Local Guides to alert Google if the posted hours are incorrect, the business is closed, a website address is missing, add pictures. or suggest another type of edit. PLEASE be cautious! It's not uncommon for people to maliciously submit erroneous information. We recommend checking your account once every week. This ensures you can catch these unscrupulous little buggers.
Optimize Your Profile
You're off to the races! You are one step closer to local domination. Setting up your Google Business Profile is a great first step but there are several steps needed to take your business profile to the next level and really capture that local search traffic!
But to maximize your results from Google My Business, you can take several steps to optimize your listing to help drive even more traffic from local search.
Optimizing your listing may take a little time to do, but is not difficult. Any business that wants to be competitive in local search should do these steps.
1. Business Name
2. Basic Information
3. Business Description
4. Photos
5. Videos
Here are 5 simple steps you can take to increase the effectiveness of your Google Business Profile Listing:
Business Name
Google wants small business owners to enter their actual business name and nothing else. Avoid using taglines, location information, or mentioning products in your business name unless they are an actual part of your business name. Do not add your location if it's not legally part of your business name. Location or keyword stuffing is frowned upon by our friends at Google.
Business Information
Google does approve of you adding keywords in your business description and on your website's title tag and text. If you have questions about making changes to your site, our  SEO team and website developers are happy to assist you.
Details are important to any small business owner. Please take your time filling out the following information:
Business Hours
Website Address
Phone Number
Business Category
Menus (restaurants only)
Fill out your other business information including business hours, address, website, and phone number. Select the right business category so that Google will rank you for the right terms.
Google might also provide other options, like menus for restaurants, where you can enter information specific to your type of business. For business name and information, the most important part of this section is to fill it out as completely and accurately as possible.
Hanging in there? You got this! Keep reading!
Business Description
Writing a compelling description of your small business is critical! Although only 250 characters will show up, Google allows you to write 750 characters for your small business description.
Please resist the temptation to use self-promotional language or offensive or inappropriate content. Avoid talking about special promotions that you are offering at the time. You are also not allowed to use links or telephone numbers within your description.
This is a public-facing digital platform. Please take the time to write a detailed description that accurately reflects what your business offers, the services it provides, and be sure to highlight the key selling points.
It never hurts to check out your competition. Take a few minutes and do a quick Google search of other businesses in your to see what they've written for their business description. Then, write a better description that stands out from your competition.
Photos
Are photos really that important you ask? In a word, YES! Businesses with photos uploaded to their Google Business Profile see over 30% more clicks to their website links and nearly 45% more requests for directions. Sounds important, doesn't it?
You do not need to be a professional photographer with expensive gear. But, uploading high-quality photos can help make your business look more appealing to customers in your local market. Photos taken with an iPhone are more than acceptable for these purposes.
Uploading high-quality photos and videos can make your business look more appealing to potential customers. You don't have to be a professional photographer or video editor. Sometimes even cell phone photos can do the trick.
We recommend not adding filters to the images. Keeping the same aesthetic is important for a consistent look across your Google Business Profile. Here are a few other tips:
Photos no larger than 5MB
JPG or PNG format (No HEIC)
Photos should be at a minimum 720 x 720
There are several different types of photos that can be uploaded to your Google Business Profile so let's dig in!
Cover photo
The most prominent photo for your Google Business Profile is the cover photo. This image is also used in thumbnails, so be sure to pick an image that makes you stand out from competitors or entices your local customers to to click on your listing:
Profile photo
After you've carefully chosen an appropriate cover photo, you need to upload a profile photo. Your profile photo is what shows up on your avatar when you post a photo or reply to a customer review. A business owner might choose to upload a high-quality photo of themselves as the profile photo or a high-quality image of the business logo. 316 Strategy Group manages Google Business Profiles on behalf of our clients. We typically choose a business logo for the profile photo.
Other photos
When in doubt, do what Google suggests. In this case, Google will recommend that you upload a variety of photos to your business profile on a regular basis. We recommend you do so! After all…it's Google making the recommendations, right?
Be sure to also upload a variety of other photos to represent your business. Here are some ideas you may want to consider:
Photos of the exterior of your business
Photos of the interior of your business
Photos of your most popular products
Photos of happy customers enjoying your products
Photos of your team or employees
Photos of your team or employees at work.
Add as many high-quality images of your business as long as they cast your business in a positive light and entice future customers to learn more about your small business.
Videos
Most business owners don't realize Google allows you to upload videos of your business to your Google Business Profile. Adding videos will help your small business in a number of ways.
Showcase your location.
Engage your customers.
Display products.
Give customers tours.
3D or virtual tours with the option to purchase.
Adding video is one of the least utilized tools of the Google Business Profile. Follow these tips, too!
The maximum length is 30 seconds
100 MB size limit
720 or higher in resolution
If you're a small business owner looking to stand out, this is a great place to start. Trust us, your competition won't!
Google Review
You've read them and you've likely left a Google review or two for a local business in your area. Love em' or hate em', reviews are part of doing business in the digital age. Google reviews play an important role in getting search traffic from Google. According to a recent survey, over 90% of people surveyed trust online reviews as much as personal recommendations. Over 85% of customers read online reviews for local businesses!
According to a study by Brightlocal, 91% of people surveyed trust online reviews as much as personal recommendations and 86% of customers read online reviews for local businesses.
It's easy to get negative reviews. You don't even have to ask. All too often customers voice their opinions online before taking their complaints to a store manager. Positive reviews, however, take a lot more work. You have to ask if you expect to build a cadre of 5-star reviews for your local business!
Here's How To Ask For Google Reviews
You can create a link to give to your customers by using this formula:
Use the Google Place lookup tool to find your "PlaceID"
Replace the words "placeid" in the following URL with your real PlaceID: https://search.google.com/local/writereview?placeid
Example: https://search.google.com/local/writereview?ChIJP-oplZ3hwogRttQVbERLQww
Next, you can ask people to leave reviews by sending them an email and simply asking for a review (if they join your email list).
It can be as simple as the following Google review template and making it your own:
Hey [Customer Name],Thank you for being a customer of [Busienss Name]. We know you have a lot of options for [service], so we're thrilled that you chose us.
We would love to get your feedback on your experience. Do you have a minute to leave us a quick review here?
[insert link]
Thank you very much and we look forward to serving you more in the future.
If you have any questions or additional comments, feel free to just hit reply and I can answer you directly.
Sincerely,
[Name]
Google frowns upon offering incentives like discounts or free products for giving a Google review. So just don't do it! And resist the temptation to have customers write Google reviews from your place of business. It's the right idea but flawed. The IP address for every review coming in will be the same. Google will delete those reviews and you'll lose your chance to capture those customer testimonials in the future.
Don't forget to reply to positive reviews when appropriate to thank customers for their business and show them your appreciation. Not only does Google expect it, but so do your customers!
You should also reply to negative reviews diplomatically, apologize when necessary, and offer a solution to the issue. In some cases, negative reviews can be mitigated, changed, or even removed if you work closely and diplomatically with the customer.
Google does have an appeals process for removing false Google reviews but the process has become more stringent in recent years.
Stay Engaged
Engagement can be a factor that affects how websites rank in Google local search, so be sure to log into your Google Business Profile regularly. We recommend a minimum of once a week to keep the profile healthy and up to date!
When you log in, be sure to review the following:
Business description
Images
Revies
Messages
Hours of operation
Pending changes submitted by Google users
Website address
We're almost finished. Still there? Let's dive into the last component of the Google Business Profile, Google posts.
Posts
Google posts allow business owners to share events, promote products, and make announcements.
One feature that Google My Business users should look into is Google Posts. Google Posts allow business owners to share announcements, offers, news, and other content from their Google My Business account.
Most business owners don't even know you can post to Google. This is your chance to gain an edge over your competition!
This content can show up in Google search or Google maps when someone does an online search in Google.
There is plenty of case studies and anecdotal evidence of Google posts helping local businesses rank higher in organic search results. At 316 Strategy Group, we recommend posting once a week.
As a business owner, you have a little flexibility. Google allows you to create regular posts or event posts. Posts are required to have a minimum of 100 words and can have a maximum of 300 words.
Regular posts expire after 7 days and can be used for business announcements, news, or status updates. Since standard Google Posts only last for 7 days, ideally, you should strive to create at least one new post each week.
Event posts last until the event is over, so they can drive traffic and customers for a longer period of time.
Maximum of 300 words
Expire after 7 days
Both types of posts can be helpful for driving online traffic to your website and business. Asides from showing up on your Google business profile, Google Posts are also indexed and can show up in independent search results.
Google also allows you to schedule your Google posts in advance or save them as drafts so that you can publish them later. Google keeps up-to-date information on how to create Google posts in their help section.
Adding Images
What do you do with all those awesome pictures you've taken of your business? Post them to Google, of course! Google gives you the ability to add an image to your post. Adding an image can increase user click-through rates and engagement, so be sure to take advantage of this feature.
Images must be 400 x 300
10kb in size
No larger than 10,000 x 10,000
Maximum 25MB
If you're looking to get ahead, drive traffic, and increase your click-through rates…then add photos to your posts.
Stand Out
Stand out on Google with a free business profile. Turn people who find you on Google Search and Maps into new customers with a free Business Profile for your storefront or service area. Personalize your profile with photos, offers, posts, and more. Use the tips we've outlined above to stand out and be found…before your competition does.
We understand that you may not have the time to launch your own business profile and that's okay. 316 Strategy Group is an award-winning digital agency and content house. We launch, optimize and manage Google Business Profiles for businesses across the country. Call us today to learn more about this incredible business tool.
Visit the 316 Strategy Group website to get consulting on branding or marketing services for your business in Omaha, Grand Island, Des Moines, or Kansas City. You can read more articles on the 316 Strategy blog and sign up today for consulting on your business.
For immediate help on setting up or optimizing your Google Business Profile please contact:
For social media in Omaha, call 402-415-9842.
For social media in Des Moines, call 515-779-6954.
For social media in Kansas City, call 913-289-3009.
For social media in Grand Island, call 308-390-7689.