Boxer Barbeque Is Part of The Revitalization of the Historic Haymarkt Square

Smoked-meat restaurant aficionados agree: There's nothing in the metro area like the new Boxer Barbeque that will reopen Oct. 1 at its new location in Council Bluffs' Haymarket Square District at 513 South Main Street. The restaurant, in a 1880s building that was totally renovated to blend elements of the new and old, will include a second-floor space for social gatherings, business meetings, media shows, holiday parties and wedding receptions.
There's nothing in the metro area like the new Boxer Barbeque that will reopen Oct. 1 at its new location in Council Bluffs.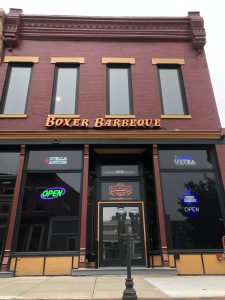 "The cuisine is great – actually it is even better than Boxer Barbeque fans had experienced before Renae and Jeff took over. The new venue is awesome, and it includes a second floor that can accommodate 100 to 150 people. Boxer Barbeque will be a terrific addition to the Haymarket, and I predict it'll quickly become one of the area's hot spots," said Joe Kenney, Omaha-area marketing entrepreneur and president of 316 Strategy Group, the Midwest's leader in social media management.
Husband and wife co-owners Jeff Westbrook and Renae Dieatrick, who bought the 11-year-old business formerly located at 722 Creek Top, said: "Our new location will fit in well with the Council Bluffs catchphrases: 'Unlike Anywhere Else. On Purpose.' 'Our Un-ness.' As far as metro-area smoked-meat restaurants go, ours will be 'unlike anywhere else.' The Pearl and South Main Streets corridor is an up-and-coming area, a desired destination for a number of reasons, and we wanted to be a part of it."
What sets the new Boxer Barbeque apart?
Renae described "something new:" "It will have a classy sports-bar feel. There are 10 flat-screen televisions downstairs and nine televisions upstairs. There is an 82-inch flat screen TV on each floor, and the second-floor monster screen is perfect for showing wedding videos, business presentations and other slide shows. There are full-service bars on each floor. The upstairs ladies' powder room includes a long makeup counter with a bench behind it and a full-length mirror. There is natural light from the windows behind the makeup counter. There is a separate front entrance with stairs to the second floor in addition to a set of stairs inside the restaurant."
Jeff saw the "signs" of something great when renovation began following approval from the Historical and Preservation Society of Pottawattamie County. "After removing the plaster, we found beautifully painted advertising signage on the original brick walls, including 'Groceries,' 'Dry Goods' and 'Corticelli,' a premier silk thread company. The 1880s signs are considered an art form and can be seen on some Old Market structures that were converted from warehouses into apartments, retail and restaurants. Thomas Cusak, a famous 1800s pioneer in the outdoor advertising industry, painted the bricks and left his block-style font signature on the brick. So, we've honored the building's history."
Jeff and Renae worked nonstop while also keeping the restaurant's former location open: "At the new location, we encountered chopped-up rooms downstairs and gutted everything on both floors. We put so many of our personal touches into it, it is truly our very own. We put in new men's and women's bathrooms on both floors and took out a 6-by-6 freight elevator because it occupied too much room. We redid the beautiful original wood floors after pulling up linoleum. Overall, it was more intense than flipping houses, which we've done."
Renae described the layout: "There is seating for 80 downstairs, where there are five booths and a community table for 24 in the middle of the room. The community table brings people closer together. You make new friends. The community table is extremely popular with the younger generation, and we've seen a few of them at Omaha-area restaurants. There are booths for privacy."
Joe described the neighborhood: "This will help Main Street. There are three complementary cafes in a two-block radius, so as those businesses attract people, they will see the other cafes and want to try them, too. There is little or no factor of direct competition because each establishment does different things. There is a lot of lunch traffic because the city and county government is nearby, as well as law offices and other businesses. There is a good population of seniors because of the Bluffs Towers senior living and the senior center is near."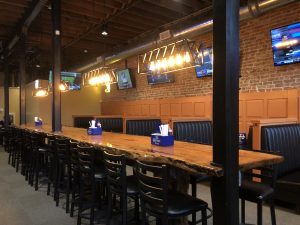 Renae and Jeff are handy, jack-of-all-trade folks who are high-energy entrepreneurs. Renae is a real estate agent who also is a great cook and has catered events. Jeff is a highly successful contractor. He and Renae have bought homes, remodeled them and successfully flipped or rented them. Running a restaurant will be a first for them.
"My whole life, I've been into food. I've made wedding cakes with my sister. I've been around cafes owned by family, where our parents took us. Jerry's Parkway was owned by an uncle, near 32nd and Vinton Streets close to Lo Sole Mio Ristorante. My uncles owned other bar and grills near 84th and West Center and in Bennington. We'd spend time there," Renae explained.
"For my first job, I worked at a Godfather's Pizza when I was in high school and enjoyed that experience. With Boxer Barbeque, we first thought about it because several of our kids worked there. The former owner had tried to sell the business on the internet from time to time, and we'd check on the business every once in a while."
Pointing to an inspiration, Renae said: "We went to San Antonio eight years ago and saw the iconic Rudy's Country Store and Bar-B-Q, which was converted from a gas station. They opened the garage doors and had picnic tables in the bays. I thought, 'We could do that. There are so many pizza places in our area but not so many smoked-meat restaurants.' Then I giggled and had a second thought, 'Maybe we're too old for that.' "
Getting down to brass tacks on the purchase, Renae said: "We found this building and bought it in February 2018. Then we thought, 'Do we turn it into apartments? Or do we buy Boxer?' Nearly every day after we bought the business, we've laughed and thought, 'Oh my gosh – what have we done?' But we wake up enthused about the coming day and its challenges."
How has the famous Boxer Barbeque menu changed since Renae and Jeff took over?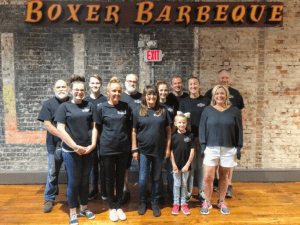 "We have the same great recipes but a lot less salt. We tweaked the recipes and made them better. People have responded, and online reviews show it. There will be more greens — salad specials on the menu — and a keto-diet accommodation. For a uniqueness, at some point, we want to start serving tacos with smoked chicken and brisket. There are a lot of options. We have a five-cheese mac and cheese. We'd like to add a couple of new sides," Renae said.
"We've heard from a few people: 'I don't like barbecue,' but we have outstanding smoked meat. Many people just like smoked meat. You can put the barbecue sauces on or not. Our go-to meat probably is brisket, and people rave about it. When we were customers, we were driven to the pork. We really liked the smoked pork because that's something we never had at home. The popular tradition of offering smoked meat leftovers from the night before is alive and well. They are priced at half-off, and a lot of people want them."
Renae also pointed out: "As much as offering great food and a great venue, we strive for consistency with our customers. We're going to be open when we're scheduled to be open. Our only day off is Mondays. We stayed open even in snowstorms, and our hardiest fans appreciate that. We catered two weddings and had tastings even in bad weather."
The second-floor banquet hall will be a huge asset, Joe predicted. "When you think of weddings – rehearsal dinners and receptions as well as ceremonies – you've added another option for couples to consider. There also are endless possibilities with business gatherings and functions as well as family reunions and team sports outings."
Renae said, "We don't charge for our upstairs hall. There is a minimum food purchase but no facility charge like nearly everyone else does. At the old location, we hosted Little League teams that played in tournaments during the College World Series. We just wish we'd been open here during the College World Series. We also provided the venue for FEMA presentations and flood relief teams; we were recommended by one of Iowa's U.S. senators."
Renae and Jeff said the sky's the limit for the Boxer Barbeque potential. Renae said: "We have even more dreams for down the road. We want to figure out a way for more parking. We envision outdoor dining, perhaps a few small tables on the wide sidewalk in front of our restaurant. Perhaps we can add an outside elevator that takes you to the second-floor hall. We think people will love it and make it a destination."
Boxer Barbeque is located at 513 South Main Street in Council Bluffs. It is open from 11 a.m. to 8 p.m. every day except Mondays. The phone number is (712) 325-4227, and the website is www.boxerbbq.com. Order online by clicking on https://www.boxerbbq.com/catering.php. Catering is available Monday through Saturday for daytime and evening events. Follow Boxer Barbeque on Facebook at https://www.facebook.com/BoxerBBQ/.