In the heartland of America, Omaha's premier basketball academy, AEF (Attitude, Effort, Focus), is making a significant splash. Amid the increasingly competitive world of youth basketball, AEF offers a unique antidote to challenges often seen in the AAU (Amateur Athletic Union) circuit, injecting a refreshing approach into the game.
According to the Aspen Institute, over 9.5 million American children played organized basketball, making it one of the nation's most popular sports. While these statistics are impressive, they believe an underbelly of issues prevalent in many youth basketball organizations, particularly within AAU. Critics often cite a lack of player development, an overemphasis on winning, and poor coaching as prevalent problems.
However, AEF Academy is cutting a new path, aiming to rectify these shortcomings. Operating in Omaha and playing in tournaments across the Midwest, AEF is fast becoming a beacon of light in Omaha and nearby towns like Kansas City, Des Moines, and Sioux City.
Christopher Slater of the 316 Strategy Group says, "We need more organizations like AEF Academy that prioritize comprehensive player development over mere game victories. AEF's approach, focusing on the Attitude, Effort, and Focus of each player, is a game-changer. It's a model that not only improves the performance of young athletes but also contributes to their personal growth off the court."
At AEF, basketball camps, coaching academies, player development, and basketball instruction aren't separate entities; they're intertwined facets of a whole, underpinned by the academy's core values of Attitude, Effort, and Focus. It's an approach that's garnering attention and acclaim.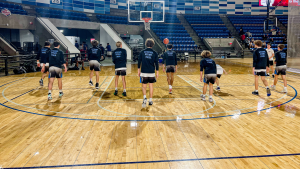 Andy Beck, Owner, President, and Head Coach of AEF Academy, explains: "We're passionate about developing players to reach their maximum potential. Our mission is to help them build the confidence to overcome fears and to create a genuine understanding of sportsmanship and teamwork."
Beck is an experienced coach, training an average of 70 athletes each week. He insists on cultivating a culture where players always come first, and his coaches undergo a rigorous training before signing the AEF Coaching Contract. "Our coach training includes AEF drills, skillsets, and team principles, but we also teach our coaches how to communicate positively and turn mistakes into immediate learning opportunities," says Beck.
AEF's basketball camps and tournaments in Omaha, now becoming a popular fixture in the region's basketball calendar, epitomize the organization's ethos. Here, skills, attitude, and teamwork are tested, and it's not just the Omaha youth basketball scene taking notice.
"AEF's reputation is rapidly spreading, and we're seeing coaches wanting to bring their current teams to learn the AEF way," adds Beck. This Fall/Winter season will see the inauguration of AEF's Academy Teams and Legacy Teams, an initiative designed to maintain team dynamics while benefiting from AEF-trained coaches' expertise.
Statistics are backing up AEF's impact. In just a few short months, they have seen significant growth in player enrollment and team performance. But for Beck and his teams, it's the personal transformations that are the most rewarding.
"The scoreboard is important, but it's not everything. At AEF, we're developing people, not just players. When I see a young athlete growing in confidence, developing an unbeatable attitude, putting in the effort, and focusing on their goals, that's the real win, it's how we play," says Beck.
The scoreboard is important, but it's not everything. At AEF, we're developing people, not just players. ~ Andy Beck
In an era where youth basketball has often been critiqued for losing sight of its core purpose, AEF Academy serves as a refreshing model of what youth basketball and sports, in general, should be about developing well-rounded, confident individuals who can excel both on and off the court. In doing so, AEF is blazing a trail that many are hoping will be followed by others across the country.
While AEF Academy may have started in Omaha, its reputation and influence are extending well beyond Nebraska's boundaries. The academy's innovative approach is garnering interest from across the Midwest, sparking conversations about a new wave of youth basketball that values personal growth alongside athletic achievement.
In speaking about AEF Academy's impact, Slater of the 316 Strategy Group observes, "Their influence is spreading. They are not only changing the game locally but they are also setting a standard for youth basketball organizations across the Midwest. AEF Academy is leading by example, showcasing a model of player development that is as much about creating great basketball players as it is about nurturing well-rounded individuals."
Their influence is spreading. They are not only changing the game locally but they are also setting a standard for youth basketball organizations across the Midwest. ~ Christopher Slater
This sentiment is echoed by the parents of young athletes involved with AEF. Reports of improved team spirit, increased player confidence, and enhanced game performance are becoming commonplace. Even more encouragingly, parents often note the positive impact that participation in AEF Academy is having on their children's attitudes and behaviors off the court.
Beyond player development, AEF's comprehensive approach also extends to its coaching academy. Under the tutelage of Coach Beck, potential coaches are trained not only in the mechanics of the game but also in the softer skills of communication, motivation, and mentoring. The result is a cadre of coaches who understand and promote AEF's philosophy, shaping the next generation of basketball players with an ethos that goes far beyond the hardwood.
AEF's future looks bright. As the academy expands its footprint across the Midwest, more and more young players are set to benefit from their transformative approach. While the growth of youth basketball in America shows no sign of slowing down, with institutions like AEF Academy taking the lead, the game appears to be moving in a promising new direction.
Whether it's summer or winter basketball camps in Omaha, basketball instruction sessions, coaching academies, or high-energy tournaments, AEF Academy is steadfast in its mission to redefine youth basketball in Omaha and beyond. As Coach Beck concludes, "At AEF, it's not about where we play when we play, or who we play, it's about how we play. And that's something we're very proud of."
As the echoes of bouncing balls and the buzz of energetic young players continue to fill gymnasiums across Omaha and beyond, one thing is clear: AEF Academy's fresh and purposeful approach to youth basketball is more than just a game-changer; it's a life-changer. It's how they play.