Where is your business right now and where are you going? Could you answer that question with any great certainty if we asked you? Likely not. Of the hundreds of business owners we've met with in the past two years, very few have known the answer to that critical question. That's a problem. As entrepreneurs, we believe in what we're doing and we believe things will eventually work themselves out. Right? Sound familiar? But, just because you have faith in your business doesn't mean you can ignore the facts. It's important, to be honest with yourself, and to face the current realities your business may be facing during these challenging times.
Just because you have faith in your business doesn't mean you can ignore the facts.
Take a moment right now. Turn off your notifications on your phone. Start by asking yourself two simple questions:
Where is my business right now?
Where is my business going?
 Where is your business right now?
Anything short of brutal honesty is avoiding the question altogether. Confronting the truth with brutal honesty will lead you to improve your business. If you take a deep dive into your business and actually start working on it, you'll naturally start to improve how you handle everything from time management to storytelling to the customer experience to sales to cash flow to long-term growth.
Unfortunately, when it comes to working on your business most business owners are too afraid or are too overwhelmed to delegate tasks to others on their team.
Here's a shortlist of simple, honest questions most business owners can't answer?
How is your cash flow right now?
Where do you expect your cash flow to be in six months?
Are you profitable?
What are your food costs?
What is your best-selling item?
What are your highest margin items?
What's your cost to acquire a customer?
What percentage of gross revenue do you spend on marketing?
Do you have a customer persona built out?
What are the demographics of your best customers?
To effectively grow your business, you need to start by confronting your current reality–however brutal that might be. You have to know your business inside and out…and that includes your numbers.
So, where is your business right now? Do you know?
Where Is Your Business Going?
While knowing your financials can act as your roadmap, it's important to have a sense of clarity about your real destination.
Where is your business going? Likely you don't know this answer and have never given it much thought. Remember family vacations as a child? At some point, you would ask, "Are we there yet?" The answer to your question was always specific because your parents knew where they were going. Whether you were 180 miles or 3 hours from your vacation destination, the answer was always specific. But, what would have happened if there were no destination chosen at the beginning of the vacation? Your parents couldn't possibly answer your "Are we there yet" question because they didn't know where you were going. Sound familiar? Do you know where your business is going? If not, keep reading?
Break down your business goals on a macro level. If your business destination is five years from now, where do you want to be in three years? Two years? One year? Next month?
Be honest with yourself.
Confront the tough questions.
Shoot for the moon.
Following these simple steps can set you on the right track. No knowing the answers at first is pretty normal. Entrepreneurs need to realize that not knowing something is often the catalyst for moving forward toward your business destination!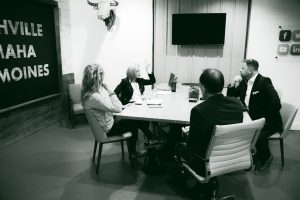 A business roadmap is a long-term strategic document and mindset that shows where your company is going and the steps required to get there. Unlike lengthy business plans that you hastily threw together for your SBA loan, it does not show the individual items and activities required in fine detail. The business plan got you the loan. The roadmap will help you pay it off and reach your destination. 316 Strategy Group is an award-winning strategic group focused on small businesses. Our team of consultants and digital experts are here to make sense of your business and help you safely reach your final destination. Contact 316 Strategy Group today for a free consultation.