Tempted to try DIY web design in your extra free time? Got an hour to spare? You could probably create a website in this time. If you have a good knowledge of how website builders work, then you have even more of an upper hand. Building your own website has never been easier or more accessible than it is today. But that doesn't mean it's right for your business.
DIY web design may save a good chunk of change, initially. And it's a good idea if you need a website in a hurry. But in the long run, you could find yourself looking back and wishing that you had spent the initial capital and invested in your website.
Here's why building your own website is a DIY don't…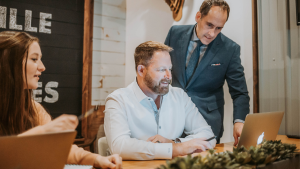 1. You Forgo Customization
If there was one reason you shouldn't spend time on DIY web design, it boils down to customization. When you take things into your own hands with a basic website builder, you don't have that power.
Sure, there are a plethora of templates to choose from and each platform is simple to use. But much of the time, you're limited in terms of design and you'll end up with a website that looks and functions like a million others.
Overall, this reduces your website's uniqueness and ability to stand out in the vast space of the internet. Customization is essential for this, as well as communicating your brand and building trust in your customers.
2. You Won't Have Much Flexibility
Another long-term downside of DIY web design is the loss of flexibility. Your business should grow, and so should your website along with it. If you design your own website without growth and scalability in mind or choose the wrong template, you could find yourself having to start from scratch with a completely new website template.
At the end of the day, this equates to wasted time and talent.
3. You Don't Really Own Your Website
While most website builders allow you to use your own images and text, they do not allow you to ever fully own your website. At first, it may not seem like it, but in reality, you're paying the website builder a yearly package to own the template — but not the website.
What does this mean for you? If the website builder goes under, so does your website. If you want to move or update your website with the help of a designer, you can't transfer that template, so all your work is lost.
Once again, this equates to a loss of time, resources, and extra money in the long run. Still want to tackle web design on your own? Keep reading!
4. Sub-Par SEO Practices and Visibility
One of the most crucial issues you face when opting for DIY website design is a lack of well-targeted SEO practices which could hurt the visibility of your website.
This issue is two-fold, as well. First of all, most business owners don't have the knowledge on how to create a website that's appealing to Google in an SEO sense. In other words, they lack SEO skills and knowledge.
The second issue to follow is the fact that this makes your website difficult to crawl. Essentially, Google could take up to three months to register your website, while customized websites with good SEO practices are crawled within a month of their launch.
Overall, DIY web design and poor SEO practices can negatively impact website traffic and visibility in the long term.
Always Choose Customized Website Design
As a business owner, your web design should be a top priority. Thinking of it as a simple DIY project you'll finish in your spare time is not going to benefit you or your business in the long run.
That's why you always want to opt for professional, customized website design with Three Sixteen Strategy Group. Learn more about our web design services in Omaha by clicking here. Live outside of the Omaha area? 316 Strategy Group has web design teams in Grand Island, Des Moines, Kansas City, and Nashville, too.