FOR IMMEDIATE RELEASE

316 Strategy Group Hires Sabaliauskas 
Sara Sabaliauskas to lead the digital strategy and transformation of its clients.
OMAHA, Nebraska – January 17th, 2022 – (316 Strategy Group) is thrilled to announce the addition of Sara Sabaliauskas to its award-winning team of talented creatives. Sara is an Omaha native with a master's degree in Public Administration and is an accomplished Social Media professional and influencer.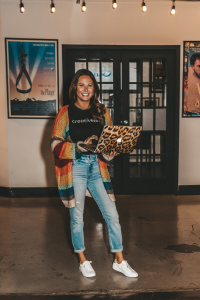 She began her blog and Instagram, Sabby Style, in 2013 while working in local city government as a way of sharing her infectious personality and personal style through what she considered to be nontraditional workwear using her mix of colors, prints, and price-points, quickly setting herself apart from others. Within Sara's first year her account grew from 100 followers to 10,000, and before long it had amassed nearly 110,000 followers, leading her to take her personal style brand full time in 2014. In 2019, Sara was awarded the Fashion Impact Award from the Fashion Institute of the Midwest. After years of success, Sara left influencing full-time to lend her creative and marketing skills to a local nonprofit. Social media and blogging remained a passion, however, and Sara began freelancing for 316SG in early 2021. 316 Strategy Group is elated to have Sara join full-time at their headquarters in Omaha, Nebraska. Sara's role as the Director of Social Media Strategy provides her the opportunity to influence and grow countless businesses as part of the 316SG team.
Sara is on the front edge of influencer marketing and will help lead the digital transformation for clients of 316 Strategy Group. ~ Christopher Slater
Sara is a devoted rescue dog mom to Martha, and she enjoys staying active through her love for outdoor activities such as fishing, hiking, and exploring. In her free time, she loves to cook, decorate, travel, and spend time with her family and friends.
About 316 Strategy Group
316 Strategy Group is an award-winning digital agency that specializes in growing small businesses through a variety of digital and online tools. With operations in Omaha, Grand Island, Des Moines, Kansas City, and Nashville 316 Strategy Group is a national leader in digital media.
Media Contact
Christopher Slater
402-881-2811
www.316StrategyGroup.com