Business Hashtags, are you using them?
Do you use hashtags without really knowing how to be effective with them?
This article will give you an idea of how to use hashtags for business, what they are for, and how to find the best ones for your business/ brand.
These tips are great for growing both your personal Instagram account and a corporate one. Method and constancy are indispensable factors for achieving results.
What is a hashtag?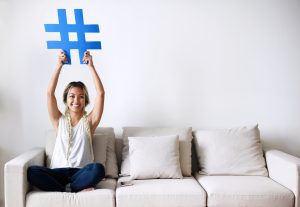 Before diving into how to use hashtags for business, it is good to get a quick rundown of what a hashtag is. A hashtag is a word (or a series of words attached) preceded by the symbol #. Hashtags are clickable and, more importantly, searchable.
Making proper use of hashtags allows you to appear in the search results of users interested in your business. The search function within Instagram (explore), is great to find which hashtags to use.
What hashtags must you not use for your business?
Before going into too much detail and talking about what does work, it is important to know that there are hashtags to avoid.
They are the popular hashtags that do not really help you grow your profile. The reason is pretty simple: there is too much-published content with those tags and therefore it is extremely difficult to appear at the top of searches. These hashtags include the various #photooftheday #selfie #beautifuldestinations type hashtags.
To grow your Instagram profile you need to be creative. The goal is to use hashtags that are relevant to your business which also allow you to have visibility in the "explore" section.
To grow your Instagram profile you need to be creative!
Among the hashtags with less than 500,000 published posts, you can find many useful options. Here they are summarized quickly:
Niche hashtag: 200.000-250.000 published posts
Known hashtag: at least 20,000 published posts
Little known hashtags: less than 1,000 published content
The right mix of these hashtag types will give a boost to the growth of your Instagram profile. Always remember to select hashtags that are relevant to your post and brand. If your hashtag has over 500,000 published posts, it will be tough to get results.
To help with this, we suggest you add a branded hashtag that identifies your company both on Instagram and on other social networks. For example, if your business is called "Phones for sale" you can use the hashtag #Phonesforsale.
At this point, you may be asking: how many hashtags should you use? You should know that Instagram does not allow you to publish more than 30 and we suggest you use them all at least while starting your profile. At minimum nine is a good goal.
How to select business hashtags.
There are several ways to analyze and select the best hashtags for your Instagram profile.
The first is Instagram itself via the explore function or while typing a caption. When start typing a hashtag in either a caption or the explore search bar, Instagram will tell you approximately how many other times that hashtag has been used.
The second method, which is much more convenient, is Iconosquare. It is a web service that allows you to analyze hashtags, evaluate the number of published posts, and their use over time. With a simple hover on the hashtag, Iconosquare already presents the number of posts which makes the initial skimming quick.
When you find the relevant hashtags for your business and "with the right numbers", take note on an Excel spreadsheet by dividing them into the categories we have just mentioned. Hashtag + number of published posts.
Copy and paste the hashtags in one app ("NOTE" on Android or iOS is one of the best and is free) so you have them ready when you publish the posts on your phone. Instagram is one of the fastest growing social media platforms. The algorithm has become particularly effective in identifying borderline activities, such as automation with bots.
One of the activities that is picked up by this algorithm is the use of hashtags: Instagram does not want the posts published by a profile to be always accompanied by the same hashtags, so be creative!
In order to find enough effective hashtags, you need to work hard, study your industry, competitors, and influencers. For our clients here at 316 Strategy Group, we try to have well over 30 hashtags relevant to their brand so we can mix them up from post to post.
Then it comes down to the analysis of the search results and adjustments based on progress that will help you to understand what the best hashtags are and the right techniques to use them.