We've got a list of the best transportation podcasts to listen to. So, If you're looking for something new to add to your listening material, keep reading!
With 39 percent of America listening to podcasts each month, it's clear they are here to stay. If you're not one of the millions already listening to podcasts, you're missing out on a wealth of informative and entertaining content.
One area that is gaining popularity is podcasts on transportation. On these podcasts, experts share their stories and knowledge about this field. From policy to new transit ideas, there's something for everyone in this genre.
If you are looking for a new podcast on the transportation industry, you've come to the right place. We cover the best transportation podcasts out there, so you can find your new favorite one to listen to.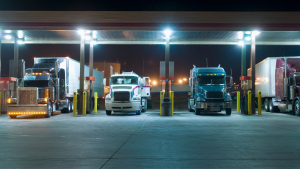 Without further ado, here are the best transportation podcasts to listen to:
ITE Talks Transportation
If you're a fan of policy, then you're going to love the new ITE Talks Transportation podcast. This exciting new show covers all the latest news in the world of transportation.
The host, Bernie Wagenblast, has a wealth of transportation experience. He started in the transportation industry as a New York traffic reporter and has worked for years in other transit positions. In each episode, Bernie Wagenblast uses his expertise to interview various transportation experts.
Whether you're a transportation professional or just interested in the topic, this is a great podcast to check out. You can listen to new episodes on the fourth Tuesday of each month.
Thinking Transportation
Thinking Transportation is all about teaching people about better ways to get around. This podcast belongs to Texas A&M Transportation Institute (TTI). TTI has worked for decades to keep the transportation of Texas at the top of innovation.
Host Bernie Fette has worked at TTI for 31 years. In each episode, Fette looks at the challenges of transportation with the help of a guest. This podcast comes out with an episode every other week.
Driven Too Far: The Truth About Trucking
Is it possible for a long-haul driver to have both a career and the family they love? Yes, and this trucking podcast is where you'll get directions to a destination not found on any map.
Andrew Winkler is the only executive in the trucking industry willing to get in the cab and listen to you. He started out in the driver's seat like you–loving life on the road, missing a family at home and yelling at dispatch over the phone. He knows how it feels to be driven too far, which is why he's giving you the truth about trucking so you can have both your family and your career.
Winkler's success has landed not one carrier on the top 20 list for Best Fleets To Drive For, but he has now taken a second company to that top 20 list.
If you're a professional trucker or work in a terminal or dispatch, the Driven Too Far podcast might be what you're looking for!
Click here now to listen to Driven Too Far on Spotify!
UDOT
If you work or live in Utah, you'll love the UDOT podcast. The Utah Department of Transportation (UDOT) is the transportation hub for all of Utah. This department plans builds and cares for the roads and transit options for this state.
The UDOT podcast discusses innovative ideas to support Utah's transportation systems. Gondola alternatives, avalanches and their impact on roads, and traction law are a few of the topics UDOT covers.
Each episode lasts between 25 and 40 minutes. UDOT releases a new episode a month.
Autonocast
On this podcast, the hosts discuss transportation's future. Hear topics on subjects like electrification, mobility, and the future of transportation policy.
The hosts of this show each bring a unique perspective to the table. Kirsten Korosec is the editor of TechCrunch and Ed Niedermeyer is an auto-tech writer. Alex Roy, a TV host, and rally race driver, rounds the trio out.
Whether you're a beginner or an expert, you're sure to learn something new from this podcast. You can hear a new episode of this podcast each week.
Overdrive: Cars, Transport and Culture
Overdrive: Cars, Transport and Culture is one of the favorite podcasts on transit in Australia. You'll get a little bit of everything with this podcast.
When you listen, you'll learn information about road tests and transportation news. You'll also love hearing the interviews and fun stories about being on the road.
Everyone from casual drivers to automotive experts will love this podcast. You listen to this show using iTunes or their show website.
Intelligent Transportation Systems Podcast
If you're a fan of transportation, then you're going to love this podcast! This exciting show explores the latest in transportation technology and innovation.
This podcast will keep you up-to-date on the latest in transportation technology. Each episode interviews leading intelligent transportation system (ITS) leaders. Learn about discoveries and cutting-edge transit technology.
Anyone from ITS engineers to the general public will love this informative podcast. You can listen to a new episode of this podcast every other month.
CIHT Podcast
CIHT has two of the top podcasts on transportation that look at separate areas of the transit field. With over 28 thousand downloads, Transport Talks is one popular podcast. This show looks at issues that arise for professionals in the transportation field.
The hosts, Annika and Rahul bring on guests that are transportation experts.  They look at the ins and outs of daily commutes.
CIHT's Young Professionals Podcast focuses on sustainability. It talks about the importance of lowering air pollution on our Earth.
Transportation Radio
Bernie Wagenblast hosts this other popular transportation podcast. This podcast interviews different people on many types of transportation topics. Learn about topics like the future of highways and electric car charging equity.
If you are a fan of this podcast, you're in luck. You can hear episodes back from 2014. These podcasts are quick, with most lasting under 25 minutes.
Shift
This is the best podcast for everything related to mobility. Pete Bigelow, an Automotive News reporter, and editor Leslie Allen host this podcast.
This duo searches for new automotive technology and evaluates it. They also give a recap on tech news and bring on different guests each week. You can find this podcast as part of the Automotive Newsgroup.
Automotive News Daily Drive
If you want a transportation podcast to listen to every day, you're in luck. Daily Drive podcast releases a new episode each day that talks to experts in the car industry.
Learn about data and news from insiders and automotive reporters. You'll both love the content and be up on the latest transportation trends when you tune in.
AMG Logistics: News
The AMG company is an all-encompassing transportation solution used in the Midwest. This company uses many types of transportation to move goods both near and far.
The AMG Logistics: News podcasts provide short episodes with trucker tips. Learn tricks for driving trucks in the summer, the best trucker Christmas gifts, and how to stay warm on the road.
You'll love how easy it is to listen to these two to three-minute podcasts. They are fun and useful all at once!
Talking Headways: A Streetsblog Podcast
Jeff Wood sits down at the microphone to host this transportation podcast. Jeff Wood, CEO of the Overhead Wire consulting firm, uses his knowledge of cities to add to the content.
This blog focuses on urban planning and sustainable transportation options. It searches for ideas on reducing the number of cars on the road and improving public transit. Catch this podcast weekly on your favorite streaming sites.
Women Who Move Nations: The Public Transport Podcast
The Public Transport Association Australian New Zealand runs this podcast series that has women as its focus. Host Michelle Batsas interviews women executives in the public transport industry. They cover issues that impact transit and provide career advice to people hoping to join the field.
Michelle Batsas is passionate about drawing more women into the field of transportation. She believes it is essential to give women in leadership roles more visibility. Her podcast is the platform that helps her achieve this goal.
Today, thousands of people from around the globe listen to this podcast. The women featured on this podcast are from all over the world. Batsas's podcast is both interesting and inspiring.
METROspectives
Private buses and public transportation are the subjects of this popular podcast. When you listen, you'll hear from people who have spent many years in the bus industry. This podcast comes out with a new episode each month.
Track Talk
Rail Technology Magazine (RTM) produces this podcast on the interesting aspects of the rail industry. This magazine, based out of England, aims to keep the people informed about the rail system there. The goal of RTM is to keep improving and transforming the railroad business.
The hosts, Matt and Emily, discuss many of the decisions and planning that go into running a railway. They cover topics such as sustainability and passenger experience. You'll love getting an inside view of this public transportation option.
Muni Diaries
Transportation podcasts aren't all business! The Muni Diaries is perfect if you are looking for a more light-hearted transit podcast. The Muni Diaries began as a blog and eventually evolved into a podcast.
This podcast features stories from riders who ride the Muni, San Francisco busses. Strangers share stories about things that have happened while riding the bus. These stories are strange and often sweet.
This blog is a love letter to public transportation. You can hear stories from the live shows, and stories only heard on the podcast. You won't want to stop listening to this fun podcast.
Transit Unplugged
If you want a deep dive look into the field of transportation, give Transit Unplugged a listen. The host, Paul Comfort, has years of experience in the transportation business. As the former CEO of the Maryland Transit Administration, he transformed the transit system there.
On this podcast, Comfort interviews leaders in the transportation field. He talks with them about how they got to where they are in their careers.
Comfort and his guests also spend time looking at the problems in transit. They discuss potential solutions and modern transit trends.
Transit Unplugged offers its listeners an episode every two weeks. You can hear these episodes on your favorite streaming services.
Researching Transit
Many people from all walks of life use public transport in their everyday lives. With so much use, transit must be up-to-date. The Public Transport Research Group looks at the outdated features of transit and how to modernize it.
Laura Aston and Professor Graham Currie host Researching Transit. They take a look at transit infrastructure and progressive ideas for policy. If you are interested in the future of transit, this podcast is a must-listen.
Beyond the Rig
Step away from the corporate blabber and hear a personal side of the trucking business. This podcast takes an honest look at life on the road. You'll a real idea of what big rig driving is like through interviews, information, and stories.
The host, Will Phipps, has been driving a big rig truck for over twenty years. His easygoing personality makes this podcast a joy to listen to. He isn't afraid of asking tough questions.
Will's co-host Linda brings her knowledge of the trucking industry to the podcast. She has worked for years as the Vice President of Driver Development. She brings her sunny personality and love for solving problems to this podcast.
Beyond the Rig explores how important truck drivers are to the community. It shows its listeners the more human side of the work that truck drivers do.
An American Truck Driver
An American Truck Driver is a podcast that celebrates the trucking lifestyle. It offers listeners a look at the people and stories behind the wheel.
In this podcast, host Chris Polk brings his twenty years of trucking to the airwaves. He talks about the mistakes he's made as a truck driver to help other truckers succeed.
Each episode of this show also features interviews with truckers from all walks of life. It also tells stories about the open road, life on the road, and the trucking industry.
You'll learn anything from how a big rig works to how to work with an agent. Tune in monthly to hear the latest episodes.
The Best Transportation Podcasts Are Only a Tap Away
Podcasts have given the transportation field a new way to share the ins and outs of this business. They are an entertaining way to learn new information and hear different perspectives. Whether you are a professional in the industry or a casual listener, these are the best transportation podcasts available.
If you are looking for a reliable podcast production company to help research, plan, produce, distribute, and market your podcast, click here.